2021 is here, but as many of us suspected, it still isn't "business as usual." So far, it doesn't seem like many people will be returning to their regular offices soon. So supervisors will likely need to expand their arsenal of tools for working remotely to ensure productivity stays up.
We're all adjusting to this new reality, but with so many accessible, digital tools out there on the market today, working remotely is easier now than ever. You just have to find the right tools for you and your team. Luckily, services like Ambition offer solutions that allow organizations to continue boosting productivity, increasing sales and driving growth regardless of whether you're operating out of a corporate office or seated on your couch cushions. Let's take a look at 7 essential working from home tools that Ambition offers to keep productivity rolling.
1. Boost Sales & Fun with Gamification
Working from home can shift workplace culture pretty significantly, taking it from exciting to dull in the time it takes you to walk from the kitchen to the couch. When you're in the office, you might be used to joking in the breakroom, playing games over your lunch break, or having brainstorming sessions in the conference room. These things break up the day and keep your team happy and motivated. And working remotely doesn't mean these things have to stop—it just means you have to get a little more creative.
For sales teams, Ambition's sales gamification tools can help boost your culture with a steady stream of good-natured competition that not only increases sales, but also promotes remote fun. Gamification allows you to turn your sales initiatives into contests and competitions that encourage productivity and engagement, no matter where your team is located. If you're looking for a way to boost sales and team spirit, look into adding gamification to your working from home tools.
---
2. Be Proactive with Automated Data & Alerts

Whether you're on the sales floor together or working across the country, Ambition's dynamic sales dashboards allow you to sync real-time data and automate sales alerts so that you and your team stay on track. This is one of our essential tools for working remotely because it allows everyone to clearly see what's happening in real-time. Alerts can be tied to Slack or email so that you and your team can be proactive about the information coming in.
If someone makes a big sale, your team will know about it immediately and be able to recognize and congratulate them! And if some of your company goals aren't quite being met, you'll be able to clearly identify where there might be room for improvement to ensure that everyone has the tools and support that they need to succeed. Plus you'll be able to keep an eye on performance and productivity no matter where you are, with the ability to set issue-detection alerts for calls, meetings, or other key KPIs that may be falling off pace.
---
3. Coach Your Team for Success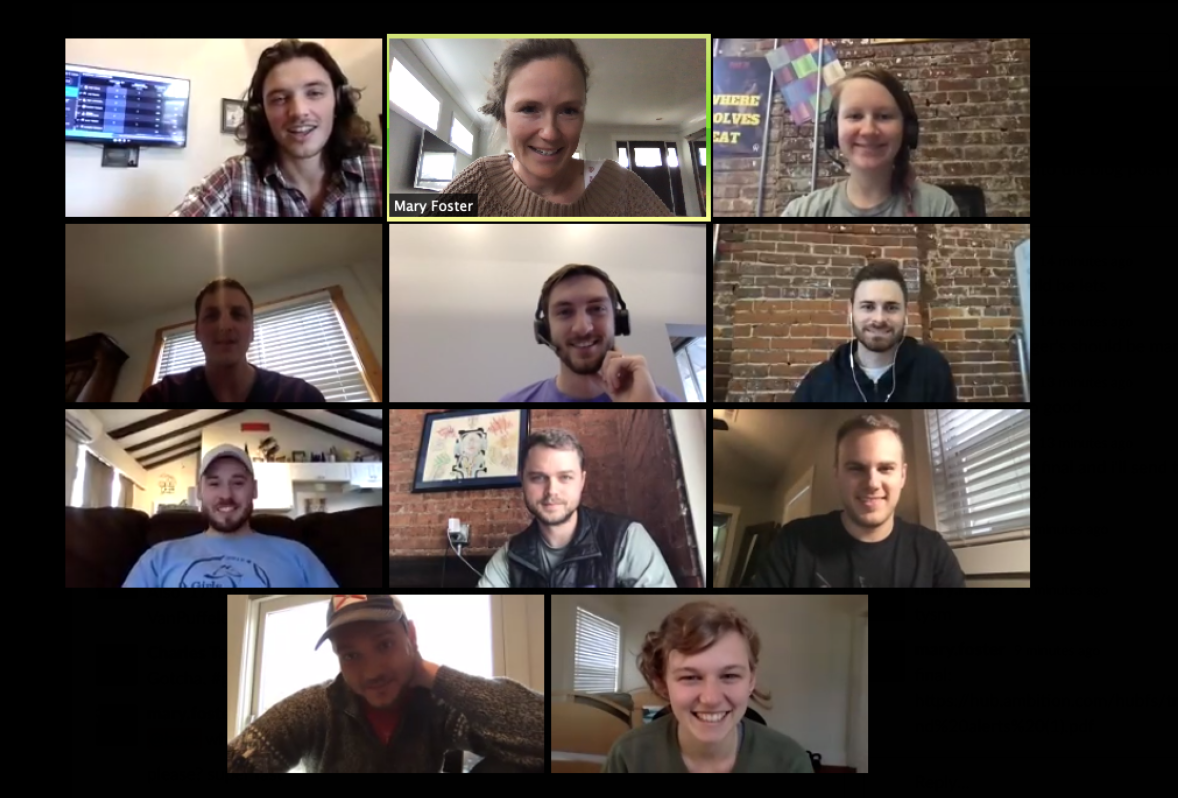 Having regular check-ins with your team is more important than ever when you're working remotely! Giving your team the opportunity to voice what they're doing well on and what they need help with can be critically important to your team's success. That's why Ambition offers sales coaching software that gives managers the flexibility to conduct 1:1 or team-based coaching sessions, run action plans, take public or private notes and more—digitally.
With Ambition's coaching solution, managers are able to see a timeline of coaching activities and attach programs to key metrics to see how the coaching impacts overall performance. It's flexible enough that companies can assign HR to lead coaching programs or allow managers to design their programs on their own. The solution allows for automated email reminders to be sent to reps and coaches to ensure program check-ins are filled out prior to each meeting time. Plus it has meeting reminders and calendar support built in!
---
4. Manage & Meet Your Goals with Automation

Working remotely can make staying on track with goals even harder if you don't have a solution that actively helps you monitor how you and your team are working toward goals. But Ambition provides goal-tracking software that allows you to not only track, but manage and meet your sales goals consistently wherever you are. By tracking and reviewing individual goals, team goals, and organizational wide goals alike and nailing down key activities that produce desired objectives, you'll be directly driving goal alignment and attainment.
You'll be able to measure and visualize each rep's contribution, leveraging accountability strategies, with the ability to follow an individual rep's progress in real time without ever having to refresh or run a new report. Ambition's sales tracking automates the management and reporting of sales KPIs from the first activity to the final results, so you know from start to finish how goals were met, what worked, and where there's room for improvement. And you can probably see how this segment of Ambition's solutions works well with others like coaching and gamification, allowing for a full suite of tools for working remotely!
---
5. Support Sales & Culture with Digital Leaderboards

Tracking activity metrics like outbound dials on a leaderboard motivates reps to increase output. Ambition's fully customizable leaderboards allow your team to view progress with real-time goal tracking and customizable anthems and gifs that keep things fun—and competitive. Tracking objective metrics like booked meetings or new pipelines rewards and incentivizes sales and improves the quality of sales activities. Whether you want to track conversion ratio metrics to see who is converting calls to meetings, bottom-to-top metrics where less is more, or everything in between, you can do it using Ambition's leaderboards.
Leaderboard screens can be accessed from personal browsers, the Ambition app, Slack, and Salesforce, so everyone's in on the action, no matter where they're working. And with performance visible across the organization, everyone can celebrate organizational wins and get into the competitive spirit. It can be hard to surface employee contributions when you're not all in one office together, but with leaderboards everything is visible to anyone on the team.
---
6. Stay on Track with Sales Rep Scorecards

A sales scorecard gives your sales reps a clear path to success, no matter where they are. Ambition's sales rep scorecards allow you to break down quotas into daily or weekly activities and objectives—such as calls, emails or meetings—so your reps know exactly what they need to do to hit their numbers and can prioritize their work accordingly. Plus you'll create a system of accountability that allows you to have clear visibility into who's on track and who may need additional coaching or direction.
Sales rep scorecards integrate with your existing tech stack to automate the tracking and scoring of dials made, meetings booked, emails sent and more. Any KPI that is essential to your team can be scored in an Ambition sales rep scorecard. You can weigh your most important sales activities higher to ensure these take priority in your reps day-to-day work. This way, individual reps know they need to hit "100" by the end of the day and stay on pace. Like leaderboards, scorecards create a sense of accountability and friendly competition that keep your team on track and engaged while they're working from home.
---
7. Bring it all Home with Sales Performance Management
Over 3,000 sales managers already leverage Ambition's sales performance management solutions to drive more calls, book more meetings, and celebrate more closed deals for their remote or in-office sales teams. This becomes incredibly valuable for remote teams that need an easy way to understand and manage their sales performance from top to bottom. While business intelligence tools and CRMs paved the way for data-driven sales strategy, Ambition allows teams to take it a step further and utilize intelligence to act on data quickly and alter outcomes.
Tying in Ambition's other solutions such as leaderboards and scorecards as part of your organization's overall sale's strategy allows you to prioritize, view and manage all of your sales operations in one place and act proactively. With sales performance management software like Ambition, focus is shifted to controllable factors like sales activity output, and managers can drill down to focus on quality objectives derived from sales activity. Rather than running a report to see who hit or missed the target at the end of the month or quarter, performance management lets managers or coaches impact the metrics sooner, regardless of whether they're in the office or working from home.
---
With the Right Working from Home Tools, Sales are Simple
We may all still be adjusting a little to this new work-from-home lifestyle, but remote work doesn't have to impact your company culture, sales, or goals. In fact, you just might find that by utilizing the right tools, these objectives are stronger than ever before. Watch our 5 in 10 video series to see which must have tools McAfee has in their remote tech stack.
---
Some other software tools that integrate with Ambition to help you create your "work from home" dream stack:
---
>>>You can learn more about how Ambition's sales solutions can positively impact your sales initiatives by taking a look at our website or our blog, or scheduling a free demo to see for yourself. <<<