If you want to develop a world-class sales team, the education can't stop after onboarding. Your people need ongoing development, training programs, and a holistic Coaching Orchestration™ strategy that will help them sharpen their skills and become more intuitive sellers.
Sales training helps sellers learn and build upon their selling skills, product knowledge, and techniques. These programs can be in-person, virtual, or completed independently and should address specific skills or challenges your team faces. Great sales training leads to increased performance and revenue, but the benefits extend beyond just selling. You'll see the value of training reflected in your culture through increased retention and job satisfaction.
While there are many different ways to think about sales training programs and what you want to accomplish, the ultimate goal is to help reps develop behaviors that become second nature. In this blog, I'll explain 5 key benefits of successful sales training, how to identify the best sales training program for your team, and outline the questions and steps I follow when creating a training program.
5 Reasons You Should Invest in Sales Training for Your Team
The best sales training and coaching creates a ripple effect that continues on and on while slowly and steadily altering a culture and eventually creating tidal waves of impact.
Many people want the results of great coaching, but they spend their time trying to shortcut the process instead of building replicable programs and investing the required time and resources to see those programs through to completion.

But seeing it through has incredible outcomes. Coaching at the right time, with the right metrics, and through a predictable program has been proven to increase productivity and performance, improve retention, raise employee satisfaction, improve revenue, and strengthen cross-functional alignment.
1. Increased productivity and performance
Inaction in sales is often due to a lack of confidence—confidence in what a rep is selling, confidence in one's ability to handle objections, confidence in CTAs, and so on.
The best sales training instills confidence in reps by teaching them how to technically execute their job. This requires a bit of a relationship, some ability to empathize, and consistency.

Plainly stated, only meeting with reps once or twice a month, and merely following a slide deck to completion will not result in increased confidence, productivity, or performance.

Reps and their coaches need consistent check-ins that evaluate more than performance metrics alone. Reps are human beings, and this necessitates check-ins that recognize the human behind the numbers. Performance improvements tend to flow from reps whose managers place an emphasis on trust, accountability, and training. Managers must invest consistently in their relationships with their reps.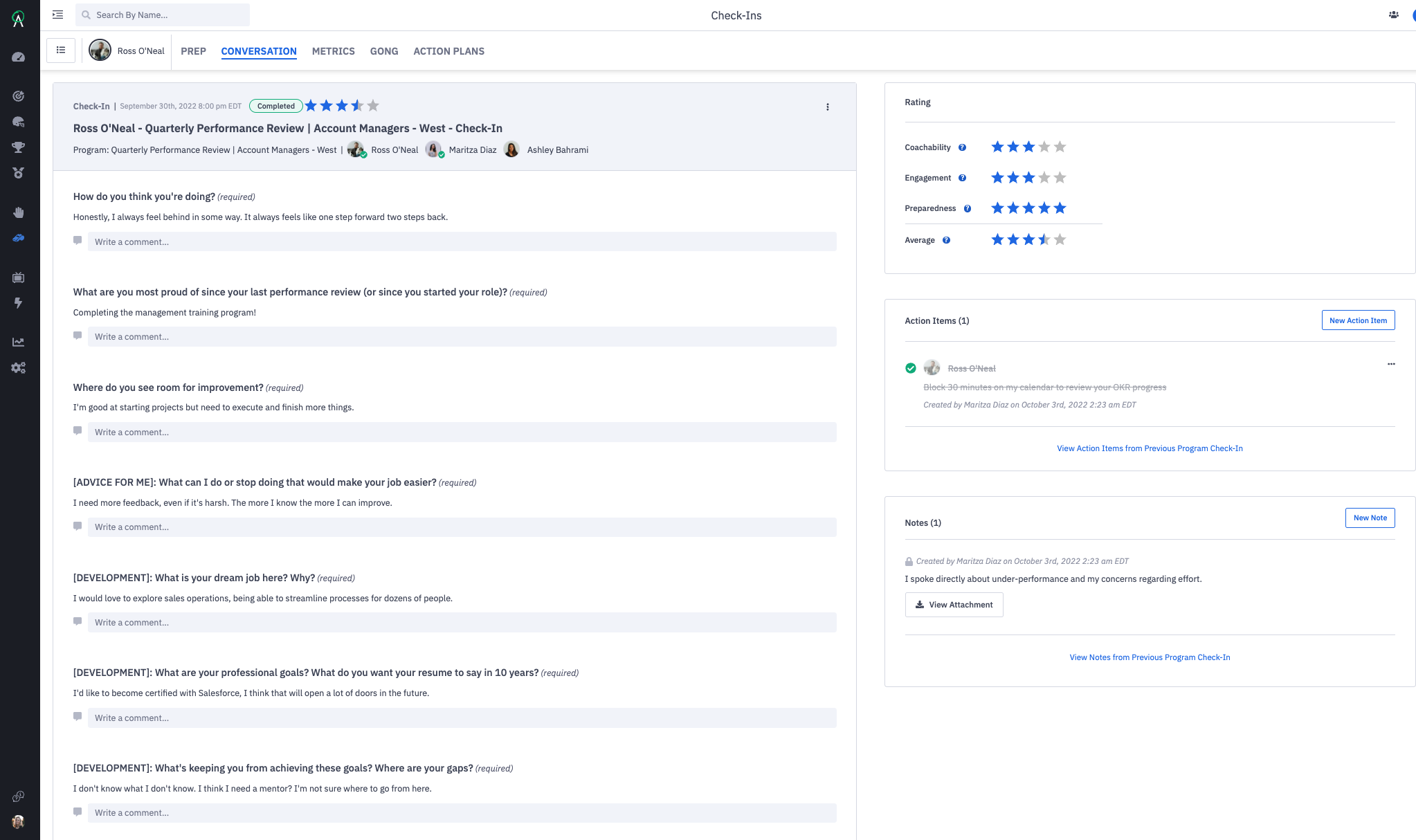 2. Higher retention
When a rep is motivated, encouraged, and equipped, they are much less likely to actively seek out a new opportunity. Unfortunately, many leaders neglect one or more of these areas because they claim that their reps are being compensated well for their work. While many of us do need to see the paycheck validate our efforts, that is not enough to drive long-term retention.
Employees need to feel connected to their work, their colleagues, and pursue a calling or purpose that is bigger than their work. Intentionally coaching the whole person is a great way to show someone that you care about their calling and that you want to play a supporting role in their pursuit of purpose at work.
3. Higher employee satisfaction
Generally, employees crave clear goals and expectations. Most people want to know the requirements to be successful and the rules to get there (ROE). We want to know where we stack up, where we fall short, and how we can improve. Just look at the success of FitBit, Peleton, and Apple Watch over the past few years. Keeping goals and milestones visible fills us with motivation and a sense of accomplishment.
Good sales coaches 1) set clear expectations, and 2) coach towards these expectations with patience and understanding, meeting their reps where they are and without judgment.
Bad coaches fail to do one or both of these. Giving clear goals with no training is just as unproductive as giving zero goals with fantastic training.
Fortunately, you can invest in sales training software and gamification, so they can know what they are chasing, and how close they are to their target. When you add coaching to the mix and have qualitative feedback alongside performance feedback, incredible results will follow.
4. Increased revenue
Everyone in sales wants to win. Enable your reps and get out of the way. Encourage them to fail forward, and don't try to save the day in every situation. Let your reps be the hero or the zero.
One of my favorite quotes is "I never lose, either I win or I learn a lesson." It's important that leaders have the perspective that every loss is an opportunity to improve and iterate.
When we have this attitude during role-plays, real life at-bats, 1:1s, group check-ins, and enablement sessions, we will produce rockstar employees that can succeed in a variety of environments, which ultimately yields predictable and more positive results.
Want to make sure your organization doesn't flat-line? Implement a strong coaching strategy. Check out our library of plug-and-play sales coaching templates that will help you run more productive, metric-driven coaching sessions.
5. Strengthened alignment on messaging, goals, and techniques
Employees are often hired because they have characteristics or experience that are in line with company goals, expectations, and needs. What comes next is the modern problem of working cross-functionally. This is often where high-level strategy becomes fuzzy. Contradictory processes, personalities, and goals create friction, and an unsupported employee can quickly become frustrated and shut down.
Through intentional training, employees can learn some of the EQ skills required to navigate these fuzzy territories with increasing self-awareness and social awareness. Supported employees gain confidence to wade through rough waters and search for common ground. Supported employees can also detach themselves from their own outcomes and see other perspectives.
When a company is full of supported employees who are aligned on big-picture goals, they can accomplish impressive feats and go further together. Are you focused on improving cross-functional alignment? Maybe training around these soft skills is what you need in your organization.
Choosing the Best Sales Training for Your Team
When I think about choosing a sales training program, there are a few factors that go into the equation. I approach this process in 3 steps: planning, execution, and measuring outcomes.

5 Questions to Ask When Planning for Your Next Training Program
Planning the right sales training program requires considering the current needs and gaps within the team. Here are some questions you should ask during this step:
What are the overarching business goals and objectives for the upcoming month, quarter, or year?
What do the front-line managers feel and see as regards status quo and current state?
What are reps interested in (personal development, quota attainment, exposure to new ideas)?
What have we already learned as a team in the past few months?
What are the experts saying on Linkedin? (Some of our favorite follows here at Ambition are Lauren Bailey from Factor 8 and GirlsClub, John Barrows from JB sales, Becc Holland, and Josh Braun!)
Planning is just the beginning. Execution is where things get harder but also where you start to see the greatest rewards.
How to Execute Your Training Program
After answering those 5 questions, survey your answers. What's the common denominator? What do people need to learn, and how do they learn best? Use that information to define a cohesive goal.
Employees need a compelling reason to care about the training. Will it affect their current comp, future comp, promotion path, soft skills, relationships at home, mental health, etc.?
My Opinion: It's important to connect any company goal to the larger picture of an employee's life. Show that the goals align and there is a genuine connection between each person's purpose and the company's pursuit for revenue. (Contrary to popular belief, those two things are not typically at odds.)
Next, I define the key takeaways that I want the team to remember, and then we repeat these several times and in several different ways, through different dialogs and activities. My Enablement Leader here at Ambition always says that you have to tell someone something 7 times for them to remember it on their own. The hard part is keeping the repetitive parts fresh and engaging.
Lastly, we test the outcome of our training programs to see how effective they are.
5 Ways to Measure the Outcome of Your Training Program:
Google Survey: Ask questions from the training and score answers
Google Survey: Ask reps to self-report on their confidence with the material
Role Plays: Peer to peer, manager to rep, rep to employee outside of group
Create certifications or accolades: Have reps complete a number of role plays and follow a rubric with requirements for completion
In addition, trainers and coaches can utilize the following ideas to keep the training momentum going. Here are some ideas for programs you can run on a weekly schedule or as one-off trainings:
Objection handling workshops
Selling techniques training
Relationships and soft skill training
Discovery process training
Discovery role plays
AudioBook group huddle
Email trainings
Product knowledge trainings and certifications