[New Release!] 6 Big-Freaking-Deal Product Releases You Don't Want To Miss
The sales environment is changing fast with the state of the world, and Ambition is committed to staying ahead so the reps out there grinding and hustling to sell and managers out there leading the charge know we have their backs. We are amping up features to enable transparency and accountability for remote sales teams, we are integrating the remote tools you know and love to decrease hassle and improve productivity across the board, and we are adding small user experience improvements too,. Here is a look at our latest (and upcoming!) product releases.
Integration between Giphy and Ambition [live now!]
This Giphy integration was brought to you by Ambition engineer Tyler Neu and is all about helping teams celebrate wins visibly. Whether your team is remote or centralized, you can create customized anthem and gif alerts that will fire to Slack, email, or sales TVs to pump up the energy and motivate the team. Integrating Giphy right into Ambition saves time toggling between systems which helps increase user participation from your reps. And honestly, it is just a little bit more fun this way. Once your reps set their custom Giphy, start celebrating things like:
Meetings set

Meetings moved to next stage

Closed deals

Renewals

Expansions
With the Giphy integration, you'll know who is doing what and can give virtual high fives in Slack, over email, or even in person if we decide that will ever be a thing again.
Integration between Ambition and Zoom [coming soon!]
Ambition's latest integration work is with video conferencing and meeting tool Zoom is another project led by Ambition engineer Tyler Neu. With sales coaching happening remotely, sales managers need a way to track, record, and analyze those coaching conversations quickly and on the fly. With Ambition's Zoom integration, every sales 1:1 or performance review will be supercharged with context, nuance, and searchability. Attach Zoom recordings to your sales check-ins and action plans to create searchable transcripts that live right alongside performance data. Here are some ways recorded Zoom coaching calls in Ambition help sales teams decrease hassle and increase accountability:
Have a rep who you've coached around discounting too much? (you can track average order value in Ambition!) Easily pull up any conversation where you coached this rep on pricing by searching the term "pricing," right in Ambition coaching. Then, compare to the performance data around average order value to correlate lifts and show you are a super manager.

When you have reps on a performance improvement plan, Ambition makes it easy to run through an activity log of all of the coaching and conversations that have happened. Scroll through your timeline of coaching activity and peek at any transcripts along the way to reference historical conversations

HR teams can monitor coaching compliance and drive accountability with Zoom recordings attached to check-ins.
Enhanced Ambition and Slack integration [coming soon!]
Ambition's Slack integration, led by Ambition's newest engineer, Charles Taylor, is for sales teams everywhere who need visibility into milestone events or want to replicate the feel and visibility of sales floor TVs for remote or dispersed sales teams. Unlike other SPM tools, Ambition's Slack integration brings celebration alerts, issue detection alerts and sales leaderboards into Slack with automation and simple commands. Sales teams are living in Slack and looking to receive information in a central location. Ambition's enhanced Slack integration can save managers time and clicks by bringing leaderboards for every metric right into Slack… in addition to the automated Slack alerts that you can already set today. Here are some examples of how sales teams are using the enhanced Slack integration:
Centralize intel with meeting set alerts. Anyone at the company can comment in thread if they know anyone or have any intel at a company where a meeting was booked.

Drop a leaderboard in after lunch to help motivate reps to finish the day strong on top of that leaderboard!

Celebrate deals and offer real-time, public recognition across the company to motivate more of the right behaviors by sending alerts for closed deals.

Drop a leaderboard for meeting sets into Slack first thing in the morning and let reps know that top 3 leave at noon for the day.

Drop a longer time-frame leaderboard in, like quarterly dials, to recognize the whole sales team in front of the company for the daily hustle.
Coaching insights and reports [coming this month!]
For every dollar spent on coaching, sales teams see seven dollars in return. So it is no surprise that more sales teams are launching 1:1 coaching sessions, call coaching and pipeline reviews than ever. In order to help teams make better sense of how their coaching is impacting overall performance and how much time is spent on coaching, we have released a new coaching overview dashboard. This release was led by our CEO and engineer extraordinaire, Travis Truett. There is an insights tab to show you a high-level look at the programs that exist and participation levels for a given time frame. You can see your program attribution metrics right in Ambition on a line graph to understand change over time. Sales teams will use the new coaching overview to help them:
View coaching performance ratings across their direct reports
Measure activity or objective lifts for reps they have been coaching over time
Custom time frames for leaderboard & TV rank slides [live now!]
Sales is all about the numbers, and leaderboards help give insight into the who behind the numbers. Sales leaderboards let you drill down into who needs coaching for which KPIs, who needs a half-day off for grinding to top, and who is silently creeping up a spot or two each week with incremental improvements. Custom timeframes for leaderboards now allows for even more flexibility to choose the exact time frame you want to drill down into. Managers use leaderboards with custom time frames to:
Run leaderboards for sales inside their own fiscal calendars
Customize leaderboards to timeframes where a contest was running
Share these in team or organizational meetings to recognize and motivate their reps
Salesforce hierarchy and user configuration sync [live now!]
Ambition helps sales teams eliminate the administrative work of managing users between Salesforce and Ambition with a hierarchy and user configuration sync. Create users in Salesforce and by enabling a simple setting, it will configure the users in Ambition for you! This helps keep your data clean and saves a ton of time. Here are some ways sales teams use the Salesforce sync to make their jobs easier:
Create new reps that are onboarding within the Salesforce instance, automatically deploy Ambition invites and sync them right into the onboarding group/role in Ambition without ever even logging into Ambition.
Promote reps to Senior SDR in the Salesforce instance and automatically drop them into that role in Ambition which instantly updates their scorecards and goals
Create new location based teams in Salesforce as your team grows, and automatically enroll the reps in location based teams for competitions in Ambition
When you terminate a rep in Salesforce, it will remove them from Ambition
VIP digest email [live now!]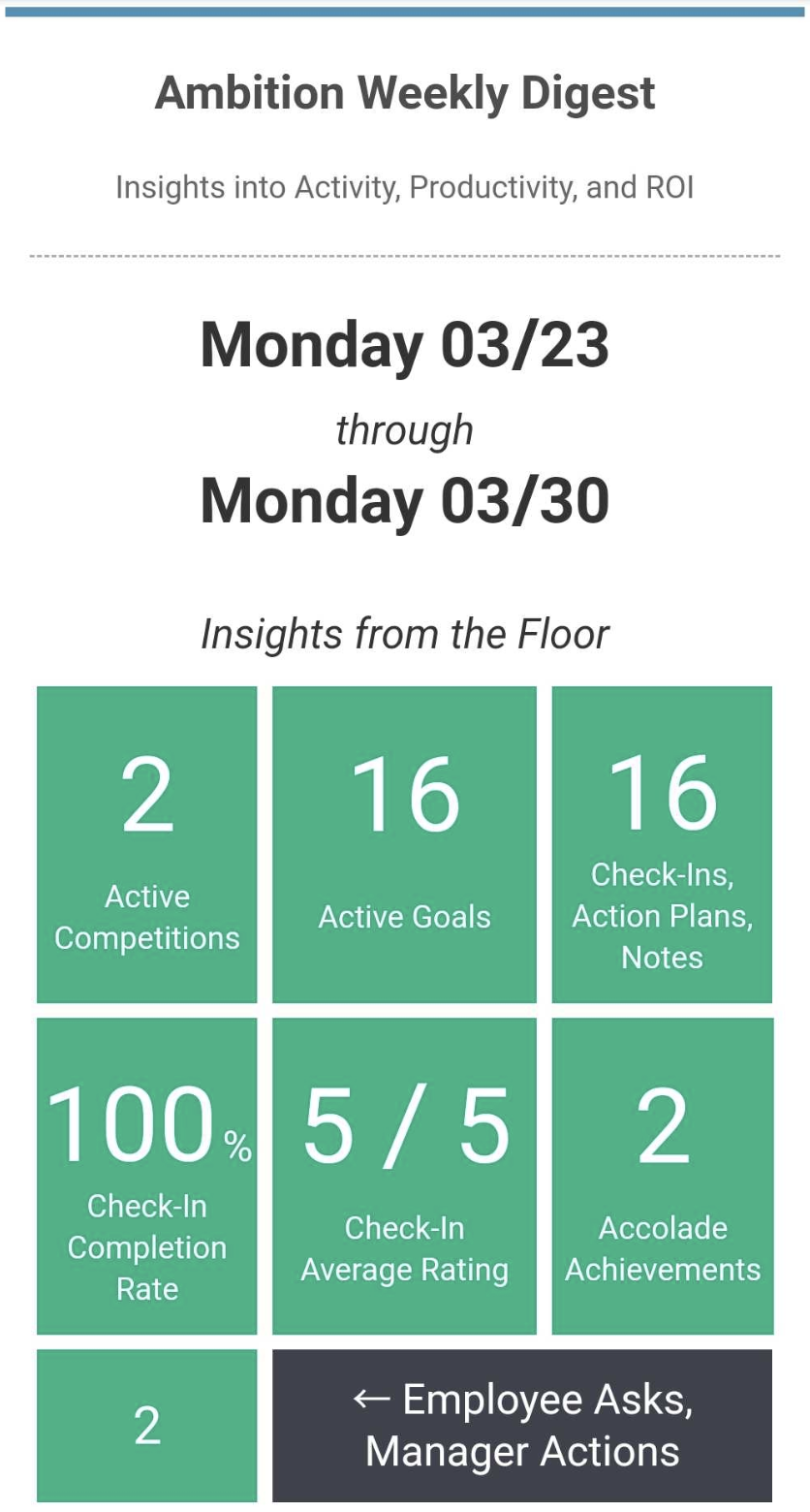 With the VIP digest email, admins and key stakeholders can get a high level view of the programs the sales managers are running in Ambition across the team. The digest features Ambition feature metric cards, highlighting the organization's weekly data. Stack up the impact that the different Ambition programs are having on performance with the VIP digest email.
Coaching notes enhancement
We've enhanced coaching notes to support rich text to allow for more formatting and stylizing inside coaching notes. Stylized text is easier to scan in the coaching timeline which saves our managers more time and makes their lives a little bit easier. The notes can be viewed in each rep's coaching timeline so managers can easily reference past conversations and have a system of record when reps are on a plan.
Multi-currency support
Ambition now allows for sales organizations to translate multiple currencies into a standard currency within Ambition. There is a setting within the Ambition and Salesforce integration that accommodates multi-currency support which has been great news to our global enterprise customers!
Analytics home page
Ambition analytics are an extremely popular feature for our current customers because the reports dynamically update and support efficiency or ratio metrics making them super powerful for identifying coaching opportunities. We've improved the user experience for customers with a new home page that makes it easy to access saved reports or create brand new ones!
See the full Office Hours recap covering the releases here