Sales Leaders: Enjoy this post from Sujan Patel and our new case study and video on how Wayfair gained 2X revenue-per-rep via Tenfold and Ambition.
When your sales team isn't meeting quota, it's easy to assume they're being lazy or not trying hard enough. But it actually could be an indication that your sales team isn't properly set up to be the most efficient it could be.
An efficient sales team is critical for boosting sales and driving revenue. But if your sales team is inefficient, you're wasting time, money and resources.
In an article for Inc, businessman and best-selling author Harvey Mackay says, "You, your business and your employees can get in the zone – that place where you are making the right calls as leaders, salespeople, quality control, marketing, the works. Concentrate on doing the things that give you the best chance."
9 Ways to Make Your Sales Team More Efficient
Here are nine strategies you can implement to ensure your sales team is operating efficiently.
1. Track Time
Before you can start implementing new strategies, you need to assess your old ones. Begin by tracking the time spent on various tasks your salespeople do. Have them track how long their phone calls are, how much time they spend sending emails, how long prospecting takes, et cetera.
You need to see how much time is spent on all tasks and where you can improve sales efficiency. If you see that the majority of a sales rep's day is being taken up by phone calls, how can you streamline the process? Focus on implementing strategies that solve the problems that you notice.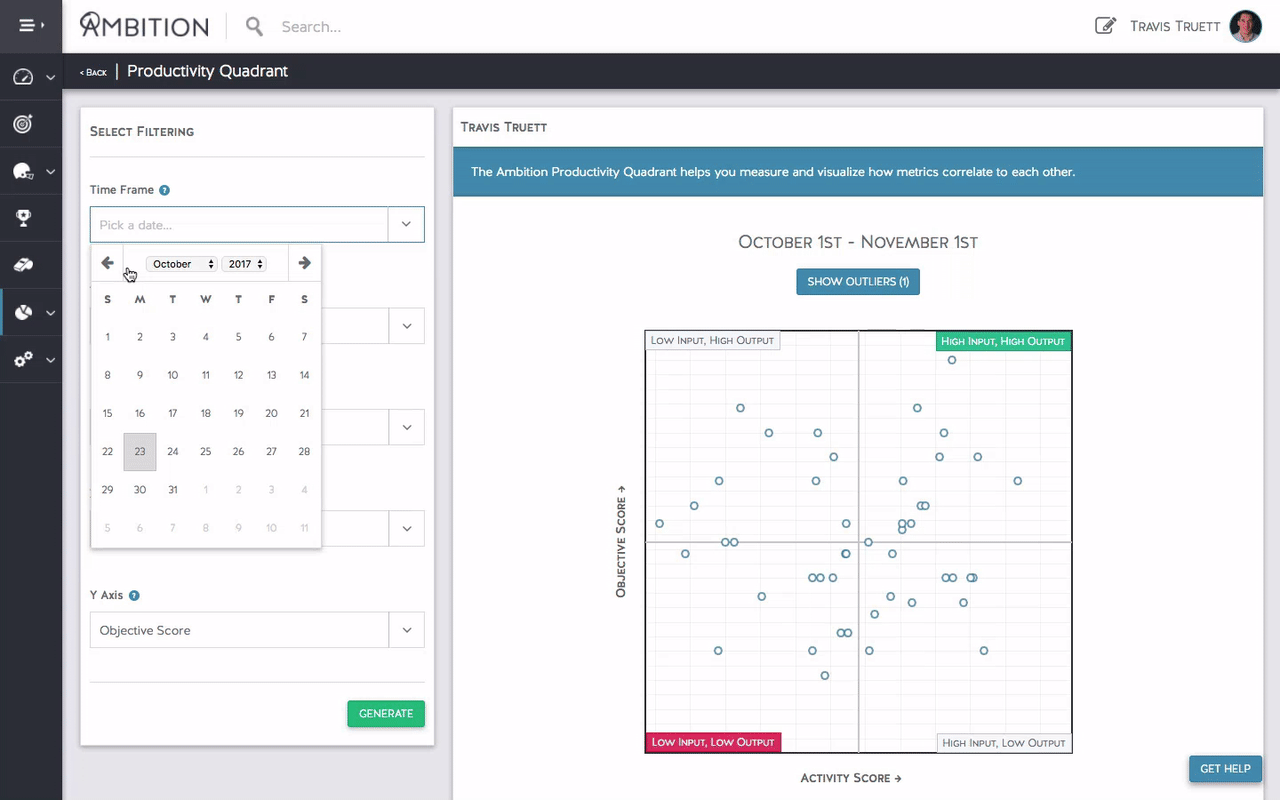 How to Track Sales Productivity on Ambition in 30 Seconds
Recommended Reading: Chris Pham | The Dimishing Marginal Returns of Calling
2. Implement The Right Technology
If your team is stuck doing a lot of tasks manually, it's no wonder they're not efficient. You need to give them the tools they need to be successful. On average, sales reps use six different tools, according to research by Sales for Life.
Much of the administrative work your sales team does can be automated with the right tool. For example, software like Pandadoc can help reduce the time your team spends preparing quotes. You can also automate other tasks such as inputting data, generating reports, contracts and more. With these tasks automated, your sales reps can focus more of their time on actually selling.
How to Organize Collaborative Sales Team Document Templates in Pandadoc
Recommended Reading: PandaDoc | How to Get Sales to Use Marketing Content
3. Invest in Good People
According to a survey by SAP, 88% of hiring professionals find it challenging to identify candidates with the right skillsets. But finding and hiring the right people for your team is critical to your ability to be effective.
On his blog, entrepreneur Neil Patel writes, "The culture you build starts, of course, with the employees you hire. While you can resurrect a flagging culture that discourages accomplishments and efficiency, it's easier to get things right from the start."
Make efficiency an important part of your culture by hiring people who are naturally productive. The right employee can have more of an impact on the sales team's efficiency than 100 others.
How to Track Cost Per Sales Hire via Wilson HCG.
Recommended Reading: Bridge Group | Sales Development Metrics & Comp Report
4. Focus on Training
Even when you do hire the right people for your team, you still need to set them up for success. That means investing in a strong training and coaching program. According to the SiriusDecisions State of Sales Onboarding Report, high-performing sales organizations are twice as likely to provide ongoing training as low-performing ones.
Your training program should thoroughly explain the sales process and the expectations for the sales rep's performance. You should go over a detailed list of what the sales rep needs to do to succeed and exactly how they should do it.
How to Track Sales Training via LearnCore.
Recommended Reading: Ambition | 12 Amazing Sales Training and Coaching Sites
5. Define Your Sales Process
If you can't definitively describe your sales process, how can you expect your sales reps to follow it? Your sales process needs to be well-defined and repeatable.
On the Heinz Marketing blog, president Matt Heinz writes, "Create a standardized system or process and you'll increase both consistency and success of these efforts while significantly reducing the time it takes to complete."
Your salespeople should not have to guess what the sales process is, nor take a hit or miss approach. Develop a sales process that will guide their actions and put them on the path to success.
How to Codify Sales Process via Ambition.
Recommended Reading: Ambition | The 12 Sales KPIs that Made Sales Hacker's CEO a Better Manager
6. Communicate Effectively
Communication is key in all relationships, including work relationships. As a sales manager or leader, you need to be able to express your vision and goals and communicate them to your team in a way that they understand and can follow.
You also need to communicate efficiently. That weekly sales meeting needs to have a purpose every time; otherwise, you're wasting everyone's time - including yours. Stay focused and purposeful in group meetings as well as in one-on-one sessions, and keep them short.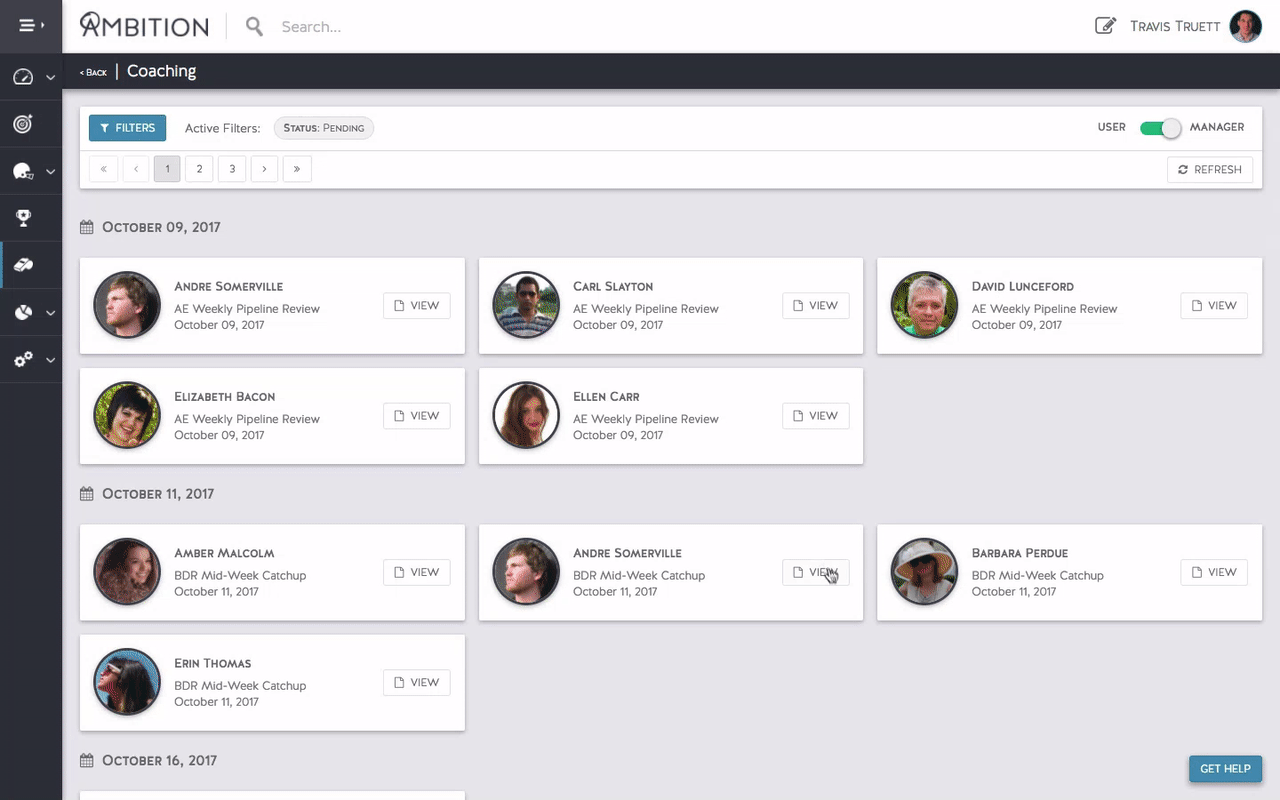 How to Codify Sales Team Training via Ambition.
Recommended Reading: PandaDoc | Top Sales Blogs All Sales Managers Should Follow
7. Boost Morale
A lack of motivation does nothing for sales. If your employees have low morale, they won't do their best work.
In his book, "The New Society," management consultant Peter Drucker says, "The major incentive to productivity and efficiency are social and moral rather than financial."
You need to foster a culture that values employees and encourages them to work hard. Offering incentives and providing the right training can go miles toward boosting morale. Give recognition for a job well done and show your team that you respect them.
How to Automate TV Leaderboards via Ambition.
Recommended Reading: HBR | The Sales Director Who Turned Work into Fantasy Sports
8. Collaborate with Marketing
Few organizations work in sync with marketing, but it's the best way to ensure efficiency for both teams. Together with marketing, your sales team can build personas, identify pain points and define leads.
By working together, both teams will be better equipped to do their jobs. Marketing will be able to generate higher quality leads, and sales teams will be able to close more deals. Keep the lines of communication open between the two teams to ensure you are both on the same page and up to date on what the other is doing.
How to Track Marketing Collateral Engagement via Prezi.
Recommended Reading: Sales Hacker | How to Align B2B Sales & Marketing.
9. Iterate on your workflow
As you learn more about your sales process, it's likely you'll notice things that take too much time or steps that can be eliminated. Don't assume that the workflow you started with is optimal today.
Ryan Farley, Co-Founder and Head of Growth at LawnStarter has iterated eight times on the company's sales process. "Initially we had a consultant setup our CRM in the standard way everyone does, but we later we realized our workflow was incredibly cumbersome. We simplified our definition of a qualified lead and eliminated the concept of multiple opportunities per account, and doubled our output as a result."
Is your sales team doing cumbersome or pointless tasks, just because 'that's how it's always been done'? Periodically evaluate your workflow and eliminate these steps, not only to save time but increase employee happiness.
How to Automate Sales Workflow via Outreach.
Recommended Reading: Ambition | The Best B2B Sales Tools of 2017
Sales Efficiency: How Wayfair Got 2X Revenue-Per-Rep
Learn how the U.S.'s #1 Fastest-Growing Online Retailer and Boston's Best-Place-to-Work Wayfair used Ambition to double revenue per rep across its 140-person inside sales team in 2017.
What causes the most inefficiency on your sales team? How can you improve it? Share your thoughts in the comments below.
About the Author: Sujan Patel
Sujan Patel is a leading expert in digital marketing. As the co-founder Single Grain, a digital marketing agency, he managed and grew an outbound sales team in addition to scaling leading client marketing strategies. He is currently the co-founder of Web Profits, a growth marketing agency, and a partner in a handful of software companies including Mailshake, VoilaNorbert, Quuu, and Linktexting.com. Between his consulting practice and his software companies, Sujan's goal is to help entrepreneurs and marketers scale their businesses.
Accelerate Revenue Growth With Ambition
Harvard Business Review and AA-ISP (the Global Inside Sales Organization). See how Ambition helps enhance sales KPI visibility and sales floor engagement using real-time scorecards, dashboards, alerts, contests, and TV leaderboards.
Contact us to schedule a demo of Ambition for your sales force today.