It's crunch time, business leaders. Here's a brief pump-up speech from Ambition COO Brian Trautschold on where to focus your Q4 sales management strategy.
Last quarter, I spoke with over 100 top sales leaders to get their thoughts and observations on major trends impacting B2B sales.
In doing so, I observed an exciting trend: most sales leaders know they need to make changes to their sales management playbook and how they can better ensure that their reps succeed.
I also observed a not-so-exciting trend: many of those sales leaders were excited about making those changes in 2018.
Last I checked, there are ~81 days (and 60 business days) left in 2017. Chalking the EoY number up to a Hail Mary isn't going to cut it - not when there is serious money up for grabs and jobs are at stake.
Top 3 Q4 Strategies to Implement Right Now
Business leaders, if you want to make Q4 a success, start looking at steps you can take today (or at worst tomorrow) to close in on your 2017 revenue goals and push deals across the finish line like the business world's version of '03 Reggie Bush.
I'm sharing 3 great places to start below. Implement these 3 strategies ASAP to focus behavior, build revenue-driving culture, and assure Q4 success.
Smart Q4 Strategy: Focus on Revenue-Driving Activity
Get with your teams and individual reps and figure out the best ways to help them close existing opportunities.
Is it more targeted outbound calling? Is it being greedy with our time to build pipeline in the next 30 days? What skills or "attention to detail" focuses can we improve during that time frame?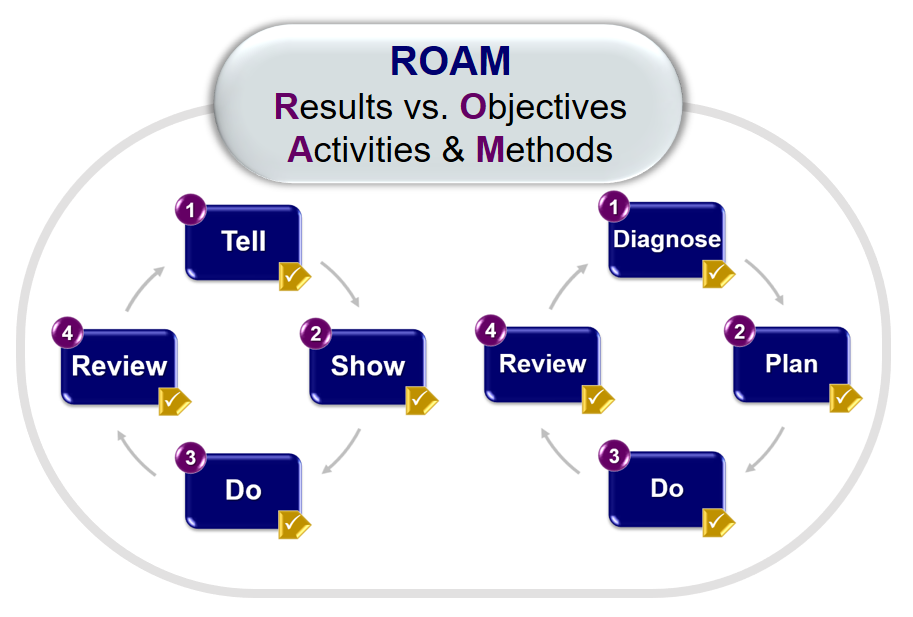 Pictured: Mike Kunkle's SPM system. Listen to our podcast interview on R.O.A.M.
No matter the goal - your strategy should boil down down to: 1) How can we affect that right now? 2) What are the steps we can complete or focus on or accomplish in the next 5 or 10 business days that get us closer?
The two big questions here are: 1) How much can we increase our open opportunity conversion rate to a closed won opportunities? 2) How can management, marketing and other departments effectuate that? That - my friends - is your focus.
Hear It From An Expert: "When there is a performance gap, then the manager needs to investigate R.O.A.M. (How objectives correlate with results, activities that led to those results, and the methods used in executing activities)." Mike Kunkle via Brainshark.
Smart Q4 Strategy: Create Transparent KPIs
You've done your research. Gotten the pulse of your team.
Good. Now you need to set some audacious goals for your reports. Every front office team needs a Q4 goal: marketing, business development, account executives, customer success, channel and account managers, et cetera.
Those goals should tie directly to the business target(s). Once the goals are in place - publicize them where everyone can see them. Office TVs. Salesforce. Dashboards. Wherever.
Pictured: ChowNow Sales KPIs on Ambition TV.
If marketing is responsible for $5M in inbound opportunity pipeline, great. Put that goal on a pedestal - where it is top-of-mind for your marketers every single day and conspicuous to the rest of your team.
Hear It From An Expert: "Clarity of task is a powerful motivator. Use clear Sales Objectives to identify what Sales Activities move the needle." - Jason R. Jordan. Listen to our podcast interview on measuring sales KPIs.
Smart Q4 Strategy: Focus on Aligning Incentives
It's the time to become a true believer in the power of incentives, folks.
Internally, I'm focused on aligning the short term goals our company has (hitting $XM by EoY) with each team member's goals - whether it's taking their spouse on that vacation, getting a raise, or adding onto next year's budget.
Pictured: Cell Marque's Q4 2015 Growth Strategy. Case Study
You want to ensure Q4 success? Find the most pressing needs and desires of each team member. Create a personalized incentive that gives them what they want. Tie it to his or her Q4 goals.
Hear It From An Expert: "Smart companies don't cap commission bonuses." Lauren Bailey via Salesman Podcast.
Winning Time: Crush Those Q4 Revenue Goals
Stop looking ahead to 2018. For the next 80 days, focus everything you have left in the tank on strategizing and executing an EoY revenue blitz that sends your team streaking into 2018 with guns blazing.
Identify goals. Highlight areas to improve. Draw up a gameplan. Execute.
We'll be doing likewise here at Ambition. If you'd like to chat strategy one-to-one, email me at brian.trautschold@ambition.com. And scroll below to see how Ambition can help.
Accelerate Revenue Growth With Ambition
Harvard Business Review and AA-ISP (the Global Inside Sales Organization). See how Ambition helps enhance sales KPI visibility and sales floor engagement using real-time scorecards, dashboards, alerts, contests, and TV leaderboards.
Contact us to schedule a demo of Ambition for your sales force today.