Ambition Chief Sales Officer Jared Houghton chronicles the 7 best sales incentives he's seen from Ambition clients.
When it comes to sales contests, creativity and competitiveness go hand-in-hand. A great way to spark your sales force? Add in an epic sales incentive.
7 Effective Sales Incentives (and Why They Worked)
The following are 7 proven sales incentives Ambition clients have run over the years. Peruse them and steal your favorites for your next SPIF or major sales competition.
Sales Incentive #1. Ambition. The Billboard.
Our Billboard Sales Competition was an old-fashioned Most Revenue from New Deals this Month sales contest.
Except instead of giving out steak knives - our winner would get his or her very own billboard. Any location. Any content.
By mid-month, our reps were discussing the most diabolical ways they could use the billboard if they won. Examples:
Personalized Ambition ad next to an opportunity's headquarters.
Ambition ad next to a competitor's office ala Russ Hanneman.
Ad trash talking coworkers in the heart of downtown.
And so on. The Billboard Sales Competition turned into the most successful sales contest we've ever run - purely on the strength of its incentive.
Sales Incentive #2. Pendo. Battle for the Green Jacket.
Our clients Pendo ran a Battle for the Green Jacket sales contest right around the Master's. The incentive: Yup - a green jacket.
Timely and unique, the Green Jacket was a massive hit. The reason: bragging rights. The Green Jacket is the most elitist of all championship trophies. It embodies the attitude - I'm better than you.
None of this will be lost on your hypercompetitive reps. "Gold jacket. Green jacket. Who gives a s***?" Your sales force. Credit to Pendo Head of Business Development Larry Long, Jr. for the brilliant idea.
Sales Incentive #3. Fitzmark. The Championship Belt.
At our AA-ISP Tennessee Summer Sales Meetup, featured guest Nigel Green was asked about his most successful sales competition. His answer: the latest one he ran at Relode - where the incentive was a Championship Belt.
As it turns out, the Championship Belt is also a popular favorite among Ambition clients.
Regardless of whether you mark your sales force as pro wrestling fans, the success of Relode and Fitzmark attest to the Championship Belt's power as a sales incentive.
Sales Incentive #4. Cell Marque. BlueBoard Reward.
Cell Marque Sales and Marketing Director Lauren Hopson was looking to mobilize her sales team back. She did two things: 1) Set up a 3 month Fantasy Football-style sales competition. 2) Attached a Blueboard experential rewards package as the incentive.
The turnaround in performance was immediate. Per Hopson, her reps "started coming in earlier, staying later, and getting after it more." Prospect calls hit an all-time high. And by the end of the quarter, the team had come from behind to obtain its 18% YoY growth goal.
Sales Incentive #5. ChowNow. The Bar Crawl.
ChowNow VP Sales Drew Woodcock showed off a fun sales incentive we cosign here at Ambition - the Bar Crawl.
The specific sales incentive Drew used - free tickets to the Los Angeles Craft Beer Crawl.
Moral of the story: giving reps a fun night on the town is always a stellar sales incentive.
Sales Incentive #6. Kenco. The Patagonia Challenge.
Winter is just around the corner. Fall weather is officially here. Which makes September the perfect time to offer up some stylish winter outerwear as your next sales competition reward. This sales incentive worked wonders for Kenco Group - although we would suggest offering it earlier in the cold weather season than they did.
Per their Analytics Manager Andrew Lockwood: "We launched our first competition in early December 2016. Broker teams (or "pods") would compete for Patagonia Jackets based on the highest activity score at the end of the month. From the start, we had a captive audience watching the leaderboards each day and providing plenty of commentary about the competition unfolding."
Sales Incentive #7. Outreach. The Friday Matinee.
Not every sales incentive has to be epic or expensive. See: Outreach's go-to Friday SPIF reward - a free day at the movies for the top two Sales Development Reps of the week.
We highly recommend following the lead of Jordan Greaser and Alex Lynn. It's the perfect sales incentive for sales leaders looking for an easy, inexpensive, and creative new incenvtive. Every sales force on planet Earth could benefit from a little relaxation and camaraderie -work it into one of your next SPIFs and feel the appreciation from your reps.
Ambition: The Agile Sales Management Platform
Business leaders use Ambition to get instant, crystal clear sales performance insights and automate reporting, scorecards, contests, TVs and alerts.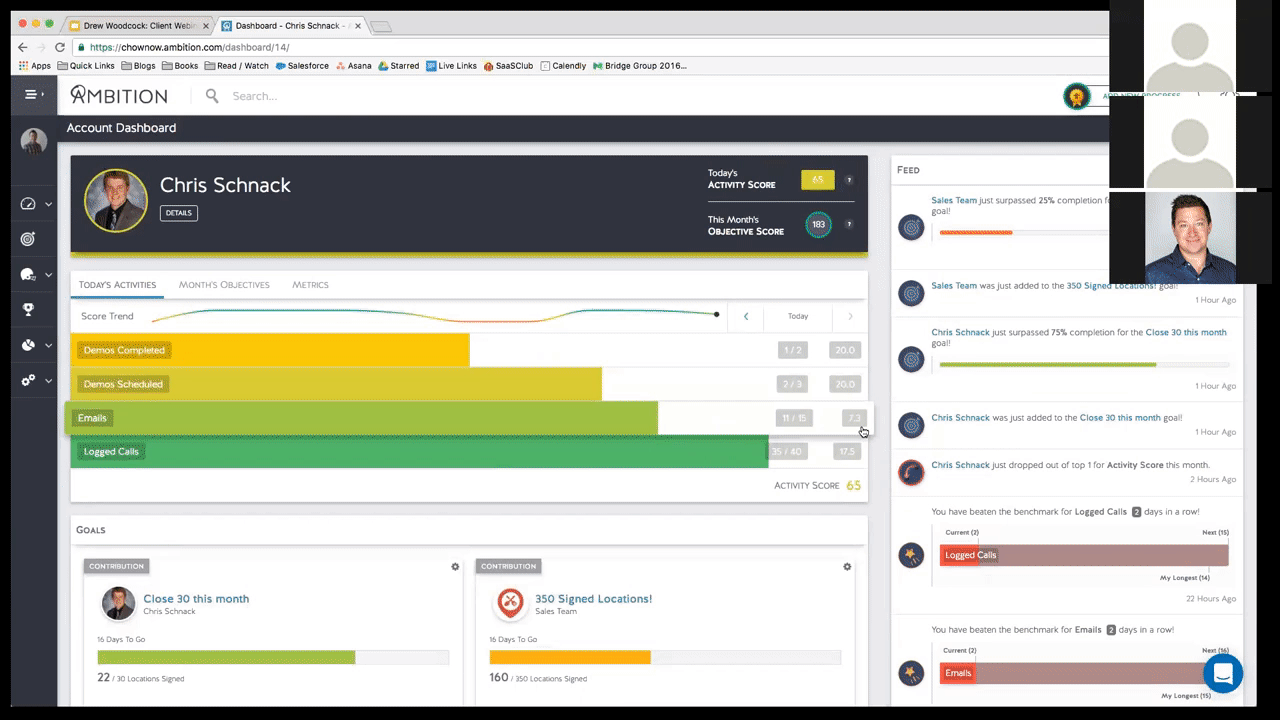 Learn how Ambition can help drive revenue for your sales organization. Contact us for a free demo.