The Tennessee Chapter of AA-ISP (the Global B2B Sales Organization) is pleased to announce the inaugural Summer Sales Leadership Meetup. The event takes place Thursday, July 20 from 5pm-9pm CST at Edgenet (next to Black Abbey Brewery).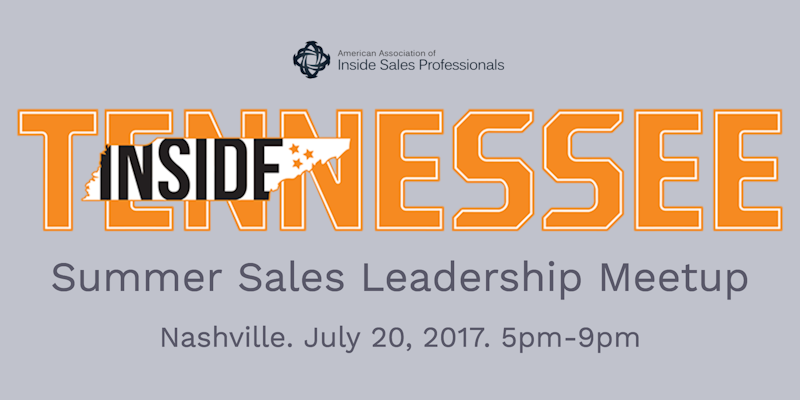 Join the state's best and brightest B2B sales and marketing executives for a night of networking, food, drinks, and special presentations from world-class sales consultants Marylou Tyler (Predictable Revenue; Predictable Prospecting) and Nigel Green (Evergreen; Foundations Recovery Network).
Event Agenda
5pm-7pm: Networking / Free Food & Drinks.
7pm-8pm: Presentation & Q&A: Marylou Tyler and Nigel Green.
8pm-9pm: Networking and Happy Hour.
Note: The meetup is open to any professional who works in a B2B sales, marketing or executive leadership role. See you there!
Where to RSVP
Meet the Speakers
We're pleased to host Marylou Tyler and Nigel Green for this event. Listen to their recent interview with one another on Marylou's Predictable Prospecting Podcast.
About Marylou Tyler: Marylou Tyler is the bestselling coauthor of Predictable Revenue: Turn Your Business into a Sales Machine with the $100 Million Best Practices of Salesforce.com. A successful trainer and consultant, she advises Fortune 1,000 companies on how to improve the sales process, specifically the assembly, activation, and optimization of the outreach sales channel―the most consistent, predictable, and scalable model for generating new business opportunities.
Released in August 2016, Predictable Prospecting: How to Radically Increase Your B2B Sales Pipeline has received universal acclaim as a follow-up that approaches - and may even surpass - the staggering genius of Predictable Revenue. Neil Rackham has called it the "Goldilocks" of sales prospecting books that strikes the perfect balance theory and application - simplifying complex theories without sacrificing real-world utility. Trish Bertuzzi says that it "does for the 'modern seller' what Predictable Revenue did back in its day."
About Nigel Green: Nigel Green has cultivated a decorated, decade-long career in sales management. From 2012 to 2015 he served as VP of Sales at Foundations Recovery Network, where he helped grow the business from $94M to $350M before selling it to Universal Health Services. He is the founder and CEO of Evergreen, a B2B sales consulting firm. He currently serves on the advisory board for Relode, and consults for companies needing to improve their sales teams. Nigel also coaches sales executives eager to exponentially grow their business by making measured sales process improvements.
Organizer Bios
The Summer Sales Leadership Metup is brought to you by proud AA-ISP Tennessee leadership from Edgenet, Cirrus Insight, Ambition and Foundations Recovery Network.
Edgenet: Edgenet empowers Brands with the product content platform to deliver customer-obsessed shopping experiences. Store your global, private, and category-specific attributes, then validate, update, and synchronize your product content for distribution across your sales channel endpoints.
Cirrus Insight: Cirrus Insight puts the power of your Salesforce CRM right inside your inbox. Immediately see everything about your Salesforce Leads, Contacts, and Opportunities right from your inbox.
Ambition: Ambition helps sales organizations get real-time sales performance insights and build culture that drives revenue. World-class clients like Aerotek, UPS, Wayfair, Prezi and Arrive Logistics use our platform to create transparent, inspired and goal-oriented sales teams and call centers.
Foundations Recovery Network: Foundations Recovery Network is a nationwide Dual Diagnosis treatment provider with an evidence-based integrated treatment model that has been proven through 11 federally funded research studies, providing tangible results for clients in our residential and outpatient programs.