How to build kick-ass leaderboards and wallboards to drive Q4 revenue.
Your team has fought all year. Scrapped for deals. Landed big wins. Rebounded from tough losses.
Your 2017 goals are in sight. So how do you ensure your team stays on the straight and narrow? Visualize exactly how and what they are doing.
The Top 10 Best Practices for Sales Leaderboards
The best sales leaderboards do three things:
Keep reps accountable to your sales process.
Publicize success in executing your sales process.
Instill ownership over your sales goals.
To accomplish these tasks, every sales leaderboard should be built to maximize three things in your sales force: sales KPI visibility, performance feedback, and recognition.
Executed correctly, sales KPI leaderboards can spare managers from investing in steak knives or delivering motivational speeches ala Alec Baldwin in Glenngarry Glen Ross.
Here are 10 best practices for you to implement in your sales organization's sales leaderboards in Q4, with real-world examples from Ambition clients.
#1. Sync Sales Leaderboards with Your CRM
The more real-time the metrics, the better the sales leaderboard. Unfortunately, unless you're using Base, your CRM probably doesn't include a built-in leaderboard.
Sales leaders use tools like Ambition to visualize real-time data from Salesforce, Sugar CRM, and other data systems, then create visually compelling leaderboards, SPIFs, and TV slides via a drag-and-drop editor.
Read the Case Study: MemSQL
#2. Display Sales Leaderboards on Office TVs
Whiteboards and spreadsheets are less-than-compelling when it comes to visualizing your sales leaderboard. We recommend placing leaderboards on office TVs - the bigger the screen, the better.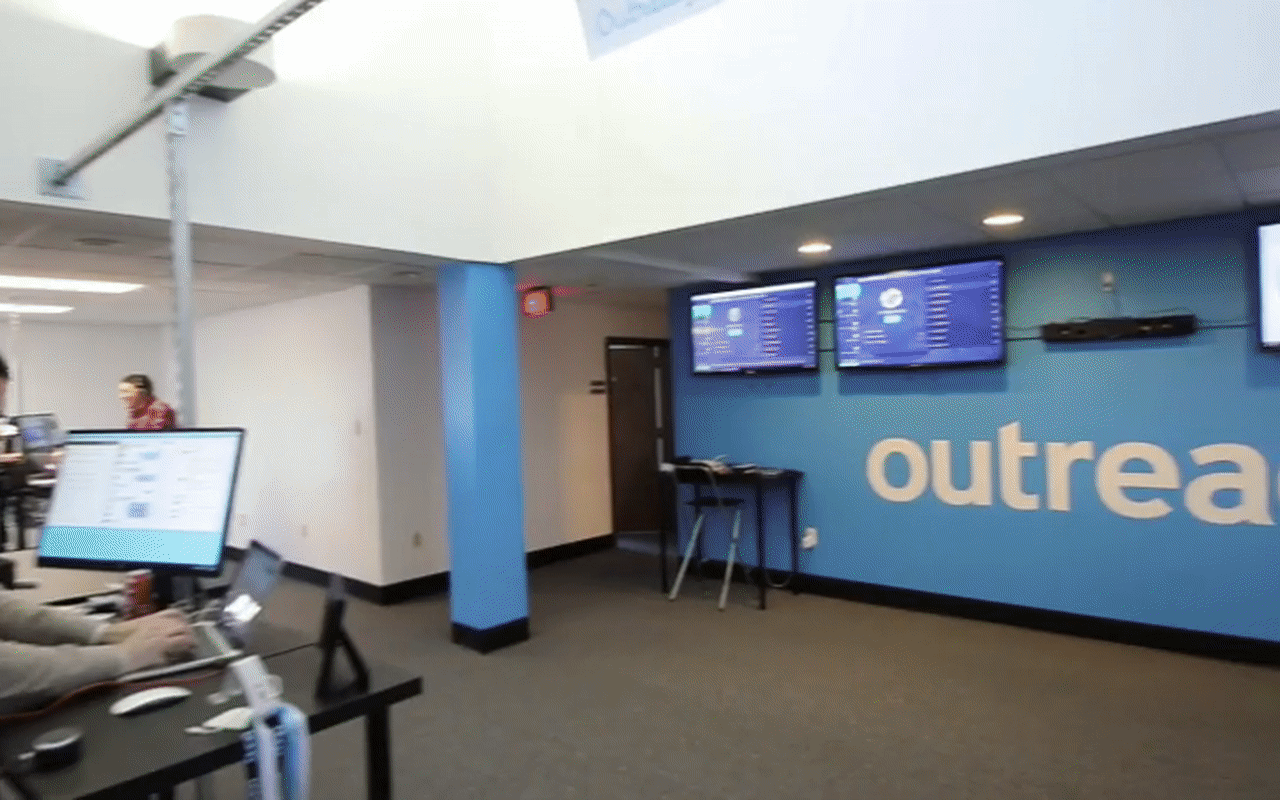 To see how Ambition clients use Ambition to broadcast their sales leaderboards on the big screen, watch our client testimonial from Outreach VP of Sales Mark Kosoglow below.
Watch the Video: Outreach.io
#3. Create Leaderboards for Multiple Metrics
One of the biggest bug-a-boos associated with modern sales leaderboards - the tendency to showcase the same reps every time. When it comes to displaying sales KPIs, the more metrics you showcase, the more opportunities for recognition you give your sales force.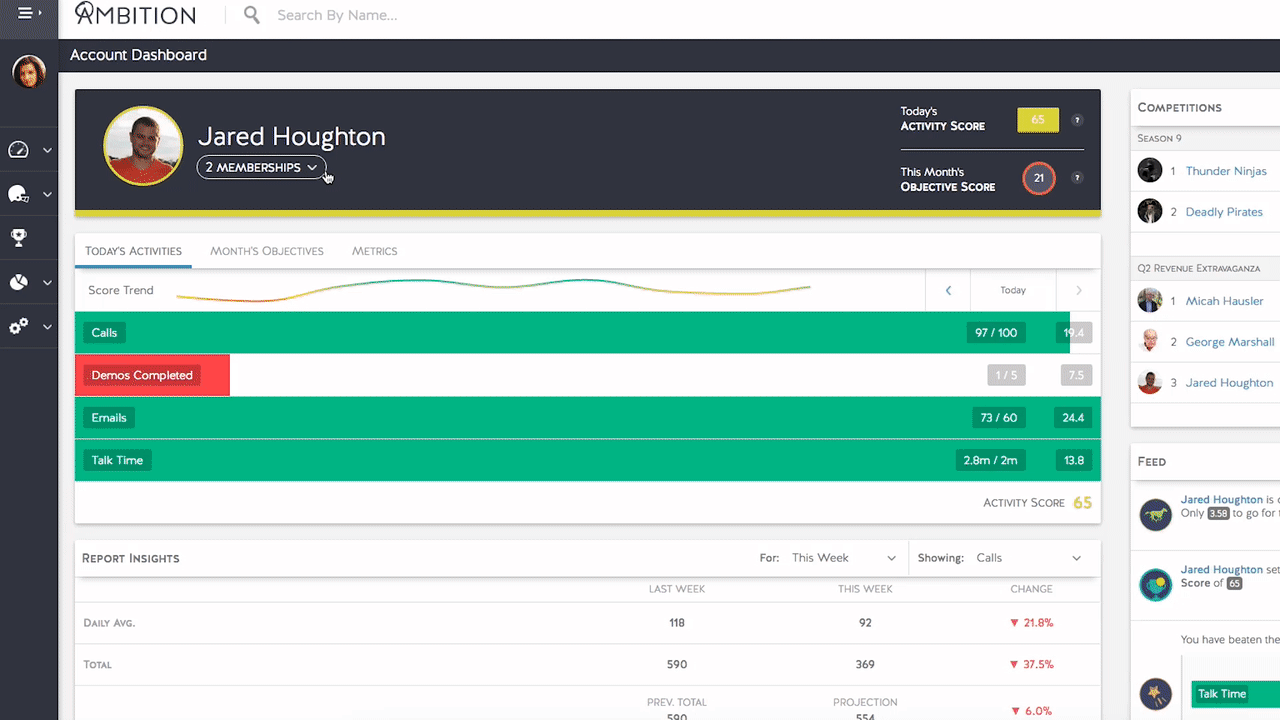 The average sales team is tracking a high-number of metrics. To see a few examples, read our Salesforce KPI Report. Returning to our first best practice, it's best to sync your sales leaderboards to your CRM. See how West Corporation syncs Ambition to PeopleSoft to broadcast multiple metrics on their call center office TVs below.
Read the Case Study: West Corporation
#4. Create Role-Based Sales Leaderboards
A good way to segment your leaderboards is by role or by office location. The more apples-to-apples you can make your leaderboard, the more strongly it registers with your sales team.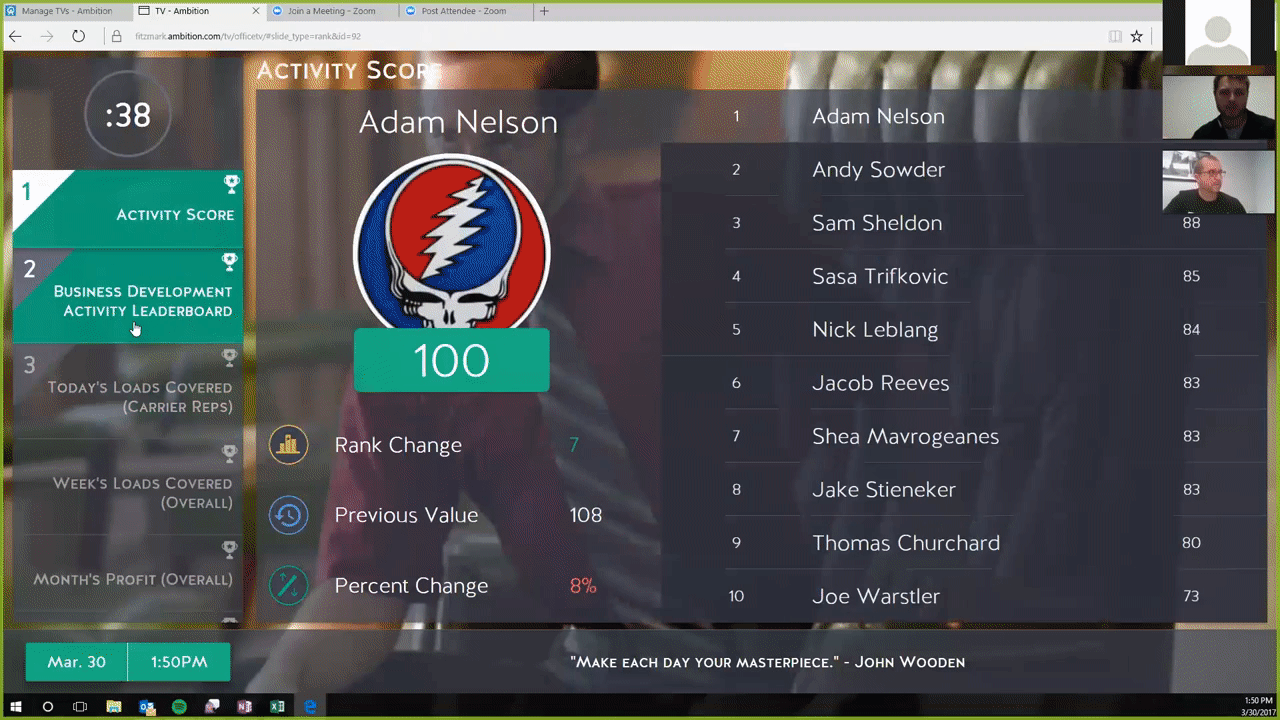 Familiarity breeds contempt. Your reps are looking to battle it out with people they know - or - as a unit against a different branch or team. Segmenting leaderboards to account for this reality makes buy-in twice as strong among your team.
Watch the Video: Fitzmark
#5. Create Compelling Rewards and Incentives
In case you missed last week's coverage of the 7 most epic sales incentives our clients ran, remember this rule of thumb: every elite sales leaderboard has an epic incentive attached to its final outcome.
Whether you're buying your reps billboards, luxury cruises, or epic nights on the town, the goal is to be as thoughtful as possible. While we're not saying you should apply the same level of rigor as you would a 10-year anniversary gift ... quality incentives can help boost the price point of your next anniversary gift. #justsaying
Watch the Video: Filemaker
#6. Don't Stigmatize Low Performers
Important best practice: sales leaderboards are not your opportunity to call out low-performing reps. The old adage - praise in public; criticize in private - holds true here.
For supporting evidence, here's an excerpt from Harvard Business Review's analysis of a televised sales contest Ambition client Clayton Homes ran on Ambition: "The league also struck a balance between shaming the worst performers and celebrating the best. TVs publicly displayed the top scores and played individuals' theme songs when people reached milestones. But there was no public view of the worst performers' scores. Those were visible only within teams, so members could support those who were struggling."
Read the Case Study: Clayton Homes
#7. Create Real-Time Updates and Alerts
Look at the popularity of NFL RedZone. People love skipping straight to the most exciting parts of competition. That goes for sales contests as well.
If a lead changes hands in your sales contest - announce it in timely fashion. If there's a neck-and-neck race in your SPIF with 2 minutes to go, announce it in timely fashion. Ambition clients love using our platform for these purposes - it's a common sense way to add hype and intrigue to your sales leaderboard.
Watch the Video: Steam Logistics
#8. Create Compelling Visual Backgrounds
Unless you're the second-coming of Picasso who has somehow wandered into a sales leadership role (if this is you, God help you), then your whiteboard illustrations of trophies, et cetera, aren't doing your sales contest the justice it deserves.
Ambition clients use our platform to create compelling TV slides showcasing different leaderboards - and splice in things like motivational quotes, weather alerts, employee recognition, and so forth. On a budget? Print out a massive bracket, picture of your incentive, or somethign similar to add visual oomph to the competition.
Watch the Video: National Business Capital
#9. Create Sharabele, Time-Sensitive Leaderboards
Looking to create more opportunities for recognition? Create leaderboards with different time intervals. For example: transactional sales teams can create Closed Won leaderboards for the day, week, month and year-to-date.
For a great example of this practice in action (and to see how to use sales leaderboards across different offices) watch our client walkthrough with AMX Logistics General Manager Jared Moore.
Watch the Video: AMX Logistics
#10. Create Moneyball Metric Leaderboards
Activity leaderboards: great. Objective leaderboards: great. Revenue leaderboards: love it. The final frontier we recommend: a moneyball metric leaderboard, tracking the leaders in an efficiency metric such as opportunity-closed won ratio.
There's a reason the MLB awards the batting title each season to the player with the highest batting average. Give your reps something similar.
Watch the Video: Reliance Partners
More Resources for Sales Leaders
Looking to make your next sales contest a great one? Check out these great resources from Ambition.
Want more? Our Sales Influencer Series podcast and the Ambition Academy are also chock full of insights for modern sales leaders.
Ambition: The Agile Sales Management Platform
Harvard Business Review and AA-ISP (the Global Inside Sales Organization). See how Ambition helps enhance sales KPI visibility and sales floor engagement using real-time scorecards, dashboards, alerts, contests, and TV leaderboards.
Contact us to schedule a demo of Ambition for your sales force today.