In Bridging the Gap: The Ultimate Guide to Account Based Marketing & Selling Alignment, we discuss messaging's role throughout the enterprise buyer's funnel.
Sell the dream. People buy the "why." What's your elevator pitch?
Every B2B sales professional gets taught some variation of these maxims early on in his or her career. They go to the very heart of what sales is at its deepest level.
Companies are no different. Every company that has achieved truly meaningful success has a mission statement. Which goes to a critical point for modern-day B2B sales leaders - the importance of distinguishing mission statements from branding and taglines.
4 Company Mission Statements Driving B2B Sales
For B2B sales organizations, the potential power inherent in one's mission statement far outstrips the power in a tagline. So how are B2B sales leaders leveraging their mission statements to close deals? We asked 5 sales leaders at high-growth B2B companies to explain.
Infor's B2B Mission Statement: We build beautiful business applications with last mile functionality and scientific insights for select industries as a Cloud service.
Sales Leader: Garrett Kramer. Manager, North America Inside Sales
How it Helps Sales: This statement helps us close deals by asserting that value that we promise to deliver to our customers as their technology partner. It declares our pledge to be a strategic business partner that understands their industry, works to exceed their expectations with the solutions we develop and add value to their business through continuous innovation. We help our customers make technology a competitive advantage.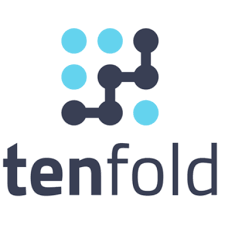 Tenfold's B2B Mission Statement: To help businesses measure and improve their customer journey by organizing and analyzing every customer interaction, enabling them to reach the right customers at the right time with the right message.
Sales Leader: Dan Sincavage. Vice President of Business Development.
How it Helps Sales: Modern sales is based on long-standing revenue generating relationships where prospects and customers likely interact with many different individuals from different departments over the course of several months or years. When companies initially reach out, they still have a tendency to be very focused on specifically solving the top of funnel use-case. Our mission statement's focus on customer journey has helped our team to educate our prospects and customers on the value of understanding the full customer lifecycle and all of the interactions along the way. This helps companies drive growth in new sales, while also understanding how other areas of the business influence metrics such as NPS, expansion revenue and retention rates through their customer interactions. Dan Sincavage. VP of Business Development.
Prezi's B2B Mission Statement: We're a presentation resource, on a mission to reinvent how people share knowledge, tell stories, and inspire their audiences to act.
Sales Leader: Adam Harless. Head of Sales Operations.
How it Helps Close Deals: When we're speaking with a potential B2B client, our goal is sell them on our ability to help them sell their own product, and our mission statement explains how we'll do that as simply as possible. Our mission and product really resonates with those sales teams that are trying to find new ways to reach potential clients and leave a lasting impression on them.
TechnologyAdvice's B2B Mission Statement: Educate. Advise. Connect
Sales Leaders: Dan Percey II. Chief Revenue Officer. Sean Groleau. Director of Client Development.
Dan on How it Helps Close Deals: TechnologyAdvice is dedicated to creating a memorable experience for both the buyers and sellers of business technology. We educate and advise buyers on technology solutions for their pain points, and help connect them with vendors that are best fit to drive their business. At the same time, we believe finding future customers should be as simple as possible for vendors. We help identify the sellers' ideal customer profile, advise them on the experience we can create, and then connect them with buyers who are at the right stage of the buying process.
Mission Statement Messaging in B2B Sales
For more insights into how to translate your company mission statement into effective messaging that aligns across your marketing and sales functions, check out our brand-new eBook: Bridging the Gap: The Ultimate Guide to Account Based Marketing and Selling Alignment.
Thanks to these 5 sales leaders for sharing their stories. Feel free to add yours in the comments section below or by engaging with Ambition on Twitter or LinkedIn.
Ambition: The B2B Sales Management Platform
Ambition is a sales management platform that syncs every sales department, data source, and performance metric on one system.
Ambition clarifies and publicizes real-time performance analytics for your entire sales organization. Using a drag-and-drop interface, non-technical sales leaders can build custom scorecards, contests, reports, and TVs
Ambition is endorsed by Harvard Business Review, AA-ISP (the Global Inside Sales Organization), and USA Today as a proven solution for managing millennial sales teams. Hear from our customers below.
Watch Testimonials:
Watch Product Walkthroughs:
ChowNow. Led by Vice-President of Sales, Drew Woodcock.
Outreach. Led by Sales Development Manager, Alex Lynn.
AMX Logistics. Led by Executive Vice-President ,Jared Moore.
Read Case Studies:
Feeling inspired by these sales mission statement examples? Contact us to learn how Ambition can impact your sales organization today.