Learn more about low performers in part 5 of A Fantasy Football Lover's Guide to Sales Talent from Ambition today!
Previous sections of the 2015 Guide: Part 1. Part 2. Part 3. Part 4. Part 5. You can also read our full 2014 Guide.
Each year, a few key players will decide the fates of your sales force and your fantasy football team. This is your scouting report.
Welcome back to The 2015 Fantasy Football Lover's Guide to Your Salesforce. We're profiling 30 types of people you'll find on both the average sales force and the average Fantasy Football team. We're about to go Mel Kiper, Jr on your sales team.
Part V. X-Factors
The following six archetypes are, well, the X-Factors on Sales Teams and Fantasy Football squads year after year.
These are your wildcards.
The personnel with the highest upside and the lowest downside. The people that make managing a Fantasy Football team and/or a Sales Force such an emotional roller coaster.
1. The Sleeper
Somewhere on your team, there is a stud-in-hiding just waiting to emerge as your company's savior and take you to the next level.
When that happens, you will pat yourself on the back and declare that you knew he or she had this kind of a potential all along, when in reality, you had no clue and just needed a warm body to fill this position on a limited budget.
NFL Doppelganger: Sammy Watkins
I called Leveon Bell last year. And this year, I'm calling a breakout year for Sammy Watkins and the long-suffering #BillsMafia.
When he wasn't infuriating Bills fans with Touchdown-costing early celebrations, Watkins was racking up yards on his way to just shy of a 1000 yard season. And that was with Kyle Orton throwing him the ball.
I'm anticipating big things for Sammy this year.
Signs You May Be The Sleeper:
Management pays you an inordinate amount of attention even though you've yet to really accomplish anything warranting it.
You keep getting compared to established sales superstars on your team -- they now give you dirty looks and blank stares every time you ask for help/advice.
2. The Injury Risk
Rare in the sales environment (unless Terry Tate is patrolling your cubicles), but you still see it happen on occasion.
The sick days start piling up. The productivity starts to wane, or just drops off completely.
Maybe this person isn't practicing healthy living habits. Maybe he or she has been stricken with bad luck.
Either way, it's borderline tragic to watch.
NFL Doppelganger: Arian Foster
​
It's time to start reading the tea leaves, gang. Arian Foster, despite being a fellow VFL and an entertaining, outspoken persona amongst NFL stars, is a DefCon 1 injury risk.
Yes, I know Foster is already injured. But I want to make the greater point here that at no period in time should Foster be on your Fantasy Team.
He's like the sales team member who hasn't been the same since the twins were born two years ago -- it's not going to get better.
Signs You May Be The Injury Risk:
Your typical weekend activities involve base jumping in abandoned construction sites and skateboarding through traffic.
You're the type of person that still rocks the neck brace Doctors said you could stop wearing 9 months ago.
That nice inheritance your spouse got earlier this year has made you realize that coming to work really puts a strain on your back.
3. The Mercurial Talent
In sales, powerful swagger/emotions can be your best ally and, at other times, your worst enemy.
It works the same with mentally unhinged NFL players -- you can't exactly expect them to be the models of consistency.
The mercurial talent may suffer from a deficiency in maturity, self-control or team focus that causes the occasional breakdown in performance and/or leadership abilities.
NFL Doppelganger: Cam Newton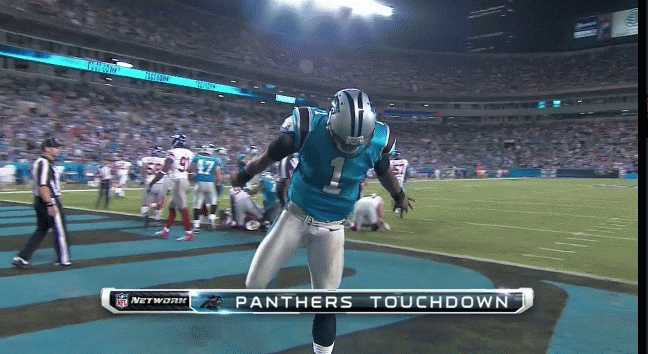 Great celebration here from Cam Newton. No event calls for an unchecked display of swagger like scoring your team's 1st touchdown -- in the 3rd quarter, mind you -- to cut the deficit to 17.
Okay, so this particular celebration wasn't that big of a deal.
But I do love that Cam made waves at his very first Pro Bowl by, and I quote, "big-timing" an autograph-seeking child of a fellow player with a dismissive, "Now's not the time."
Not quite Jay Cutler's legendary "Doooooon't Care" encounter, but bonus points for doing it to a child. Stay classy, Cam.
Signs You May Be The Mercurial Talent:
You've described yourself as a "playmaker."
Your managers describe you as a "streaky performer."
Your peers describe you as a "Diva" but "still someone that's good to have on the team."
4. The Basket Case
Once the swagger/emotion pendulum swings too far, you're exiting Mercurial Talent territory and entering the real of the Basket Case.
Don't panic, though ... Rob Gronkowski is the best Tight End in the game, and he's a full-blown Basket Base. These guys could go either way -- which is what makes them X-Factors.
NFL Doppelganger: Percy Harvin
You've got to respect Percy Harvin.
The incredibly talented, newly-minted Bills receiver's most noteworthy accomplishments in 2014 were beating up two Seahawks teammates, admitting to "checking out" in a game against the Cowboys, and getting unceremoniously jettisoned from the defending Super Bowl champions mid-season.
Is Harvin a classic basket case and total 2015 wildcard?
Put it this way -- Percy could put up solid numbers as an important veteran contributor on the Bills offense. Or, he could get into a back alley brawl with 20 Bills Mafia members on a random Tuesday night and spend the rest of the season in a mental hospital somewhere.
Signs You May Be The Basket Case:
Screaming, tearful tirade(s) in the middle of the sales floor.
Rueful commentary from management. "If Skylar could just get his head on straight, he'd make a great rep."
A full-blown, Andy-Bernard-from-Season-3-of-The-Office moment.
5. The Dark Horse
Lurking beneath the radar in your company is the Dark Horse.
A proven contributor who -- for whatever reason -- has had the luster of past performance start to fade or never received proper accolades in the first place, the Dark Horse is someone capable of emerging from the shadows and having a landmark year, seemingly-out-of-nowhere.
NFL Doppelganger: Jimmy Graham
Classic example of how the NFL and Sales profession share a "What Have You Done for Me Lately?" mentality.
I blew this prediction last year with my Roddy White selection, but I'm exponentially more confident in this year's pick: Jimmy Graham.
We saw how Rob Gronkowski bounced back from a major injury. Think about what Jimmy Graham can do in a Seahawks offense that's perfect for his playmaking abilities.
Signs You May Be The Dark Horse:
Everyone's forgotten how much of an asset you've been to the company over the years, and you're really, really pissed off about it.
You've made a few quiet, but significant adjustments that you are about to unleash.
You've spent the last six months watching the same video clip every night just before you fall asleep, muttering softly, "Release me, oh sales gods. Release the Kraken."
6. The Question Mark
The name speaks for itself.
Normally reserved for a rookie, this year we're just going with the most deserving candidate.
NFL Doppelganger: Eli Manning
​
A living, breathing funeral pyre for consistency.
Signs You May Be The Question Mark:
Your career output levels resemble those of Eli Manning.
You're prone to making the most dumbfounded, vapid facial expressions known to man.
Creating Your Fantasy Sales Team
That concludes Part 5 of our 2015 Fantasy Football Lover's Guide to Your Salesforce. If you're sick of the same old sales contest, check out Ambition. Our platform lets teams take a "Fantasy Football" approach to workforce contests, and has been featured in the likes of the Harvard Business Review, Business Insider and the Sporting News.
Scope out our Product Overview for more information. And thanks for reading.
Maximize Your SalesForce with Ambition
Ambition is a sales management platform that syncs every sales organization department, data source, and performance metric on one easy system.
Ambition clarifies and publicizes real-time performance analytics for your entire sales organization. Using a drag-and-drop interface, non-technical sales leaders can build custom scorecards, contests, reports, and TVs.
Ambition is endorsed by Harvard Business Review, AA-ISP (the Global Inside Sales Organization), and USA Today as a proven solution for managing millennial sales teams. Hear from our customers below.
Watch Testimonials:
Watch Product Walkthroughs:
ChowNow. Led by Vice-President of Sales, Drew Woodcock.
Outreach. Led by Sales Development Manager, Alex Lynn.
AMX Logistics. Led by Executive Vice-President ,Jared Moore.
Read Case Studies:
Contact us to learn how Ambition can impact your sales organization today.