How to Set, Measure, and Recognize Employee Goals that Impact Your Bottom Line
In sales, goals are our north star. They're what we work towards all day, all week, all quarter, and all year. Ensuring that you set accurate goals, measure our progress against them, and celebrate goal achievement have an extremely positive impact on your organization beyond just driving more revenue. When given the right motivation, reps become more engaged and aligned with their manager and overall company goals, and they begin to take ownership of their performance and hold themselves accountable.
Performance Goals, Development Goals, and Training Programs
So, how do we create goals that drive the right type of behavior in our teams? You'll want to ensure you're starting with the SMART framework when setting employee goals. Each goal should be specific, measurable, achievable, relevant, and time bound.
Specific: In order for a goal to be effective, and to ensure it accomplishes the right thing, it needs to be specific. What initiative or program do you want to impact, and how?
Measurable: Quantifying your goal makes it easier to track progress, hold yourself accountable, and know when you've actually accomplished it. By what percentage do you want to increase X, Y, or Z goal?
Achievable: It may sound obvious, but goals need to be attainable. Otherwise, we run the risk of hurting morale and making reps feel as though they can't win. When defining goals, make sure you identify how reps can plan to achieve them. What activities will they complete in order to hit that goal?
Relevant: It's important to think about the bigger picture when setting goals and ensure employee goals are aligned to broader company goals and initiatives. Each goal should strategically support those larger initiatives.
Time Bound: To properly measure success, you and your team need to be on the same page about when a goal should be reached. What is the time frame in which you want to achieve your goal?
Setting SMART goals is the best way to ensure that goals are realistic and motivating, vs. overwhelming and unattainable.
Additionally, you want to make sure you have a healthy mix of performance goals and development goals.
Performance goals are exactly what they sound like: a target level of performance expressed as a tangible, measurable objective against which actual achievement can be compared. An example of a performance goal might be to close X number of deals or set X number of meetings by a specific date. You may already be tracking sales performance metrics such as total revenue, average revenue per customer, average deal size, and pipeline. Use what you're already tracking to identify areas for improvement and build performance goals around them.

Development goals are objectives you set to improve your skills or capabilities. Setting these goals involves an introspective look at yourself or your team, and identifying the areas in which you can improve. For a rep, this might look like a goal of developing their negotiation skills, or learning about a new role they might be interested in. This is a great opportunity for sales and enablement leaders to collaborate on potential training and development programs.
3 Ways to Track and Measure Employee Goals
1. Scorecards
Once your goals are set, it's important to keep those goals and your progress towards them visible. When reps have visibility into how they and their team are performing, they'll know exactly where they need to focus their efforts. Additionally, managers will be able to spot issues early and see where reps need more training or coaching. Ambition's rep and team scorecards are a perfect way to track progress toward goals, see results, and keep them top of mind for reps and managers alike.
>> Calculate weekly activities and objectives that will pace your team to goal with our free scorecard templates <<
2. 1:1 Coaching and Check-ins
Use 1:1 check-ins or regular coaching sessions as a touchpoint to align on goals and goal progress with your teams. Prior to a 1:1, managers and coaches should ask reps to report on their goal performance and progress. How are they tracking toward goals? Are they facing specific issues or challenges that prevent them from progressing? Find out how you can remove roadblocks to help clear the path for their success, and then document a go-forward plan with action items for follow up.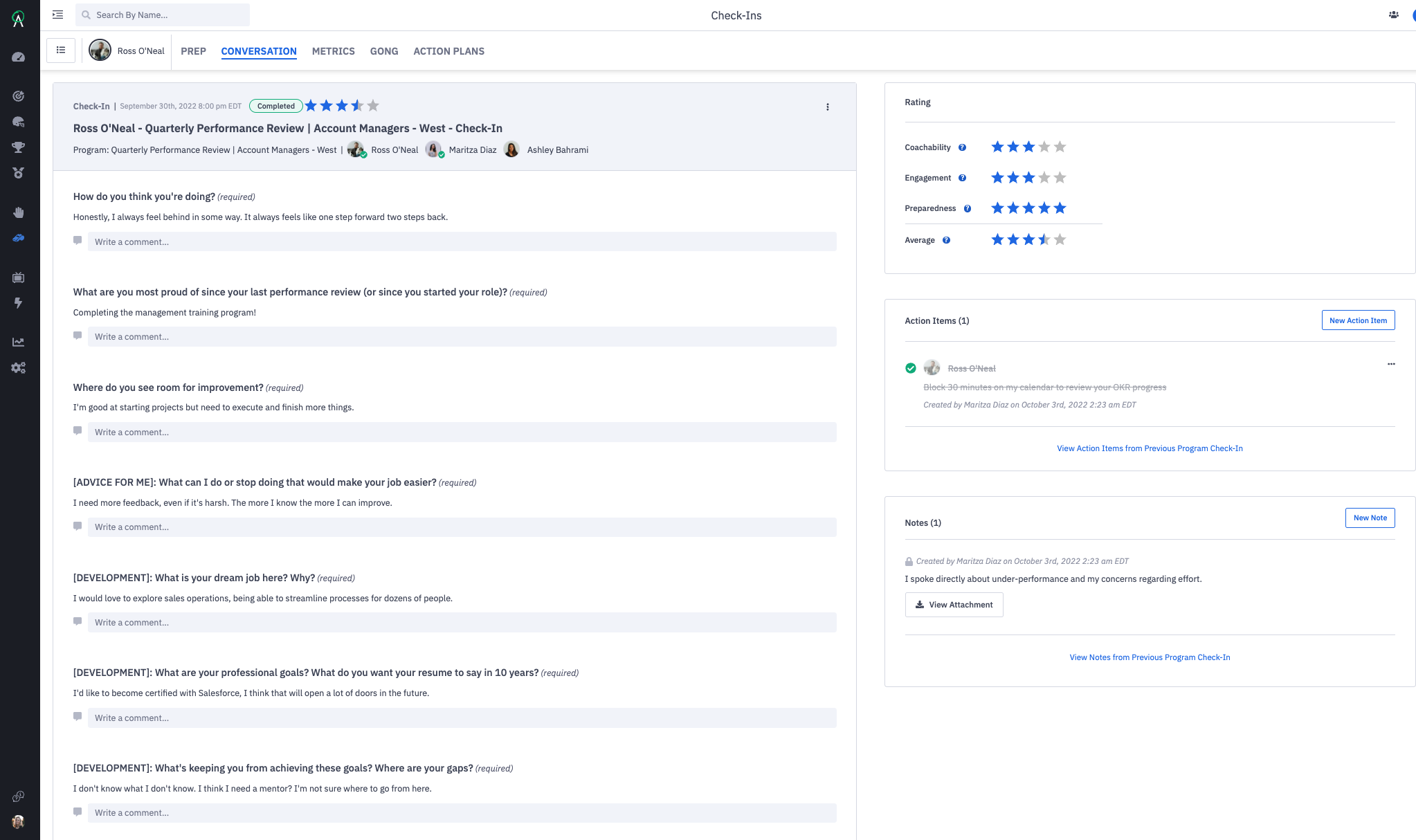 3. Group Coaching and Training
Group check-ins and training sessions are another opportunity to get a pulse on goal progress. In a group setting, reps can share challenges with their peers, offer insight or creative ideas to one another, and problem solve together. Additionally, everyone has the chance to celebrate real-time wins or milestones toward goal progress.


Identify Training Opportunities Based on Goal Performance
Goal setting isn't just beneficial to leaders and reps—it provides necessary insight to enablement teams. Based on goal performance quarter over quarter, enablement leaders can use trends to determine where larger training or coaching opportunities may exist. Additionally, if enablement is able to stay close to goal tracking within a goal cycle, it's also important to be nimble and flexible throughout that cycle to ensure we support reps in goal development and achievement. Just-in-time training and coaching is made possible by tools like Ambition scorecards, which give enablement the visibility they need in order to identify areas of opportunity.