Meet our 2018 March SaaSness Champions, BambooHR.​
On March 12th, Qualtrics, Ambition, DiscoverOrg, and Prezi kicked off the 4th annual March SaaSness Tournament.
64 SaaS companies entered our NCAA Tourney-style bracket, where each winner was to be decided by popular vote. And now, one company reigns supreme above them all.
Your 2018 March SaaSness Champion: BambooHR
BambooHR reeled off 4 thrilling victories over the 'Who's Who' of HR software, beat our number one overall seed by 4 total votes, and sent Cinderella home empty-handed to win our 2018 Championship. In Round 1, BambooHR beat Bullhorn to advance to a 2nd Round matchup versus HR Region 1-seed, Glassdoor. A savvy strategic alliance with Lever helped them pull off the upset and make their 2nd consecutive #SaaS16. In Round 3, BambooHR made another power move, turning heel on Lever and chewing and swallowing their onetime collaborator faster than you could say 'eucalyptus.' An Elite Eight victory over Greenhouse sent them to the Final Four, where they won one of the closest late-round matchups in March SaaSness history, beating HootSuite by a mere 4 votes. No such dramatics were to happen in the Finals - they dispatched of Tourney Cinderella LearnCore to claim the 2018 title and bring March SaaSness glory back to the Silicon Slopes.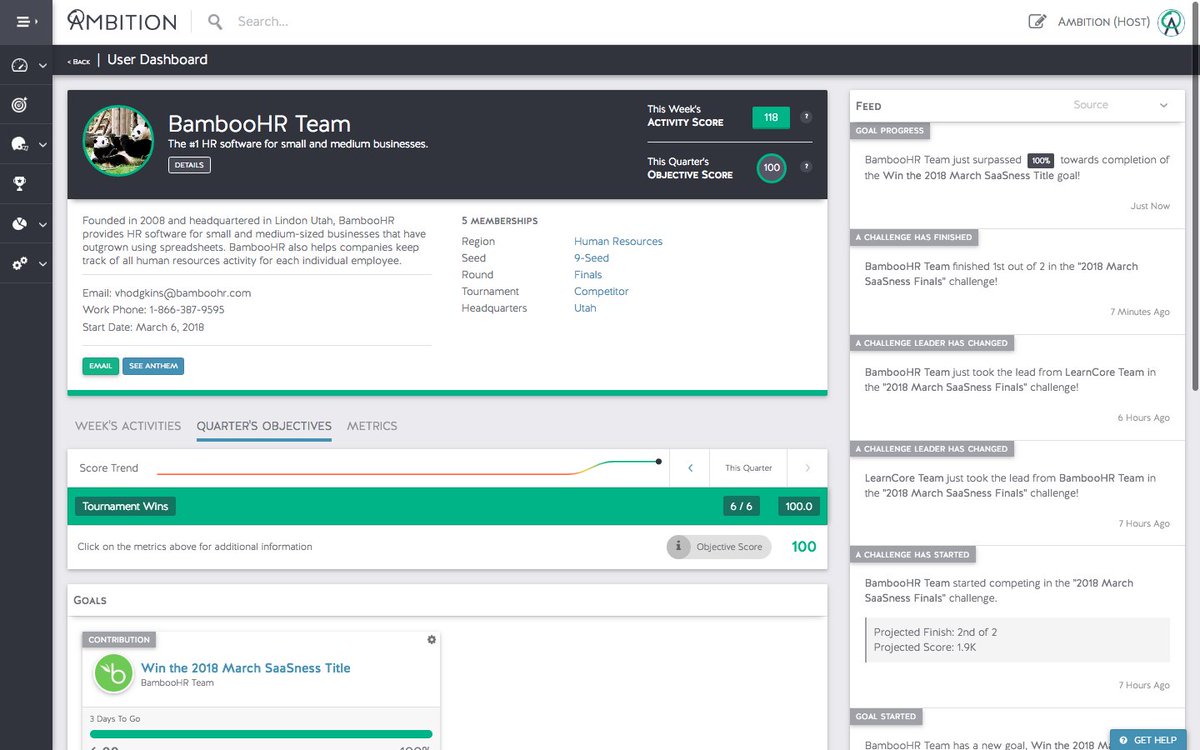 About the Company: BambooHR provides HR software for small and medium-sized businesses that have outgrown using spreadsheets. BambooHR also helps companies keep track of all human resources activity for each individual employee.
Founded: 2008. HQ: Lindon, Utah. Experience: 2017 Sweet 16.
How BambooHR Won March SaaSness 2018
March SaaSness BambooHR - Curated tweets by AmbitionSales
Ambition: The Agile Sales Management Platform
Ambition is a sales performance management platform endorsed by Harvard Business Review and AA-ISP (the Global Inside Sales Organization). Fortune 1000 sales organizations like UPS, Aerotek and Wayfair use Ambition to enhance sales KPI clarity and drive their teams using real-time scorecards, dashboards, alerts, contests, and TV leaderboards.
Contact us to schedule a demo of Ambition for your sales force today.