Already implemented a customer relationship management (CRM) solution, but struggling to get your sales reps to adapt?
You're not alone. CRM adoption is one of the common pain points that platforms like Ambition solve.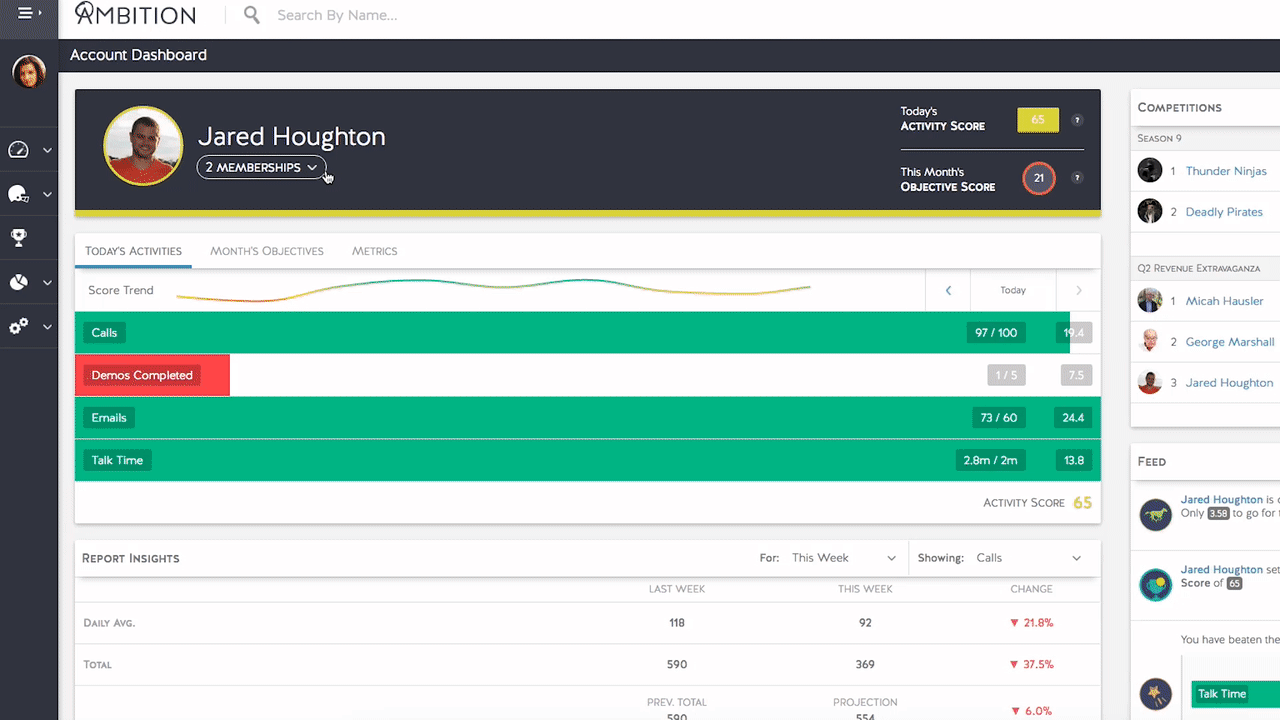 One of the most common challenges associated with implementing and utilizing a CRM solution is actually getting sales reps to consistently utilize the solution. Below, I'll discuss some simple incentives and methods to motivate your sales reps to use your automation software.
Choose an Easy-to-Use System
First and foremost, to reduce the chance that your sales team begins to neglect utilizing your company's CRM, it's imperative that you choose one that's an ideal fit in the first place.
Relevant Article: How to Score Sales Activity
Push back often comes as the result of a learning curve for using the CRM system. So, the easier the CRM is to use, the faster each sales rep will adopt it into their work flow. A quality CRM will always be customizable and easy-to-use; it will also come with a passionate support team who's dedicated to their product.
Best Practice #1. Encourage Healthy Competition
Sales folks are competitive by nature, and adding a little healthy competition amongst the sales team is pretty common in many organizations. So, why not tie that into the CRM system? Below are a few ideas for creating competition as an incentive:
Visibility
If everyone on your team is comfortable with it, make sales numbers via CRM public. This way, sales reps can hold each other accountable and keep it healthily competitive.
Idea: Gift-Giving
Every time someone on the team makes a sale (of a predetermined amount) through using CRM, the individual opens a gift. Other sales reps on the team who've already made a sale and opened a gift may then "steal" the newly opened gift, offering their own in return. This can go back and forth until all the gifts are opened, and everyone (hopefully) has been effectively utilizing the CRM software.
Idea: Flash Contests
Towards the end of the month, let your sales team know that there's a quota that needs to be reached via CRM. If the quota is met, everyone gets to leave early on the last day of the month.
Idea: Have a Feast
Split the sales reps into two teams. Keep points for which team utilizes CRM most effectively/makes the most sales via CRM. At the end of the predetermined time limit (two weeks, a month, etc.), the winning team is taken out for lunch or dinner.
Best Practice #2. Pass the Cash
Let's face it: everyone loves the opportunity to receive free money. No gimmicks, no quirks, just simple cash money may be the perfect way to help motivate your sales reps to stick to using CRM.
If you're going for a little more creativity than just a lump sum, a special gift could help brew motivation among your sales reps. Below are a few gift ideas, but feel free to mix it up and provide rewards that are unique to your company or your sales team:
Idea: Tickets to a Show/Sporting Event
For the thrill-seekers in your office, consider giving away free tickets to a local concert or the nearest sporting event. You'd be surprised how motivating football tickets can be to a sports buff.
Idea: Championship Trophies or Belts
For the most competitive of all your sales reps, an office trophy that they can proudly show off to the rest of the team may be the perfect gift of choice; however, make sure that the competitiveness is kept at a healthy level.
Idea: Fancy Office Furniture
A new office chair for someone who does a lot of sitting behind a desk is the perfect reward. Just don't make it too comfy or they'll never leave work!
Idea: Special Privileges
Special privileges may include a personalized, by-the-door parking spot, an extra day off, or simply 15 extra minutes for an extended lunch break.
Idea: Lunch on You
Who doesn't love a free meal? Food is a fantastic motivator, so providing a free lunch to sales reps that are going above and beyond within the CRM may work wonders.
Best Practice #3. Encourage Professional Growth
If not already doing so, it's important to allow the opportunity for growth within your company.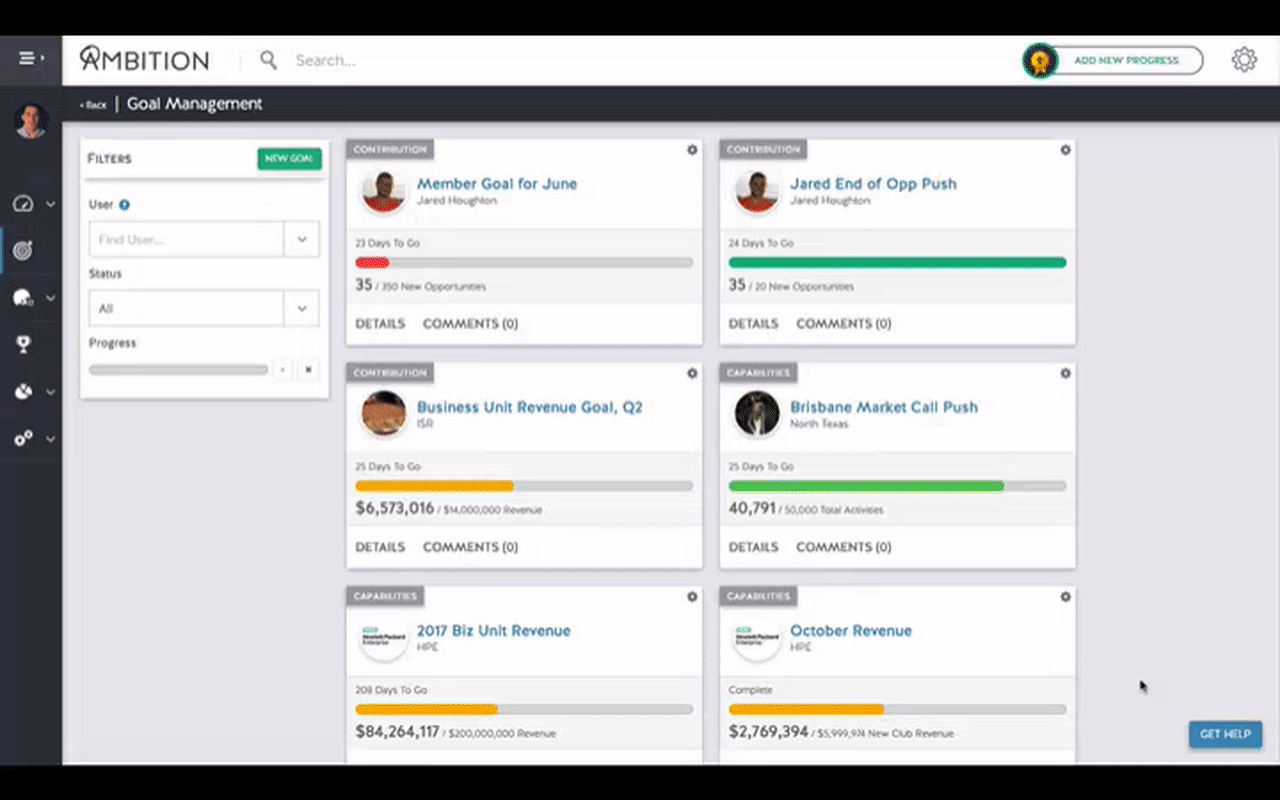 Without knowing if there's a path forward, sales reps may become aloof to the product or service that they're selling, affecting their ability to sell and use CRM effectively. Providing opportunities for professional growth and development can go a long way in ensuring your reps are realizing their full potential.
Best Practice #4. Allow For Flexibility
There's no doubt that the people on your sales team are busy. Oftentimes, they are performing different activities and objectives pertaining to their role.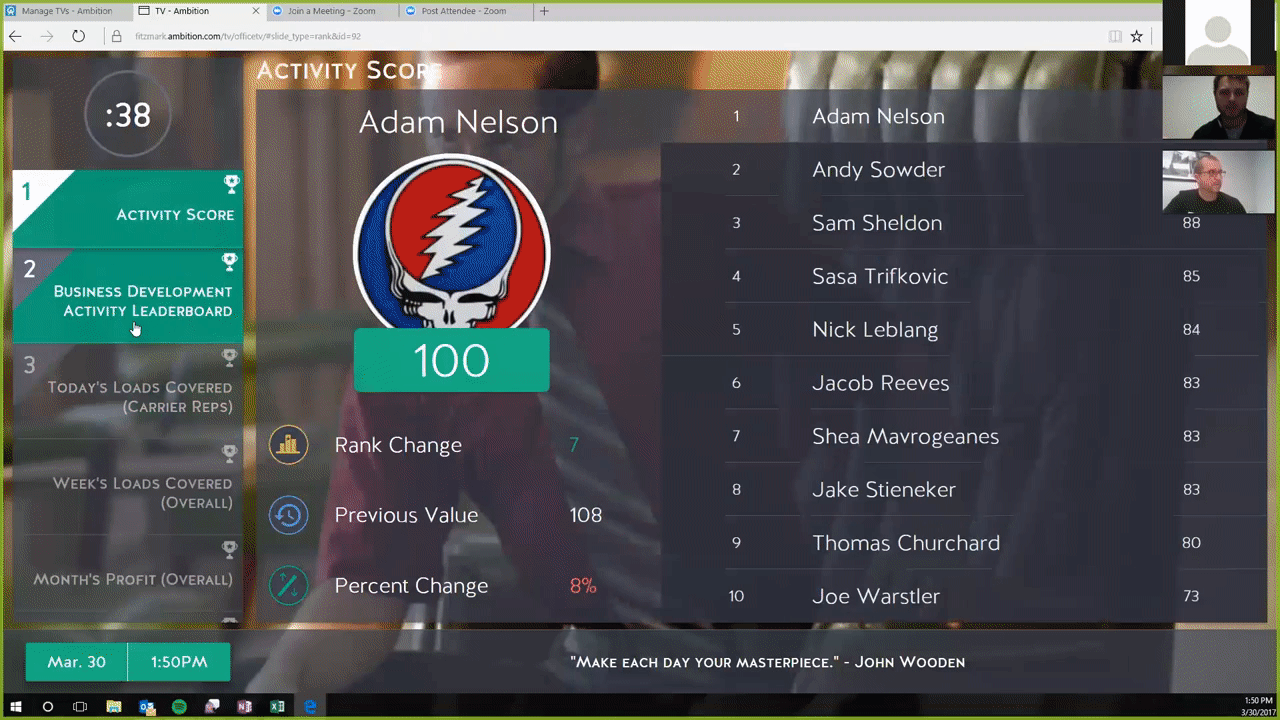 To help alleviate the stress and added time it takes while adjusting to using CRM software, provide added flexibility, such as a working from home opportunity or a mobile application.
This way, sales reps will know that you understand their unique situation, and may help increase their selling performance within the automation software.
Ambition: The Agile Sales Management Platform
Harvard Business Review and AA-ISP (the Global Inside Sales Organization). See how Ambition helps enhance sales KPI visibility and sales floor engagement using real-time scorecards, dashboards, alerts, contests, and TV leaderboards.
Contact us to schedule a demo of Ambition for your sales force today.