How to build a target driven sales environment in your sales force.
Creating elite sales culture is tough. Modern sales leaders face a variety of new challenges in managing their teams - ranging from longer onboarding times to increasing numbers of decision makers.
How do the best sales organizations stay on track? They create a target-driven sales environment - where the team is focused, unified and goal-oriented.
Why the moral imperative behind a target driven sales environment? Because countless studies have reaffirmed this type of sales culture as the driver of a high-performing sales team.
Becoming an elite sales coach and creating a target-driven sales environment are inherently one-in-the-same. The purpose of this post is to break down the five fundamental steps to becoming both as swiftly and effectively as possible.
What is a Target Driven Sales Environment?
Broadly speaking, a target-driven sales environment is one that is constantly keeping score. The organization is tracking rep activities (by CRM or phone system, for example), publicizing results (by whiteboard, sales analytics platform, or sales performance management solution) and holding reps accountable to performance goals (publicly rewarding high achievers and privately coaching up laggards).
The key findings from this recent assessment of 700+ sales professionals and senior executives from GrowthPlay pinpointed an important disparity in those sales organizations:
Executives feel a high-level of understanding of their companies' strategic priorities.
Sales reps do not.
The assessment asked respondents from a variety of industries to answer a series of questions about how well their companies' strategic directions inform six critical elements of their sales approaches:
Their target customers.
The sales tasks generated by those customers' buying journeys.
The type of sales people best suited to perform those tasks.
How the firm organizes its sales and other go-to-market efforts.
The cross-functional interactions required to sell.
The cross-functional interactions required to deliver value.
The results show that even though managers firmly grasp these answers, they often fail to relay the specifics to their teams. In turn, these organizations struggle to achieve top-line revenue goals.
5 Steps to Creating a Target-Driven Sales Environment
The best remedy for a struggling sales organization? Follow the lead of Ambition clientele and create a target-driven sales environment. Here's how to create one in five easy steps.
1. Tie Revenue Goals to Daily Sales Behaviors.
As Birst Sr. Director of Sales Development Chris Pham just discussed in his internal analysis of Q4 SDR call activity among Birst's 100 person SDR team, sales leaders must demonstrate causation between sales process and results.
Source: LinkedIn.
Step 1 to creating a target-driven sales environment is thus creating a distinguishable tie between activity and objectives. That means reviewing your sales process and nailing down the 3-4 key activities that drive desired objectives for each part of your team.
2. Tie Target Acquisition to Employee Engagement.
A Gallup study found that at least 70% of the variance in employee engagement scores is driven by who the boss is. In sales, great managers know how to keep their reps engaged - by creating a target driven sales environment where data feeds employees constant motivation.
The GIF below shows how ChowNow VP Sales Drew Woodcock was able to tie sales rep activity metrics to long-term objectives.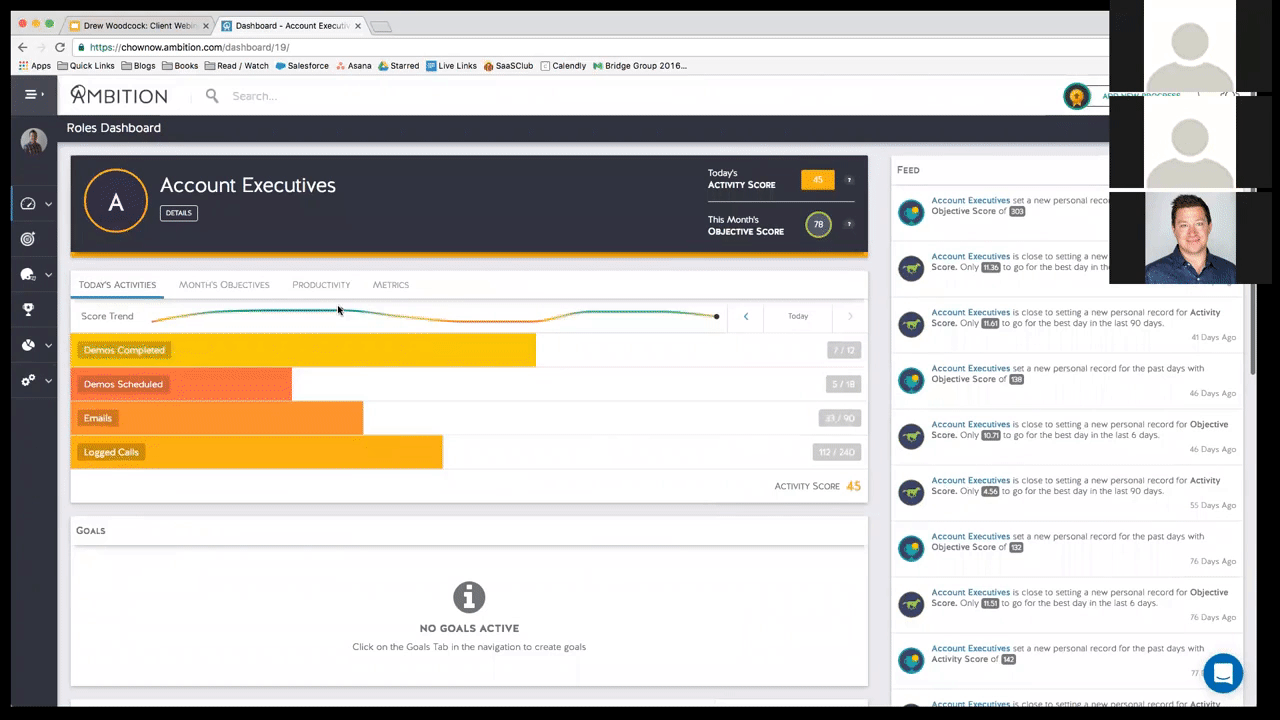 Example: This blog post by Kenco Group showcases how implementing real-time sales gamification led to dramatically increased employee engagement and all-around performance.
The more you tie progress-to-goal and goal acquisition into your sales environment, the healthier your sales culture. Providing reps with direction as to daily behavior and expected outcomes ensures clarity, focus, and fairness amongst your teams. This is a vital step in creating a target driven sales environment.
3. Make Target Acquisition the Forefront of Training & Onboarding
Emphasizing progress to target and behavioral repetition is proven to maximize sales force training and development.
As the Harvard Business Review notes, high-performing sales organizations are deliberate and comprehensive when it comes to employee onboarding, training and development. They "commit to an intensive effort that spreads the learning out over a series of weeks, allowing the incumbent salespeople to apply behaviors gradually rather than trying to learn the entire process at once. The process was tweaked for the new hires and incorporated into their on-boarding."
As the article goes on to note, these findings align with prevailing research on the need for deliberate practice in training prior to achieving results. "Acquiring new behavioral skills (versus concepts) requires repetition; people must try a new behavior multiple times before it becomes practiced enough to be comfortable and effective."
Tying it all back to the initial steps, creating a target-driven sales environment means making repetitive effort a target in addition to revenue goals and so forth. For example: high-growth sales organization FiveStars is tracking calls, new demos set, and demos run - in addition to contracts and installs - amongst its 200 person sales force.
4. Tie Target Acquisition to Compensation & Performance Evaluation
The fourth step to creating a target-driven sales environment is tying performance goals directly into commission and performance reviews. A key point that dovetails with Step 2 in this process goes to performance evaluations and their impact on employee engagement. According to a recent study, "the average manager spent 30 minutes every 3 weeks with each of their employees. Employees who got little to no one-on-one time with their manager were more likely to be disengaged. On the flip side, those who get twice the number of one-on-ones with their manager relative to their peers are 67% less likely to be disengaged."
As our initial HBR article notes, the prescription for typing sales process alignment and target acquisition into compensation and performance reviews goes as follows: Adjust commissions "to reflect the importance of the value-added services, and additional incentives were added to reward those sales reps that exhibited the behaviors required to execute the strategy, not only the revenue outcomes." Next, add "adherence to the sales process" to the salesperson's evaluation scorecard.
The authors found the impacts of such initiatives to be profound. "Reviews were now taken seriously — by managers and individual reps — as a strategy execution and development tool, not only a compensation discussion." All of which makes sense. A target-driven sales environment is all about giving your reps a roadmap to success - with incentives, rewards and instructions for each step of the way.
5. Place Target-Based Mentality at the Forefront of Hiring & Recruiting
In our recent Sales Influencer Series interview with Sandler Sales Management Training Expert Marcus Cauchi, Marcus discusses just how pivotal an effective recruitment and hiring process is to a sales organization's long-term success. The goal: recruit 'A' players only, then place them in a position to success.
A key point Marcus makes around the 23 minute mark of the interview: "'A' players love to be measured." Strong sales leaders will leverage their target-driven sales enviroment to woo these elite reps, pointing out just how serious and competitive their organization is about performance.
Creating Your Target-Driven Sales Environment
To steal a line from Tom Landry, "a coach is someone who tells you what you don't want to hear, who has you see what you don't want to see, so you can be who you have always known you could be." Well, to be an elite sales coach in the modern era, you must create a target-driven sales environment.
Looking to the chart below, it's not hard to guess where today's top sales organizations fall on the rating scale for each metric.
Source: Harvard Business Review
Create your target driven sales environment. Build the best version of your sales organization. And if you need help digging out of the status quo in your sales culture, check out some more information about Ambition below.
Ambition: Create Your Target Driven Sales Environment
Ambition is a sales management platform that syncs any team, data source, or performance metric in your sales organization to public sales performance visualizations - giving managers and teams a codified, automated system of record.
Ambition clarifies and publicizes real-time performance analytics for your entire sales organization. Using a drag-and-drop interface, non-technical sales leaders can build custom scorecards, contests, reports, and TVs.
Ambition is endorsed by Harvard Business Review, AA-ISP (the Global Inside Sales Organization), and USA Today as a proven solution for creating target driven sales environments. Hear from our customers below.
Watch Testimonials:
Watch Product Walkthroughs:
ChowNow. Led by Vice-President of Sales, Drew Woodcock.
Outreach. Led by Sales Development Manager, Alex Lynn.
AMX Logistics. Led by Executive Vice-President ,Jared Moore.
Read Case Studies:
Contact us to learn how Ambition can create a target-driven sales environment for your sales organization today.