Learn more about the top 16 B2B marketing software tools of 2017 in this part of the 2017 Trends and Tech Guide from Ambition today!
The 2017 Trends and Tech Guide for B2B Sales and Marketing is a brand-new eBook by Prezi, Ambition, and LeadGenius. The premise: 9 high-level overviews of the most pivotal trends impacting B2B sales, marketing, support and operations. An accompanying guide profiles 112 software tools that solve the most pivotal needs for B2B business teams in 2017 and beyond.
Each chapter inside the 38 page eBook focuses on a particular trend, lists the needs associated with that trend, and ends with software profiles of 10-15 tools most likely to help. To give you a primer, here's a look at the B2B software tools designated best-in-class for personalizing communication as scale.
The 16 Best B2B Marketing Tools for 2017
#1. Docurated. Give your sales team the content they need, when they need it.
Your sales team needs easy access to relevant, compelling content like case studies, infographics, and videos. But most importantly, they need that content to directly align with each prospect they're working with, regardless of where they fall on the sales cycle, which buyer persona they identify with, and what previous interactions they may have had. The Docurated B2B marketing tool ensures that the right assets are readily available by allowing you to transform disparate content systems into a single, powerful knowledge base, where key content can be instantly surfaced at the appropriate time.
Cost: $$-$$$.
Best for: Companies with lots of great content, but no streamlined processes in place to help sales reps leverage it.
#2. Marketo. Marketing automation software for enterprise experts.
Marketo is heavy machinery. Under the right circumstances, it's the most powerful weapon a marketing team can own, as it provides the most complete suite of features that high-growth and mid-market companies need. A pricier B2B marketing tool solution, Marketo delivers ROI via comprehensive command and control of every major marketing function and robust integrations with just about every CRM, ERP, and e-Commerce platform that matters.
Cost: $$$-$$$$.
Best for: Experienced marketing automation users with an extensive library of content, complex sales cycles, multiple decision makers and varied ICPs.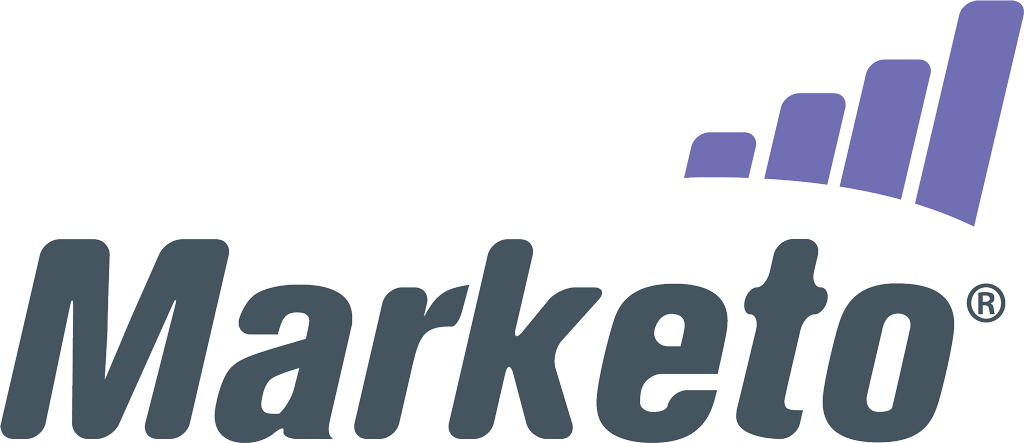 #3. Hubspot. The apex of inbound marketing and powerful automation.
HubSpot is king of the content marketing and inbound marketing universe, and for good reason. It's an all-in-one B2B marketing tool that has literally everything you need to start and sustain a successful marketing program - including marketing automation, templates, building tools for email campaigns, websites, and landing pages, deep analytics tools, and endless content explaining how to be a blogging and social media superstar. The Pro edition includes full Salesforce integration, too. This is marketing automation at its sleekest and most powerful, and it gets better with each passing year.
Cost: $-$$$.
Best for: Any marketing or sales team that wants to get started the right way or make what they're already doing the very best it can be.
#4. Eloqua. Marketing automation for functionality fanatics.
In terms of sheer functionality, Eloqua is without equal among marketing automation platforms: a sophisticated, enterprise-grade platform that covers every inch of the field for modern digital marketing operations. Many of the products in this Guide distinguish themselves by being lightweight, agile, and affordable. Eloqua is not one of those products. It's built for big-time companies with Ph.D-level digital marketing practitioners at the helm. A nuclear option that can deliver the maximum firepower and revenue impacts to major league marketing organizations.
Cost: $$$$.
Best for: Large marketing teams with equally large budgets, complex operations, and plentiful marketing automation experience.
#5. Pardot. Marketing automation for Salesforce.com clients.
Pardot is robust marketing automation with all the requisite functionality your team needs to smarten and segment inbound lead generation, outbound nurturing, and sales-marketing alignment. The prospect segmentation features are especially impressive, allowing you to run complex segment analytics on your entire prospect database in less than sixty seconds, then perform mass actions using tags and lists. [Ex. Segment all logistics industry prospects that have clicked on 3 new press articles about our company].
Cost: $$$-$$$$.
Best for: Mid-Market and Enterprise companies running robust sales operations via Salesforce.
#6. Act-On. Affordable marketing automation for rapid get-up-and-grow.
Act-On distinguishes itself among marketing automation platforms with its nonexistent ramp time and affordable pricing. For newcomers to marketing automation who'd prefer to get a quality platform up-and-running as quickly and painlessly as possible, Act-On is a solid choice that won't break your budget. For more experienced users, Act-On offers a potent enterprise-grade package as well.
Cost: $$-$$$.
Best for: Businesses in growth-mode who count customer satisfaction as a competitive edge.
#7. Mailchimp. Super easy email marketing for everyone.
Mailchimp has one of the most passionate fanbases in all of sales and marketing software. It's a godsend to newly-minted startups and SMBs that can use its email templates, drag-and-drop builder, mass distribution capabilities and analytics with up to 2000 people -- free of charge. Even with more users than that, you'll still get a ridiculously sensible pricing plan that's based on recipient volume, and everyone gets easy list importing and a genuinely enjoyable interface. Mailchimp is a reliable stalwart for those looking to run marketing or customer success-based email campaigns.
Cost: $-$$.
Best for: Marketing teams light in existing marketing automation and budget. Client Success teams in larger organizations looking to send product newsletters and alerts to existing customers on a separate, standalone platform.
#8. Emma. World-class email marketing support for dedicated team leaders.
If you're looking for email marketing software with automation, personalization, and analytics that rival those found in today's leading sales automation tools, Emma delivers the most granular experience you'll find. Its segmentation, design, and reporting capabilities are where the rubber meets the road, allowing for customization and insights that drill down to a practically molecular level. Integrations with Salesforce, Litmus, and other key software providers make Emma a great option for the committed email marketer.
Cost: $$-$$$.
Best for: Sophisticated marketing teams with a dedicated email marketing role.
#9. Prezi. Start the dialogue -- close the deal.
Just about everyone gets tasked with presenting information at some point, whether to a small team or to a board of busy executives. In any case, nobody wins if that presentation is boring, typical, and easy to ignore (or forget). That's why Prezi created conversational presenting, a highly visual, flexible, story-based approach to sharing information that engages rather than overwhelms. By opening up a dialogue with your audience and using strategic visual storytelling, Prezi allows you to develop presentations that are infinitely more persuasive, memorable, and successful.
Cost: $.
Best for: Presenters who want to have meaningful, memorable conversations with their audience and easily show how different ideas intersect.
#10. Wrike. Project management software for front office creatives.
An enterprise-grade project management platform tailor-made for marketing, Wrike eviscerates useless meetings, communication breakdowns, and workflow inefficiencies -- otherwise known as the biggest landmines facing many mid-market and enterprise teams. Wrike's most striking feature is its cradle-to-the-grave functionality. From initial conception to final completion and post-analysis, Wrike keeps your creative processes, KPIs, and collaborative efforts all under one umbrella. A great prescription for overextended marketing teams having trouble meeting deadlines, sharing workloads, executing projects, or meeting expectations.
Cost: $-$$.
Best for: Creative and design-oriented marketing teams that need next-level project management support.
#11. SumoMe. Travel the path of least resistance to website optimization.
If you're looking to optimize your website on a budget, SumoMe offers a suite of affordable solutions that are dead-simple to set up and help you start driving immediate results. The operative word here is surefire, as SumoMe's ease-of-use and measurable impacts on conversion rate and shareability are nothing short of guaranteed.
Cost: $-$$.
Best for: Small, growing, and mid-market businesses that need an affordable, lightweight website enhancer.

#12. Hootsuite. Advanced social media command center for the keyword-obsessed.
Leveraging social effectively for B2B sales and marketing can be a tricky exercise and, at worst, a productivity-destroying landmine. HootSuite helps by letting you streamline, organize, and schedule posts across all of your social channels. Track keywords and phrases that hold value to your company, clients, prospects, and even competitors. Measure the ROI of your team's social media efforts, and generate detailed reports that demonstrate your share of voice, reach, and engagement. HootSuite is a must-have for any company serious about social selling, marketing, and customer advocacy.
Cost: $-$$.
Best for: Experienced social media gurus who have a core strategy in place, but need a simple way to track, execute, and report.
#13. Buffer. Sleek social media management for business.
Buffer is beloved by marketing managers and social sellers alike for its crisp, intuitive publishing and scheduling functionality across key social media channels. The ability to repurpose and analyze prior posts across Twitter, LinkedIn, Facebook, and Instagram in a single click is worth the price of admission by itself. Additional capabilities like video embedding for Twitter and Facebook distinguish Buffer as a true market leader.
Cost: $-$$.
Best for: Companies that derive value from a strong social presence.
#14. Sprout Social. Powerful social media publishing for business.
Whether you're selling to an individual prospect, a small team of decision makers, or an entire business entity, there's little doubt that they have a social media channel (or ten) where you can reach them. SproutSocial helps you significantly amplify your social media voice through synched company and individual accounts. Schedule, publish, and analyze posts across LinkedIn, Twitter, Facebook, and other social channels using a single, powerful platform.
Cost: $-$$$.
Best for: SMB and mid-market companies with strong, unique content and buyer demographics that include younger targets.
#15. Canva. Business-minded graphic design for the layman.
Great graphic designers are a valuable asset for many young businesses, but not always a practical one. Canva lets you bypass time, money, and personnel restrictions by empowering your visually-focused teams with an intuitive, user-friendly design platform to create slick assets for brand awareness, marketing, and sales. No need for experience designing banners and infographics -- Canva has tons of pre-made templates and makes it easy to share and store new creations with the rest of your team.
Cost: $.
Best for: Companies with limited design resources, but creative people and a vision to realize.
#16. Infogram. Charts, reports, and infographics without hassles or headaches.
Just like Canva, Infogram is an essential B2B marketing tool for marketing and sales teams that don't have access to design resources, but that need a quick, easy way to create professional-looking charts, infographics, and reports. Infogram also makes it easy to store, share, embed, and track how your audience is engaging with your visual content.
Cost: $-$$.
Best for: Companies with limited design resources but that need professional, sophisticated visuals to help them close bigger deals.
#17. Screenflow. So anyone can create an Oscar-worthy screencast.
The average screencast is usually a basic, often pixelated recording of things you do on your computer; if you make a mistake, or stumble over your words, you either have to start over or just deal with it. Screenflow makes it possible to easily edit, improve, and add to your screencasts, so they'll make an incredible impression every time. Plus, you can instantly download or share recordings in a variety of ways through several different platforms -- no need to export in ten different formats, worry about files being too large, or waste time finding machines with the capacity to handle your demo.
Cost: $$.
Best for: Companies that want to create beautiful, shareable software demos and presentations without worrying if everyone will be able to see them.

Get the 2017 Trends & Tech Guide for B2B Marketing
The 2017 Trends and Tech Guide for B2B Sales and Marketing is free to download at b2btrendsandtech.com. Just enter your email and get instant access to the 38 page guide, chock full of original analysis and full profiles of 112 unique B2B software solutions to help you meet your business needs this year.
To learn how Prezi, Ambition, and LeadGenius can help your B2B marketing team hit its 2017 goals, please contact us.
Ambition: B2B Sales Force Management Software
Ambition is a sales management platform that syncs Salesforce and other data systems on one simple interface.
Ambition clients sync data systems like Salesforce, Cisco, and PeopleSoft, track real-time performance metrics and broadcast benchmarks, scorecards, goal acquisition and predictive analytics via dashboards and office TVs.
Ambition brings clarity, context and visibility to sales performance and helps sales leaders manage people and operations more efficiently via powerful drag-and-drop sales metric, competition, and report builders.
Ambition is endorsed by Harvard Business Review and AA-ISP (the Global Inside Sales Organization). Hear more from some of our satisfied clients below.
Watch Testimonials:
Watch Product Walkthroughs:
ChowNow. Led by Vice-President of Sales, Drew Woodcock.
Outreach. Led by Sales Development Manager, Alex Lynn.
AMX Logistics. Led by Executive Vice-President ,Jared Moore.
Read Case Studies:
Contact us to learn how Ambition can impact your sales organization today.