Regardless of industry, company size, or organizational structure, the CEO is always the de facto owner of company culture and revenue numbers. It's hard to pass the buck when there's no one above you.
So what differentiates effective culture from ineffective culture? Lack of sync between company and employee goals.
Setting and Tracking Employee Goals? Stay S.M.A.R.T.
The time has come for a more modern approach to goal setting, tracking and performance management. In the 2016 Sales Performance Index, we set forth a new model for setting, seeing and reviewing personnel goals across sales, marketing and account management.
Watch: Fitzmark use Ambition's Employee Goal Management Feature [Watch Full Video]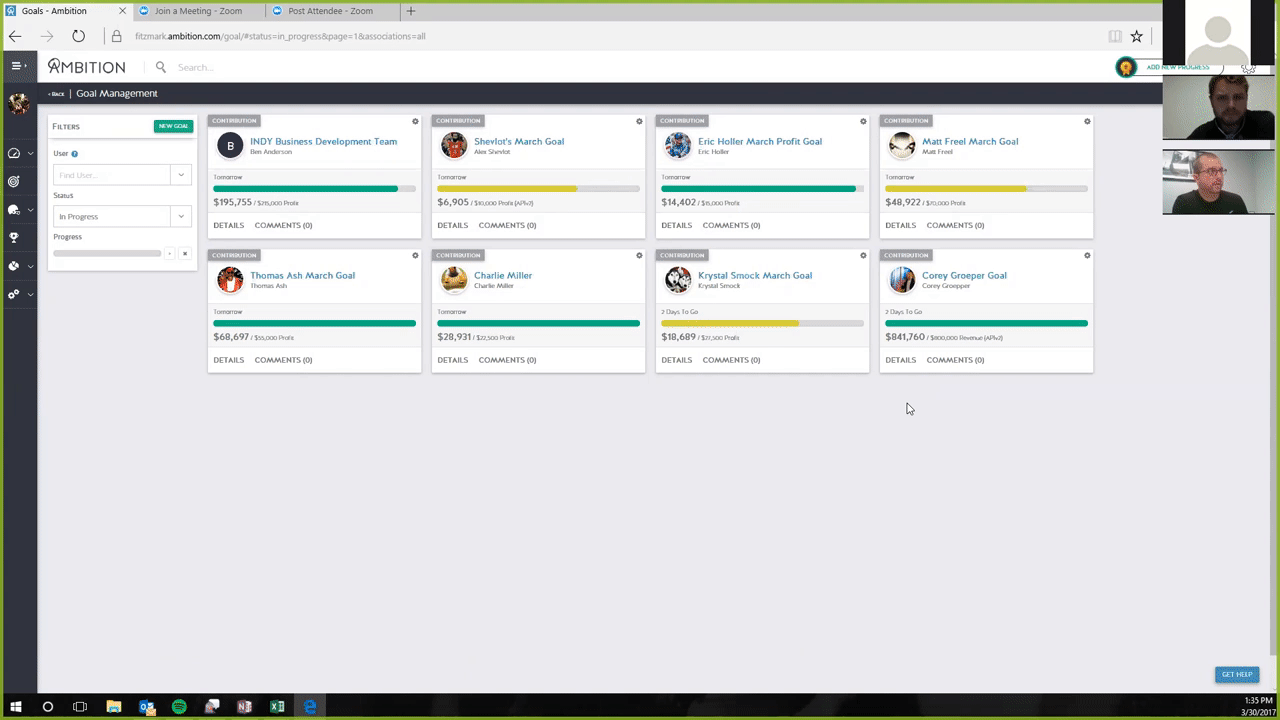 Its thrust: Achieving performance goals starts with establishing clear metrics, benchmarks and performance data. And in 2016, it's not the manager who most effectively motivates his or her team members. It's data visualization. Showcasing each employee's real-time progress towards each goal.
Real-Time Goal Tracking Benefit #1. Employee Engagement
The classic school of thought: Employee engagement can drive KPI data more powerfully than data can drive engagement. And 5 years ago, that was the predominant reality. But in 2016, we've reached a tipping point where technology has flipped the script.
And the sales organizations that are swift to realize how much more powerful their data has become, in terms of motivation, accountability and general enthusiasm will have the culture advantage moving forward. Data as a 5th gear.
And it goes beyond sales. Marketing, account management and client support metrics can be equally impactful on employee accountability.
Real-Time Goal Tracking Benefit #2. Onboarding and Training
In the big scheme, we might be well on our way to having data and technology largely take over the Human Resource elements of sales organization management. The more data-driven, real-time, digestible, straightforward and transparent your performance feedback is for your employees, the better your numbers will be AND the better results you'll see in company hiring and retention.
We've seen it firsthand with our own clients. They've handed over the reins to their employee onboarding, recognition and loyalty programs to technology. All of these programs are intrinsically tied at the hip to real-time rep performance data.
Real-Time Goal Tracking Benefit #3. Performance Evaluation
General Electric just killed its decades-old format for employee performance evaluations. Guess what: The rest of the Fortune 1000 isn't far behind. In our blog post on the best way to evaluate sales rep performance, we set forth the data points that will determine how sales leaders discern sales team performance in the very near future.
As our article explains, there are two reasons technology is the new driving force behind performance evaluations:
60% of managers make poor performance evaluations that reflect more on them than the reviewee.
Technology now has the capacity to make qualified, data-driven determinations for us.
Using Mike Kunkle's template, the average B2B sales leader can set forth an easy way to decipher which sales team members are killing it.
Real-Time Goal Tracking Benefit #4. Feedback and Communication
Data speaks volumes, especially when it's personalized to each employee. Employees who have direct access to their real-time performance data and see it in a visually compellling way are never at a loss for focus, motivation and awareness. In a prior post, Big Data: The Savior of Employee Engagement, I discussed my own experiences as a Marketing Director and the motivational potency of our real-time marketing data.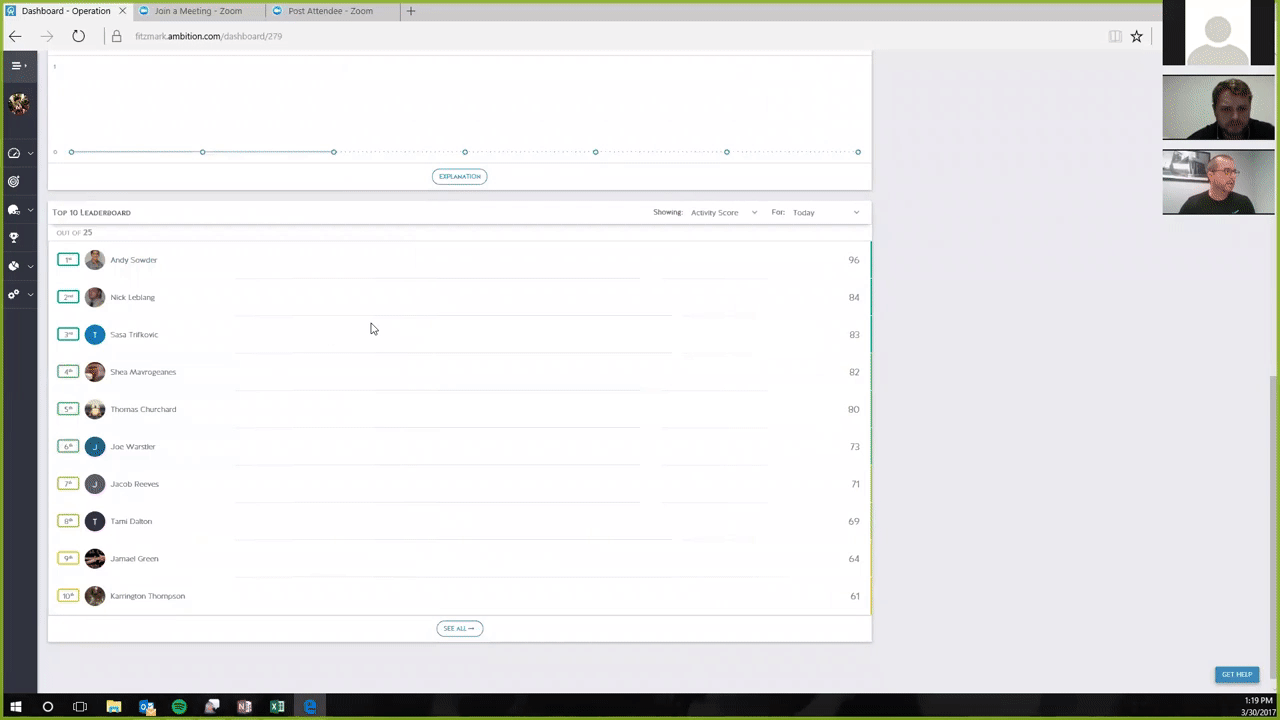 Business leaders who have yet to experience that type of real-time goal tracking can take solace in the fact that their young workforce is perfectly situated for it. Millennials crave feedback, transparency, recognition and openness when it comes to their performance. They are the generation that grew up on Facebook and XBox consoles. They are perhaps the first to be conditioned to expect compelling visualization of their real-time progress towards their goals.
Download the Sales Performance Index
Our new eBook, brought to you with a little help from QuotaFactory CEO Pete Gracey, contains 40+ pages of insight on how to better manage your B2B sales, marketing and account management teams. Click here to download your free copy of the Sales Performance Index. Best of luck to your sales, marketing and account management teams.
Ambition: Hold Reps Accountable to Sales Performance
Ambition is a sales management platform that syncs business teams, data sources, and performance metrics on one system.
Modern sales leaders use Ambition to enhance sales performance insights and run supercharged sales reports, scorecards, contests, and TVs via drag-and-drop interface.
Ambition is endorsed by Harvard Business Review and AA-ISP (the Global Inside Sales Organization). Hear more from business leaders who use Ambition in their organization.
Watch Testimonials:
Watch Product Walkthroughs:
ChowNow. Led by Vice-President of Sales, Drew Woodcock.
Outreach. Led by Sales Development Manager, Alex Lynn.
AMX Logistics. Led by Executive Vice-President ,Jared Moore.
Read Case Studies:
Contact us to learn how Ambition can impact your sales organization today.