Happy Friday, everyone! The Ambition Product Team has delivered another major product update by popular request.
Ambition users can now create both public and private Goals.
Public goals are transparent across the entire platform.
Private goals can only be seen by the creator, relevant users, and Ambition admins.
See below for an example.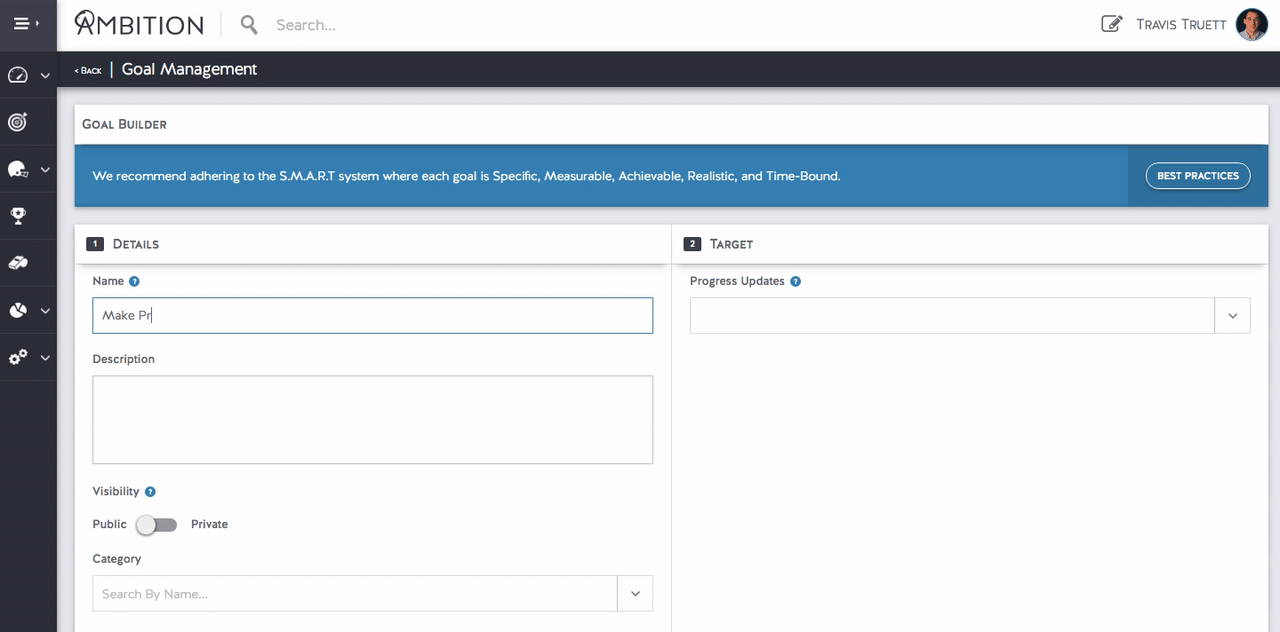 About Ambition Goals
Ambition Goals are designed to be simple, flexible, and leverage the metrics and hierarchy that already exist within Ambition. Creating a goal is comprised of the following:
Name, Description and Category.
Start and End Date.
Target. Tracked automatically metric or manually .
Owner. Individuals, groups, or the entire company.
By Default: Employees can create personal goals, Managers can create goals for individuals and groups, Admins can create organizational goals and of course change default permissions.
Notice in the above screenshot that four goals have an Add Progress button. Those are manually tracked whereas the "Hit 200M in Annual Revenue" goal does not because it automatically aggregates metric data within Ambition.
The team is already hard at work improving upon our initial system, thrilled that hundreds of goals have already been created across early users.
Ambition: Drive Sales Performance and Accountability
Harvard Business Review and AA-ISP (the Global Inside Sales Organization).
Modern sales leaders use Ambition to enhance sales performance insights and run supercharged sales reports, scorecards, contests, and TVs via drag-and-drop interface.