Does your sales team live in Slack? See why Ambition just made Sales Hacker's 40 Best Slack Tools for Sales and Marketing.
Ambition's Slack integration lets you recognize major wins like closed won deals, meetings set, and client renewals via automated triggers - complete with personalized GIFs.
A core feature of Ambition has always been our trigger system, which lets managers create recurring and real-time notifications on any metric tracked within Ambition.
Examples:
50 daily outbound dials.
Closed won deal equaling or greater than $5000.
33% conversion rate on monthly opportunities.
Best of all, these notifications can be routed wherever you see fit, such as office TVs, manager email addresses, and Slack channels.
Feature Upgrade: Personalized Slack GIFs
A favorite user feature of Ambition has always been User Anthems - which let users select any YouTube clip of their choice to play via Ambition TV when they hit a performance milestone.
In that same spirit, we bring you Personalized Slack GIFs. See a real-life example below from our actual Ambition Slack channel.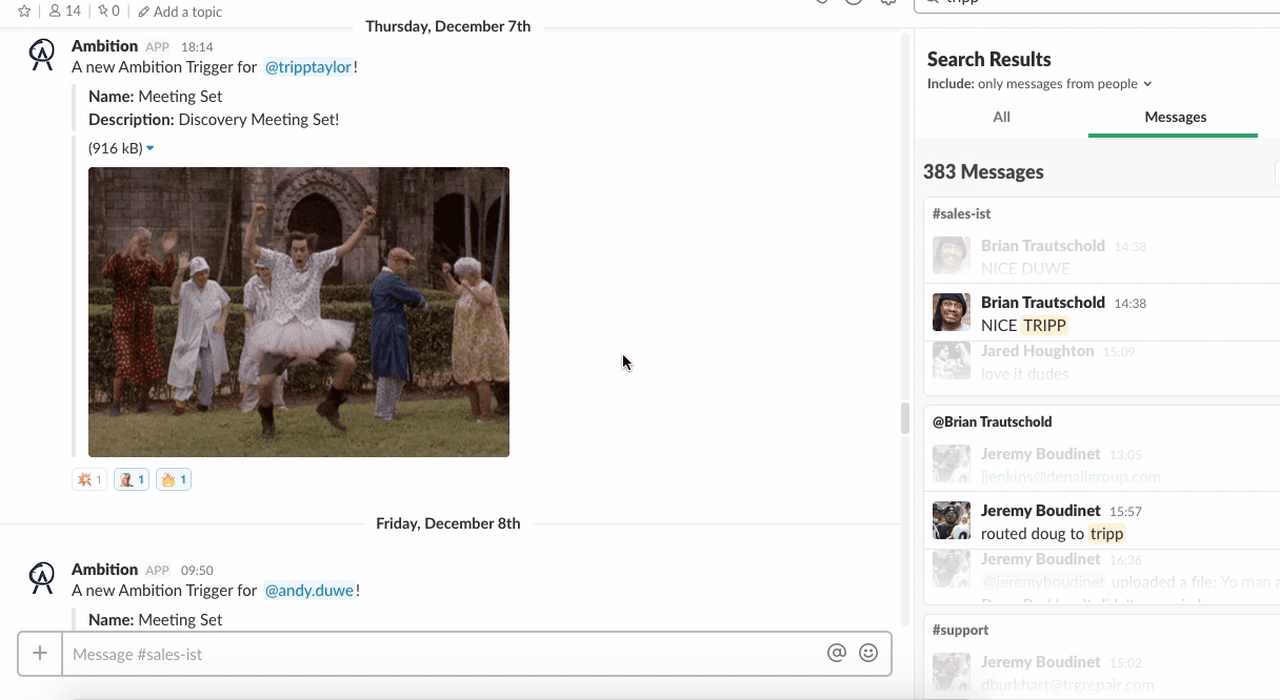 Pro-tip: You can never go wrong with a mid-90s Jim Carrey gif.
Ambition - The Automated Sales Management Platform
Ambition is a sales management platform backed by Google, Harvard Business Review and AA-ISP. Sync data from your key systems (Salesforce, Outreach) onto a drag-and-drop UI that empowers managers to create flexible performance visualizations and insights for your entire sales force.
Ambition Customer Highlight: Outreach from Ambition on Vimeo.
Sales leaders use Ambition to bring transparency, ownership and insight to sales performance metrics. The platform integrates all key data points from your CRM, phone system, and other major data systems under one roof.
Built for Modern Sales Teams
Using drag-and-drop interfaces, sales leaders can build sales performance analytics that suit the specific needs of their sales organization - complete with benchmarks, scores, goal trackers, TVs, leaderboards, competitions, coaching modules, and flexible on-command reporting into activities, objectives, and efficiency metrics.
The ultimate value Ambition provides is efficiency of operations. Ambition gives sales leadership, technology, frontline managers and their teams a system of record. Real-time data updates enable managers to be proactive versus reactive, and show reps the big picture around strategy, processes, performance goals, and incentives.
Contact us to request your free demo.