In this post, we bring you the wise words of Gloria Kopp, esteemed writer for The Huffington Post, Microsoft, Engadget and elsewhere.
Following an inbound or account based sales and marketing strategy? Want to convert your lead database and website visitors into paying customers?
Cold calling and blind prospect emails will only get you so far.
You're competing for their attention in a crowded, noisy space.
To sustain interest and drive leads down your marketing and sales funnel, you must keep your prospects engaged every step of the way.
11 Must-Have Email Workflows For B2B Sales Funnels
The easiest way to pay just as much attention to top-of-the-funnel as the bottom? Automate your email workflows.
Here are 11 B2B workflows you should be using in your business - and how to get the most out of them.
Top-Of-Funnel B2B Email Workflow: Awareness
This is the top of the funnel, where followers will first be made aware of what you do. This where your emails need to grab their attention and get them thinking about what you offer.
1. Topic Workflows
When someone first comes to your site, you'll see they head to the pages that interest them first. If you're selling B2B email marketing software, you may have pages on email templates, subject lines, and so on. Put your pages into topic groups, and when someone checks out a page, send them an email that's related to that topic.
On this email, you'll need to be making a good impression as it could be one of the first impressions you make. Use ProWritingAid to proofread your email, and Resumention to edit it before it goes out.
Top-Of-Funnel B2B Email Workflows: Interest
This is where followers will become interested in what you have to say. Emails will become more targeted, and focus on giving them exactly what they're looking for.
2. Blog and Newsletter Subscriber Workflows
These emails should go out when the follower has signed up to follow your newsletter, or to read your blog. You now have a new follower, and so you should welcome them.
Keep the email short and to the point, and maybe give a couple of links to content they may want to try out next. Paper Fellows will help you keep emails short in this instance.
3. Engagement Workflows
You'll eventually have some followers who regularly engage with your content, and so will be able to help you spread word of your company.
Work out what your engagement threshold should be, then set up a trigger to send an engagement email to followers when they hit this milestone. It should convince them to share more content, and possibly become a customer themselves. EliteAssignmentHelp or Big Assignments can help you create the wording for this email.
4. Event Workflows
These are important to set up when you run events. Set up workflows that will welcome attendees when they sign up, give them important information such as times and dates, and even send supplementary information and thanks when the event is over.
Email automation tools like Reach Mail and Zapier will help you get this done.
Middle-Of-Funnel B2B Email Workflow: Consideration
This is where you'll be drawing followers in, as they consider buying from you. You need to use this step to convince them that it's the right thing to do.
5. Lead Nurturing Workflows
If you've got to the point where a follower has downloaded several articles, or read a few blogs with you, it may be time to nudge them slightly further down the funnel.
Decide on what the trigger point for this should be, and then send an email when they reach it, perhaps giving them offers if they sign up.
6. Re-Engagement Workflows
Sometimes followers fall away from you, and stop reading your content. This is the perfect time to send them a re-engagement email and get them to come back.
Again, decide how long it should be before you send the email, and give offers to them if they come back.
Middle-Of-Funnel B2B Email Workflow: Intent
Now, your follower is considering buying from you. This is where you ensure they go through the buying process with you.
7. Abandoned Shopping Cart Workflows
Abandoned shopping carts are quite common, so an email can be used to bring that customer back. Send a gentle reminder about it, wording your email well with the Oxessays or Grade on Fire writing guides.
Pro-Tip: Tools like PriceWaiter (pictured above) let you offer discounts or deals if they complete the order.
8. Customer Testimonial and ROI Workflows
You may want to create case studies of customers who've had success with you.
Source Page: ambition.com/overview/
Define 'success' with your product, and email customers when they hit this milestone. You can then use their experiences as positive marketing for yourselves.
Bottom-Of-Funnel B2B Email Workflow: Evaluation
Here's where you need to prove that you are the best. These workflows will show customers you're the one to go with.
9. Impending Purchase Workflows
When buyer intent is at its hottest - well-timed email workflows can help push prospects over the edge.
Source Page: ambition.com/salesforce/
Use workflows to send emails to remind customers when they'll need to buy again from you. These can be set up for a variety of time windows, depending on the product being ordered.
Bottom-Of-Funnel B2B Email Workflow: Purchase
This is where the transaction is completed, and marks the point where the customer reaches the end of the funnel.
10. Product Onboarding and Trial Workflows
When a customer signs up and becomes a customer of yours, it's good form to send a welcome email to them. Just as you would for a new subscription email, welcome the reader and direct them to posts or products that may interest them.
Use Litmus to ensure that the email looks good on every browser.
11. Renewal and Upsell Workflows
Once the customer has bought from you, you may have other products that they may be interested in. Have an email sent to them that thanks them for their purchase, and shows them what other products could complement their purchase.
Target Hero offers templates that can help you put a good upsell email together, and convince the reader to buy from you.
More Resources on B2B Email Workflows
These 11 marketing workflows will improve your emails and contact your customers when you need to the most. These additional resources can help:
Use them and you'll see a real difference in how quickly you move customers down the funnel.
About the Author
Gloria Kopp is a digital marketer and content manager at Australian Help. She is also a contributing author at Huffington Post, Template Monster, Oxessays, etc. Besides, Gloria writes Studydemic Blog where she shares her experience with students and educators.
See Sales Email Activity in Real-Time with Ambition
Modern sales leaders use Ambition to enhance sales performance insights and run supercharged sales reports, scorecards, contests, and TVs, and improve Salesforce KPI visibility at companies like Wayfair, FiveStars and Filemaker.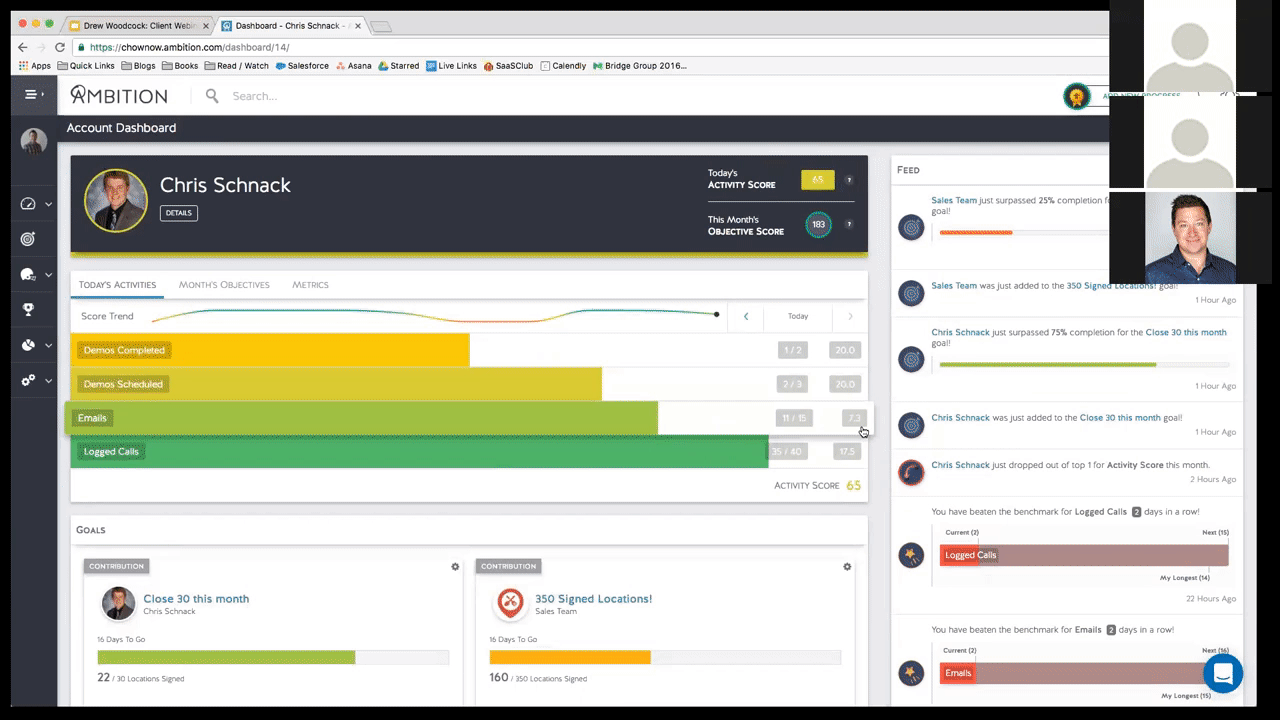 Want bright lights on your Salesforce KPIs? Contact us