SaaS Sales, like most sales, is built on trust. At its core, SaaS has always about relationships. The Buyer needs to trust that the Seller will follow through on the promises made during the sales process. If the Seller has the Buyer's best interest in mind and follows through, the Buyer will reciprocate that loyalty. It keeps everyone honest and faithful.
Most SaaS sales leaders seem to inherently know this. But for whatever reason, they fail to apply this logic in one of their most critical functions: recruiting and hiring.
What's Wrong with B2B Sales Hiring in Tech​
It's the turn-of-the-year, comrades. In other words, recruiting season. Some salespeople will be on that "New Year. New Me. New Job." kick. That means it's time to recruit new team members to bolster your sales team, and replace the ones that are leaving for greener pastures. So as you're gearing up for the holidays, allow me a moment to ask - why are so many of you doing front-line sales recruiting and hiring so wrong?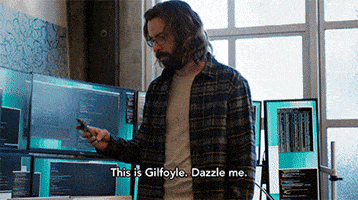 Pictured: A hiring candidate jaded by countless bland recruiting pitches.
When companies are recruiting for high-level positions - you know the Directors and VPs of Sales - a lot of the time it's via word of mouth, introductions from people you trust, and previous relationships. Recruiting these positions can take months or even longer because the company and the potential sales hire are building a relationship together. The company wants to know who they're putting in charge of their sales goal, and the potential sales hire wants to know if this company is the real deal and has an upside for them given what they're capable of. Rightfully so - nobody wants to waste their time on people or companies that don't have a shared common goal.
However, when it comes to hiring SDRs or AEs, we don't follow that path.
Why is that? We all want to build a team of "A" Players, the ones that push the limits, make things happen and are unforgettable. However, at the same time, you want to pigeonhole them into being a cog on the machine so we can make our sales numbers because that's important too. It seems like every tech company is about "Account Based Something," but I feel like most of companies aren't really about it. They just want to be in the "In-Crowd."
Here's why I think this: Do your recruiters send out prospecting emails something along the lines of this: "I was going through your background and I was really impressed, would you like to learn more about an exciting opportunity at our growing company?" If you do, you're not really about Account-Based Anything, let alone Account-Based Sales. AB-M/S/SD/E/W isn't new. It's been around for over 90 years, if not more. Recruiting is like sales - you need to show real interest in your candidates like the great salespeople do with their prospects. You need to be authentic. And you can't fake that.
Would you be happy if some AE or SDR sent a cookie cutter message like that to one your company's accounts or prospects? Even though we've all sent thoughtless, boilerplate messages to prospects at one point or another because, chances are the experience left a bad taste in our mouth. It feels bad to cut corners and worse to see poor returns as a result of our laziness.
So why is it okay that hiring managers and recruiters do that to potential sales candidates? They should be leading by example.
Think about it. If you get an AE or SDR to bite on a cookie-cutter recruiting email, what does that say about that person as a sales professional? If they think that type of message was good enough to respond to, then what kind of messages do you think they'll be sending to your company's prospects and accounts?
We need to see things from other people's perspectives and shoes.
We need to revamp our obsession with short-term and instant gratification. Real (healthy) relationships are very rarely built digitally and via places like Tinder. (Shocking for some of you, I know). If you're wondering why there's a churn problem at your company, it may be because you're recruiting like this. You're trying to fit people into checkboxes when the inescapable truth is: people are unique. You're seeing the world like Neo at the end of The Matrix. You don't really want Sales People; you want Sales Cogs – the type of person to do the same thing over and over again. It's okay to hire this way, you tell yourself. Because at the end of the day, sales is just a numbers game.
Pictured: How idiots look at SaaS sales hiring candidates.
Sales is so much more; it'll never be just a Science or just an Art – it's a mix of both. People are so much more than that, too. Like Tinder dates, they're not just good for one thing. If you want to hire a real Sales Person today, you should have invested time and effort to build an authentic relationship with them months ago. Get to really know them.
The harsh truth is that you can't scale authenticity – it literally is impossible. When you're recruiting for sales, or anything for that matter, be authentic, be excited, show that you care about them and what their goals are. Don't just try to check off the boxes. The sad thing is that so many salespeople go out of our way to imitate authenticity, rather than just being their true, authentic selves right off the bat.
Sure, imitation authenticity can turn into something real, but is that what you want? Something that was built on a lie? I know that there's a higher opportunity-cost associated with authenticity and being real, so to speak. It takes so much more time to do it. We must scale fast to grow our businesses. We want our customers to love us and be successful. But guess what, all of that starts with the first human point-of-contact within your company. We can't afford to fake it. As salespeople. As recruiters. As hiring managers. And deep down, I think we call know it.
Make Tech Sales Hiring Great (For the 1st Time)
The minutiae of what sales has become makes it a difficult balancing act. I love Capitalism and Economics; they are my North Stars for making decisions. I've always said Sales is the life-blood of any for-profit business. I have a love-hate relationship with Sales and Sales people. The great ones remind me of how amazingly beautiful sales is. The bad ones want me to throw my laptop across the room (but it's expensive, so I stop myself).
So I'll end with a few questions: Does the opportunity-cost of simulating authenticity to hire SDRs and AE who check the boxes exceed the future value of your company? And more importantly, your customers? Do you know who you're hiring and how they're being vetted? Those are certainly important things to think about. I hope you spend some time reflecting on them during your time off this month. Enjoy your holidays.
About the Author: Saket Kumar is a SaaS sales executive who writes on LinkedIn. Check out his excellent previous posts like Death of an SDR and 50 Shades of Sales.
Ambition: Sales Performance Accountability Software
Ambition is a sales management platform that syncs every sales organization department, data source, and performance metric on one easy system.
Ambition clarifies and publicizes real-time performance analytics for your entire sales organization. Using a drag-and-drop interface, non-technical sales leaders can build custom scorecards, contests, reports, and TVs.
Ambition is endorsed by Harvard Business Review, AA-ISP (the Global Inside Sales Organization), and USA Today as a proven solution for managing millennial sales teams. Hear from our customers below.
Watch Testimonials:
Watch Product Walkthroughs:
ChowNow. Led by Vice-President of Sales, Drew Woodcock.
Outreach. Led by Sales Development Manager, Alex Lynn.
AMX Logistics. Led by Executive Vice-President ,Jared Moore.
Read Case Studies:
Contact us to learn how Ambition can impact your sales organization today.