Lack of motivation should never hold back a sales team. However, even the best sales reps occasionally struggle with it. The day-to-day sales grind can be tough. Fortunately, there's a management favorite for proactively combating this problem: ye olde sales contest.
The average sales contest involves one performance metric and a leaderboard. These 5 sales competition ideas motivate your sales force and get epic results, according to Harvard Business Review and other experts.
5 Epic Sales Contest Ideas
Now that the Harvard Business Review has validated the benefits of running innovative sales contests, it's the perfect time to try something new and go beyond the classic leaderboard.
Let's take a look at 5 sales contest ideas that can pull your sales force out of a rut and inspire them to attack the phones, push themselves the extra mile, and close more deals.
Sales Contest #1. Fantasy Sales
In March 2015, the Harvard Business Review published a major endorsement of fantasy football-style sales contests. To run a fantasy sales contest, start with a player scoring system that uses 2-4 key performance metrics. Benchmark and weight appropriately.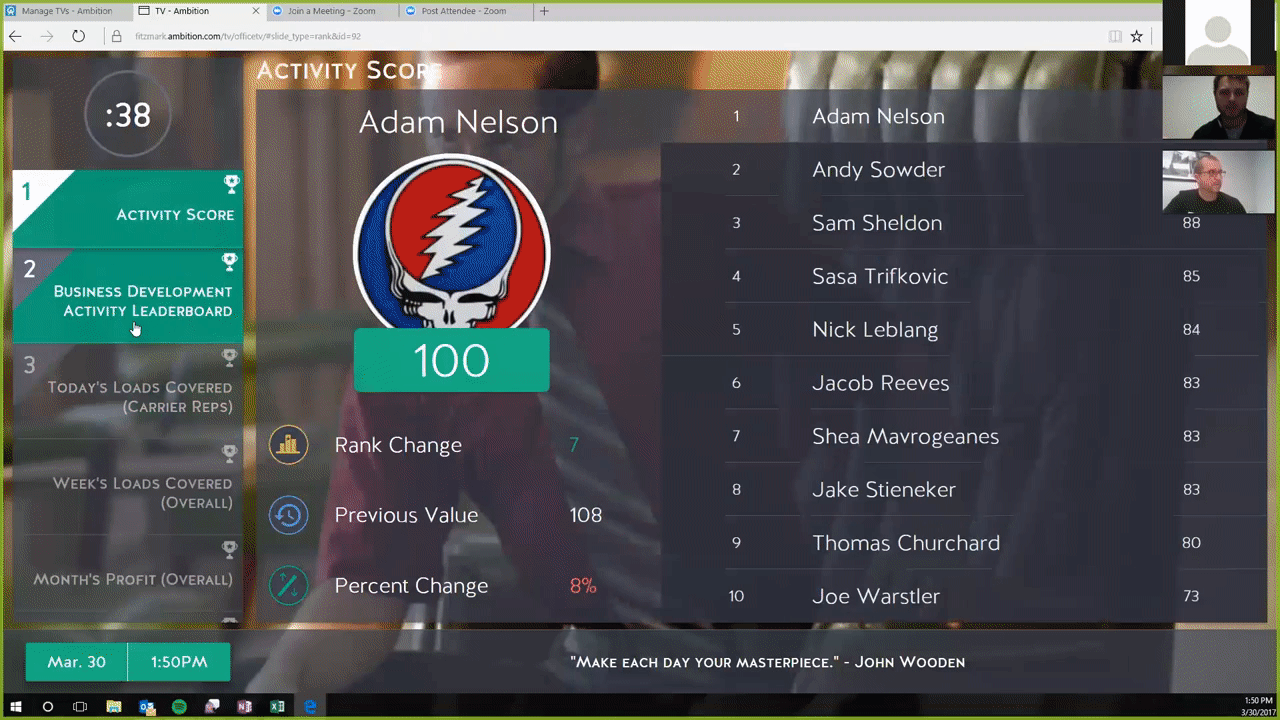 Next, create a fantasy sales league, complete with regular season, playoffs and a company championship. Voila! You're running an epic sales contest. If you manage a high percentage of fantasy football lovers, consider a fantasy sales competition. compelling way of driving self-perpetuating salesforce motivation.
Sales Contest #2. Sales Madness
March Madness style competition where employees compete in daily or weekly head-to-head matchups can inject an extra dose of sales motivation, especially if it's run during basketball season.
Whether you choose to run a daily or weekly March Madness contest, when you put that bracket up on the wall or office TV, you're bringing at least a bit of the energy, passion and Cinderella appeal of March Madness into your sales bullpen.
Sales Contest #3. Sales Premier League
In Europe, professional soccer is played at varying levels: the Champions League, the Premiere League, and the Relegation League. A big obstacle with leaderboard-style sales contests is that they only motivate your top performers.
That being the case, another way for large sales teams to incentive performance is to set up 3 different leagues so that people of comparable performance levels will be the ones competing against one another for a shot at the title.
If you want to take this sales contest to the next level, have a preliminary round where that you'll use to divide your performers into each league. How well they perform during the preliminaries determines the level at which they compete.
Sales Contest #4. Capture the Flag
Capture the Flag is a compelling sales contest idea that any sales team - of any size - can run. Set a performance objective - there's your Flag. The first individual or team to hit that objective wins.
These sales contests are incredibly easy to set up and run whenever you want. Managers have had as many as 10 going at a time on Ambition. Add motivational firepower via compelling incentives for your winners.
Sales Contest #5. Epic Incentive
Even the most basic sales contest - a classic leaderboard - can becomes epic through compelling, creative incentives. No matter what kind of sales contest you're running, we recommend deploying a memorable, experiential award to the winner, if economically feasible.
Check out Blueboard and see what we mean. Incentives like sports tickets, concert passes or tickets to famous attractions work extremely well. By giving your winner something that is an event or experience, you're creating a unique, lasting memory that will be 10x as impactful as another Amazon gift card.
Run Epic Sales Contests on Ambition
Ambition brings clarity to sales performance and helps sales leaders manage people and processes more efficiently. Bypass IT and create sales contests, reports, analytics, and recognition via simple drag-and-drop interface.
Ambition is endorsed by Harvard Business Review and AA-ISP (the Global Inside Sales Organization). Hear more from business leaders who use Ambition in their organization.
Watch Testimonials:
Watch Product Walkthroughs:
ChowNow. Led by Vice-President of Sales, Drew Woodcock.
Outreach. Led by Sales Development Manager, Alex Lynn.
Read Case Studies:
Wayfair: Daily outbound calls increased by 100%.
Peek: Monthly sales activity volume grew 142% in 6 months.
Vorsight: Monthly sales conversations grew 300% in 6 months.
Contact us to learn how Ambition can impact your sales organization today.