How do you measure the true value of an employee? The true efficiency of a sales process? Whether your employees are actually following correct processes to complete objectives? Difficult questions, right? The truth is, precious few Sales Managers can answer any of these queries with a straight-face. Unfortunately for those that can't, lacking an answer to these questions may not be acceptable much longer.
Measuring employee performance is becoming a hot-button issue, even as Senior Staff are being given more and broader responsibilities and performance objectives themselves. The result is a quandary for managers: How do we do a better job overseeing talent performance? The answer is not more oversight, it's smarter oversight. Or as I'll define it -- measuring what matters.
Identifying Your Moneyball Sales Metrics
A critical first-step to smarter employee performance is reimagining the purpose behind the measurement. Effective performance measurement conveys relevant information primarily to the employee himself or herself and draws corrolaries between processes (verbs) and key performance objectives (nouns).
Measuring employee performance should be about communicating both real-time performance and showing how that performance correlates with daily, weekly, monthly and quarterly performance objectives. How do you find important correlations between process and performance? Follow this six-step action plan.
The 6 Steps to Moneyball Sales Metrics
Heard about advanced sales metrics, but have no idea how to find them? Here's a 6 step guide to creating better benchmarks using advanced metrics.
Step 1. Create two sets of objectives.
Here's what belong in each set of objectives.
Level 1 Objectives: The most common activities in your sales process, such as cold calls, emails, or LinkedIn messages. A good way to think of Level 1 Objectives is as your "Verb" objectives.
Level 2 Objectives: The key outcomes for your sales team, such won deals or revenue. A good way to think of Level 1 Objectives is as your "Noun" objectives.
Step 2. Select a Level 2 Objective.
Now, you're going to begin creating advanced metrics out of those two sets of objectives.
Start by selecting a Level 2 Objective such as monthly revenue, weekly profit - whatever is a pertinent major objective for your sales reps.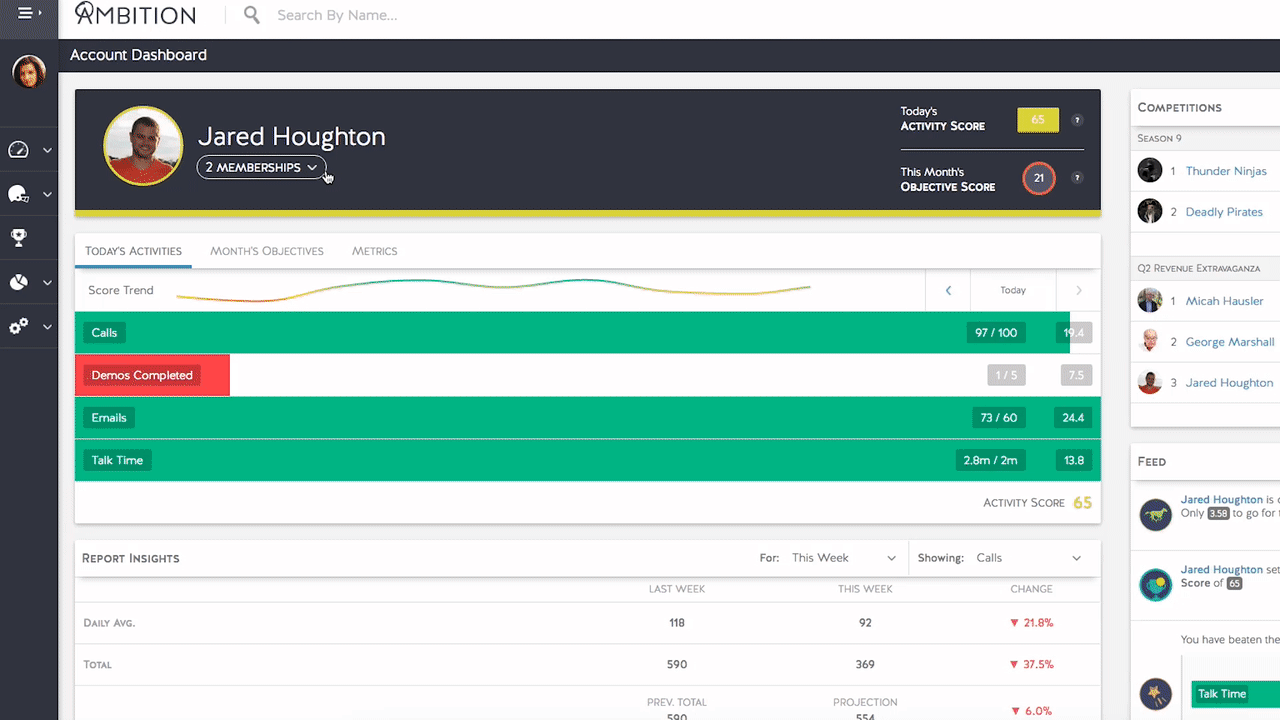 Step 3. Identify top and bottom performer on objective.
Two keys here: 1) You should select a recent time frame, such as last month, last quarter or last year, to base your evaluation. 2) Both performers should have the same role and seniority.
Once you pick your Level 2 Objective (Ex. total revenue from the previous quarter), find two people who have the same role and experience, but performed on opposite ends of the spectrum.
Step 4. Calculate Level 1 Objectives for given time frame.
For each employee, calculate their monthly totals across the Level 1 Objectives that make up their pipeline metrics.
Step 5. Divide Level 1 totals by Level 2 totals.
Divide Level 1 (Verbs) into Level 2 (Nouns) and order hybrid metrics by largest deltas.
Step 6. Make the move to real-time.
Implement software that can track your real-time advanced numbers moving. We happen to think Ambition is a great option. Want an example of a finished product? Here's one below.
The Benefits of Moneyball Sales Metrics
Hitting (and exceeding) quota starts with understanding daily behavior. Tracking Moneyball sales metrics and exposing progress will incetivize employees and empower managers with the actionable intelligence needed to make important decisions.
Done correctly, Moneyball metrics can tell you a great deal about your overall sales process efficiency, what motivates your sales reps, and which aspects of your process are and are not working. Implement these steps, channel your inner Billy Beane, and take your sales metrics to the next level. Happy selling!
Ambition: The 360° Sales Management Platform
Ambition is a sales management platform that syncs business teams, data sources, and performance metrics on one system.
Sales leaders use Ambition to enhance sales performance insights and build sales reports, scorecards, contests, and TVs that supercharge focus, effort and accountability.
Ambition is endorsed by Harvard Business Review and AA-ISP (the Global Inside Sales Organization). Hear more from business leaders who use Ambition in their organization.
Watch Testimonials:
Watch Product Walkthroughs:
ChowNow. Led by Vice-President of Sales, Drew Woodcock.
Outreach. Led by Sales Development Manager, Alex Lynn.
AMX Logistics. Led by Executive Vice-President ,Jared Moore.
Read Case Studies:
Contact us to learn how Ambition can impact your sales organization today.