They say the best things in life are free — but when it comes to sales incentives, that's not always the case. It can be challenging to think up sales incentives that are fresh, exciting and (most importantly) incredibly motivating, without breaking the bank.
So we sourced ideas from our own sales team, as well as our customers, to share 5 brilliant sales incentives that are essentially free and can go a long way in bringing your team closer together. (And we all know: culture trumps strategy.)
Whether you've got a great big budget for sales incentives or yours is stretched thin: try out a few of these incentives on your sales team and score some quick wins.
1. All praise the winner
Incentive idea: Winner gets a public shout-out from every team member.
Recently, we ran a simple one-week competition for most meetings set in accounts with previous closed lost opportunities. The prize: the winner received a personal shout-out from every losing Account Executive on our weekly video call with our entire go-to-market team. And it. was. amazing. (Also, recorded for posterity.)
The trash-talking started immediately and the competition was a huge success. The winning AE — we'll call her Katie — was announced Thursday afternoon, and our go-to-market team was anxiously awaiting the praise fest that would ensue the next day. But no one anticipated just how seriously her fellow AEs were going to take it.
Two losing AEs actually took the time to put together hilarious, heartfelt slide decks featuring compilations of Katie's favorite and most infamous Ambition triggers (i.e., a whole lotta pizza gifs*). Our company also got to hear some pretty thoughtful words about Katie's work ethic, willingness to collaborate, and all-around awesomeness. There were a lot of laughs, maybe a few (happy) tears, one limerick — and quite a few folks saying it was the best GTM call we've ever had.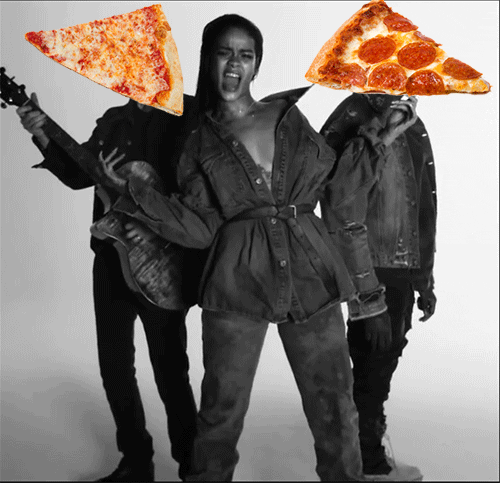 *For context: this particular AE has been on a pizza-trigger streak for...a long time.
2. Grease up
Incentive idea: If the team hits quota, your manager won't shower for a week (or two…).
Look, we're all for cleanliness in the workplace. But...we're also all for saving water, so we're dropping this incentive into the "good cause" category.
Not so long ago, a customer shared one of their funniest and most effective incentives: if the team hit their monthly quota, their sales manager wouldn't shower for a full week. It didn't hurt that their manager happened to be a super polished, clean-cut kind of guy. So everyone knew that a no-shower policy would be painful for him — and incredibly entertaining for the bystanders.
A shared goal and a shared incentive does double duty by driving team collaboration and enhancing the culture on your sales floor. Which is exactly what happened for this Ambition customer. Ultimately, the team hit quota, the SDRs got a collective laugh, and the manager saved a few bucks on his water bill.
3. LinkedIn endorsements
Incentive idea: Write a LinkedIn endorsement for every rep who hits quota.
LinkedIn is a happenin' place, and it's never a bad idea for your reps to build out their own personal brand there. Obviously, it increases their own credibility as they're working the platform for your company's benefit — but it's also important for their own career growth.
Having an endorsement from a respected sales leader on your profile may seem like a small thing, but it can go a long way. Bonus: it'll cost you zero dollars (and less than five minutes)!
4. Coffee with the boss
Incentive idea: Winner gets some 1:1 time with a head honcho.
No matter the size of your sales floor, reps can sometimes feel a little lost in the shuffle — especially if they often find themselves in the middle of the pack.
That's why this is a great incentive to pair with the kind of sales competition that will get those middle players up on the leaderboard. (Think: most improved contest.) The winner will likely receive a level of recognition they've never experienced before, and they'll get some face time with one of your company's leaders — the higher up, the better.
This incentive may cost you a cup of coffee, but it could be a priceless motivator for a solid-performing rep who now feels more connected to someone they admire in their company.
5. Tattoos: No pain, no gain?
Incentive: Teams hits quota; manager gets inked.
Okay, this isn't for everyone. But — like our no-shower idea — it's a great way to get the entire team working together toward a shared goal and shared reward. It's also a testament to your commitment to your team: you can only go so long without showering, but a tattoo is forever.
Keep in mind: it doesn't have to be a full sleeve. Even just a small, inconspicuous rendering of your company's logo or the winning team's name will make a statement. Bonus points if you take your whole team to the tattoo parlor with you.
---
Now that you've got some great incentives in your back pocket: download our FREE scorecard templates to be sure you're setting the right benchmarks for your team!