This article is a guest post by Brenda Berg.
Now you've got the email addresses of potential customers, you can start marketing to them and get your business off the ground.
You need to send emails that grab your recipients' attention and encourage them to engage with you. Here are the 7 types of emails you need to be sending out, and how to write them.
1. The Welcome Email
This is possibly the most important email, as it's the first one your recipients will receive from you. The recipient has agreed to receive emails from you, but they don't know much about you. This email is a good chance to tell them a little bit more about yourself. Look at this example from Copy Monk:
This email also includes a good call to action at the end, so the reader knows just what they should do next. Remember, first impressions count, so ensure that your grammar is excellent by using grammar guides at Via Writing to help you write this email.
2. The Promotional Email
This is the email that every business needs to perfect. When you have offers on, you want your customers to know about it. You don't want to bombard them though, so use this email only when the situation really calls for it. Here's a good example from Banana Republic:
This email works well as it's very simple, and just tells customers what they need to know. Promotional emails don't need a lot of detail, so make sure you're not overloading the reader. As well as this, make sure that you're creating a sense of urgency like this email does with the end date.
3. The Newsletter Email
Newsletters are vital for keeping your customers engaged. A good newsletter can deliver important news, give readers access to deals first, and keep your business in their mind when they go to buy. Here's a good example of a newsletter from the Wildlife Conservation Network:
This newsletter is laid out like a mini newspaper and gives readers access to the stories that they'll be interested in. The layout is clean and uncluttered, making it easy to scan. When creating content for these emails, you need to ensure that it's good quality. You can use a writing service, such as UK Top Writers to help you create it if needs be.
4. The Reorder Email
If you offer a product on subscription or sell a product that will need replenishing, then it's a good idea to periodically send your customers a reorder email. This email should remind them of the product they bought from you previously, and make it easy to reorder. Look at this example from Pet Wellbeing:
This email is great because the call to action is made very clear, using the large green 'reorder now' button. A good reorder email should also remind customers why it's such a good idea to reorder from you. Do you offer discounts for repeat purchases, or are your products good value? Let them know.
5. The Free Gift Email
The average person receives hundreds of emails every day. That's why once you have their email address, you need to give them a reason to open yours. A great way to get them to open your emails is to offer them something for free. Look at this example from Font Fabric:
This email offers free fonts for a limited time, which is perfect as it adds scarcity and an impetus to the reader to take advantage while they can. This kind of email will keep readers subscribed and opening your emails.
6. The Testimonial Email
There's nothing your customers will trust more than the word of your fellow customers. A good testimonial email will show them what they think, like this one from Ambition:
This email uses images of their products alongside customer reviews to show readers that their items are top quality, and worth buying. If you want to do this yourself, make sure that you're using top quality images to show off your products. State Of Writing is a tool that can help you with the text and layout of the email, so it's as attention-grabbing as possible.
7. The Tools Email
Customers will have signed up with you for your products, but they'll also want your expertise. A well-written tools email will help you keep their attention, and promote your affiliates too. Look at how My Wife Quit Her Job did it:
Pick tools that will help your readers achieve their goals, and are related to what you offer. Of course, one of the tools should be a product or service that you offer. Use Best Australian Writers to ensure that you lay this email out well.
These 7 emails are the emails that you need to be sending out to your readers. Use them to get the most from your email subscriptions, and bring in business.
About the Author
Brenda Berg is a professional with over 15 years of experience in business management, marketing and entrepreneurship. Consultant and tutor for college students and entrepreneurs. She believes that constant learning is the only way to success. You can visit her personal blog at Letsgoandlearn.com.
See Sales Email Activity in Real-Time with Ambition
Modern sales leaders use Ambition to enhance sales performance insights and run supercharged sales reports, scorecards, contests, and TVs, and improve Salesforce KPI visibility at companies like Wayfair, FiveStars and Filemaker.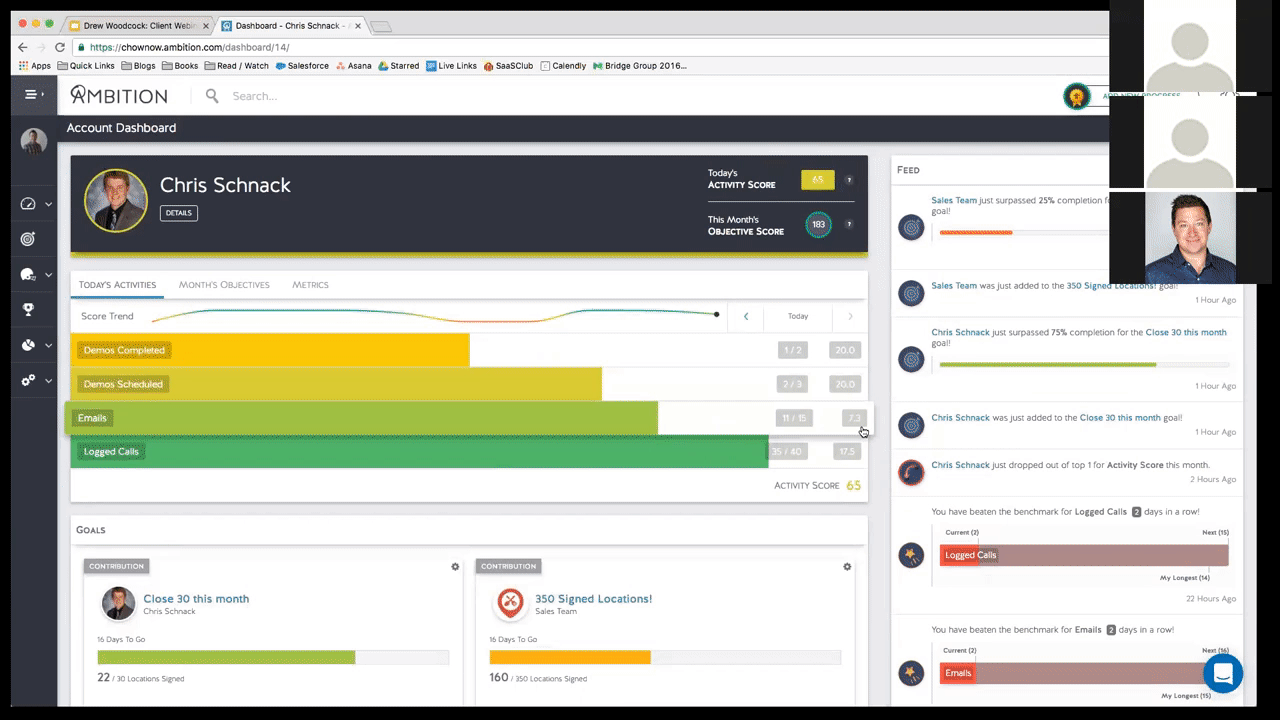 Want bright lights on your Salesforce KPIs? Contact us