Everyone Has a Plan Until…
You Missed the Quarter. The Reps Aren't Ramping fast Enough. Missing Goals is Bringing Down the Team and Crushing the Culture.

"Everyone Has a Plan Until They Get Punched in the Mouth", Mike Tyson
Let's face it - if you're like the average sales org, almost half (46%!!!) of your reps are on pace to miss quota right now.
And what that means… your number is in jeopardy.
The modern Sales Leader is like a head college football coach - drawing up the plays, wearing the headset on the sidelines, recruiting the players, coaching up their skills - oh and keeping score of the game and their individual performances.
And in addition to all those roles, the challenge of managing predominantly millennials doesn't make it any easier.
Three Halftime Speeches to Rally the Sales Troops
At Ambition, every day we have the opportunity to step up to the challenge to work with top notch sales leaders who need to inspire performance and maximize their millennial sales teams.
We know your job is hard enough - which is why we're building the ultimate sales management platform - so we compiled some phenomenal adrenaline inducing sales fuel to power your team's next half performance.
You've got two quarters to change the score…Let's. Go.
Highlight: "You find out lifes this game of inches… the margin of error is so small… the inches we need are everywhere around us. Every break of the game, every minute, every second. On this team we fight for that inch… Because we know, when we add up all those inches, that's going to make the fucking difference between winning and losing…"

Every dial, every conversation, every opportunity to listen to a prospect. Every chance to provide value for the customer. That's an inch. Can your team add those inches up and win?
Highlight: "Great moments are born from great opportunity. And that's what you have here tonight… thats what you've earned here tonight… "

Every closed deal is built on opportunities. Opportunities you earn. You earn and you create those chances with hard work and effort. You have two quarters left to take those opportunities.
Highlight: "The truth is you've been given something everyone dreams of, a second shot."

Your team can't get lost in the quicksand. You have to see past the hang up or the "No" or the deal that's falling through. You can't look at the quicksand and panic. You have can't panic. You have to push past.
Highlight: "In this life no one is going to invest (buy) because you 'think you can.'"

Just do it.
See 360° Sales KPIs in Real-Time with Ambition
Modern sales leaders use Ambition to enhance sales performance insights and run supercharged sales reports, scorecards, contests, TVs and Slack alerts via drag-and-drop interface.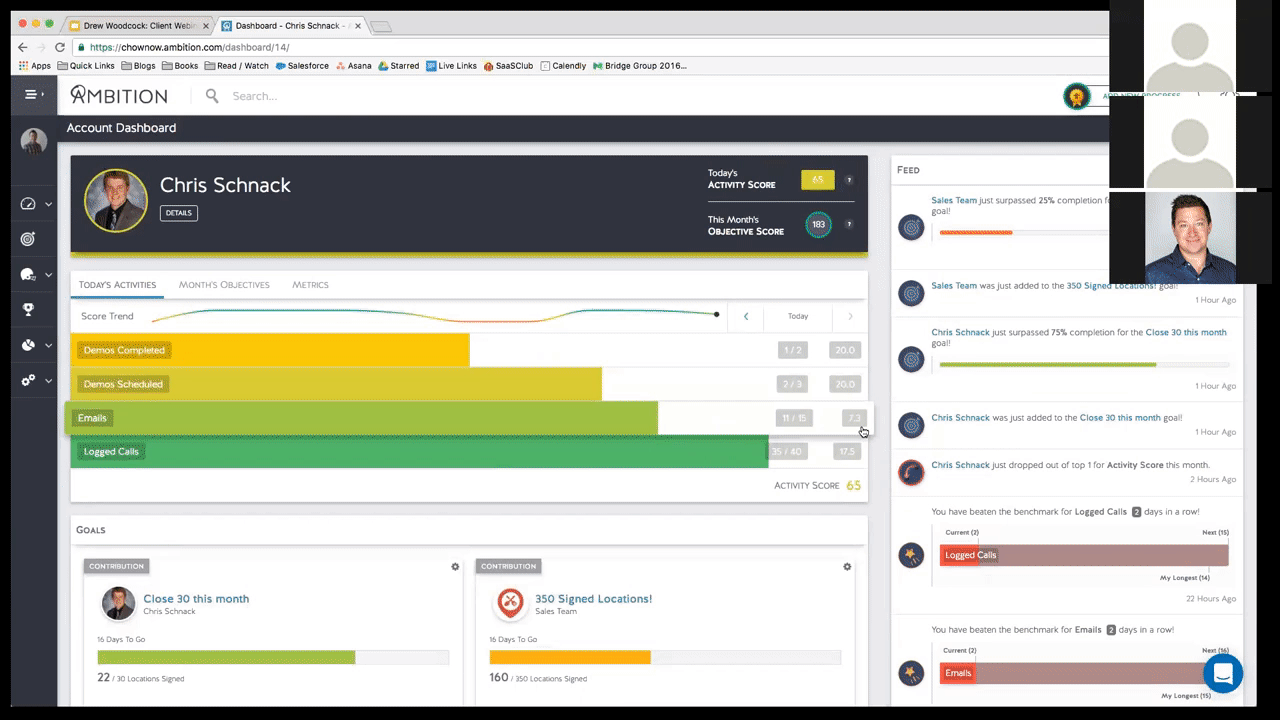 Ambition has helped improve sales force KPI visibility for Wayfair, FiveStars, Filemaker and more. If your sales organization needs help shattering its revenue goals for Q3 and beyond - contact us today.