As a recruiter for Strategic Professional Staffing, my job was to headhunt attorneys and paralegals for some of the most prestigious law firms in South Florida.
And roughly once a month, our Founder & CEO (a great guy) calls me into his office and greets me with the same disapproving frown. "You haven't made enough calls today, Boudinet."
"I'm sorry Jon, I've had a lot of other stuff going on."
"Alright. Now go hit the phones." Meeting adjourned. Like clockwork. The focus, always: Make more calls. The problem: Cold calling was just one aspect of a painstaking, three-part process to get a closed deal:
Part 1. Find the initial candidate
Prospect for qualified candidates (i.e. cold call/email everyone and their mother)
Connect with qualified candidates.
Convince qualified candidates to participate in a pre-screen for current and future positions (face-to-face or Skype.
​Part 2. Pre-screen & send-out
Evaluate candidate qualifications and interested in a new position.
Draft an email marketing the candidate to the law firm's decision-maker.
Set up and prep the candidate for an interview if there is a mutual interest.
Part 3. Acceptance & follow-up
Facilitate candidate acceptance of offers.
Usher candidate through transition process.
Follow up to ensure candidate satisfaction with the new position.
Was cold calling important? Yes. Was it a performance metric worth obsessing over? Not at all. Like all sales roles, there were a million daily activities that went into closing a deal. And the sad thing is, some of our most important metrics -- conversion rates, LinkedIn connections, and others - weren't being addressed at all.
4 Steps to Smarter Sales Metrics
As a sales team member at a young company, I saw firsthand the mistakes that many teams make when building out their sales process and setting key benchmarks.
The more efficient your path to finding metrics the matter, incentivizing key behaviors, and streamlining your all-around sales process, the better.
Whether you run a sales team at a young startup or manage a huge department at a Fortune 1000 company, these are 4 useful solutions you can implement to optimize your sales metrics.
Step 1. Focus on conversion rates.
My company kept track of the number of outbound emails, calls, interviews, send-outs (to company interviews), placements, and profits I generated, but my boss only seemed to care about phone calls.
As a result, I developed a sense of almost sub-conscious happiness when I would make 10 straight calls that went to voicemail ("Man, already at 10 for the day, my boss is gonna love this"). You do not want your people having that kind of mentality. Which is why you should emphasize conversion rate.
Let's go back to my days as a recruiter. We were expected to have a certain number of interviews with prospective candidates per week, but my managers never cared about conversion rate. Sad yet true: I if I was having a slow week, I would occasionally bring in people that I knew weren't qualified for a particular position, but who had submitted a resume and were desperate.
The end result was that I spent another fifteen minutes-half hour after that interviewing a person who we didn't have a job for, and wasting both my time and theirs. But hey, I hit quota!
It's a dumb game, and a dumb way to do business. Alternatively, my manager at one point did a good job of noticing that I had been going through a rough stretch with a lot of send-outs, but few placements, i.e. a bad conversion ratio.
She sat me down and told me to be more discerning and dig deeper into my candidates in my interviews going forward, which I did, resulting in much better results over the next few months.
Step 2. Recognize process variations.
Some of our recruiting job orders had very specific, very difficult-to-find requirements. It was smarter for me to spend 1-2 hours a day on LinkedIn scouring for people with that specific background.
However, my department was incentivized to stay off LinkedIn, and just call off a list. Typically, these calls were good for sourcing new candidates in the event a future job order looking for someone with their qualifications came up. But it was a highly inefficient way to source a candidate for a very specific existing job order, where time was of the essence.
The point is: When these types of orders were in play, my manager should have placed more of a focus on hitting metric benchmarks in LinkedIn connections, rather than on making cold calls.
If a high-performing sales rep or reps uses unorthodox activities, like adding new prospects from LinkedIn, to generate qualified leads and close deals, then it's worth factoring that metric into overall performance data.
Step 3. Tailor benchmarks where appropriate.
My recruiting firm was still a fairly new company when I came on. Our primary focus was legal/title-related, but we began generating some accounting leads, so we brought on our first recruiter specifically devoted to accounting.
Well, the accounting job orders did not start flying in, exactly, but my colleague was fairly treated. My firm held him to a different standard for weekly interviews, send outs, and placements, until that department finally began ramping up.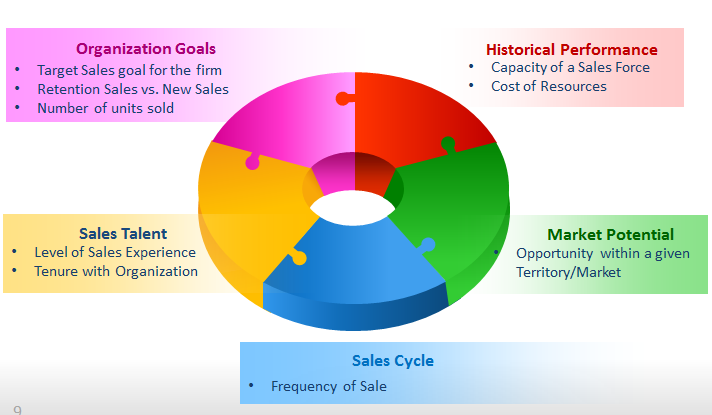 This was a critical move in terms of keeping my colleague's morale high as he adjusted to the position. A seasoned Recruiting veteran, he was frustrated by the lack of placement opportunities (read: opportunities for commission) but appreciated the company's fair treatment, which helped him stick around during his lean opening months at our firm.
It's important that you set realistic goals and expectations for your company. You need your salespeople to be confident (not cocky) and feel that there is a level of empathy and understanding that management has towards the job.
Step 4. Implement advanced metrics.
A good recruiter should tailor the length of his candidate pre-screens to the sophistication of the position in-question. At the same time, a recruiter must make these interviews efficient, so as to avoid wasting both his/her time and the customer's time. You can see where the sheer number of daily pre-screens, by itself, doesn't really tell as much as we need to know.
A more useful stat, on the other hand, would be pre-screen-to-job offer ratio, which can help determine how efficiently the recruiter is sourcing and qualifying candidates to accept the position.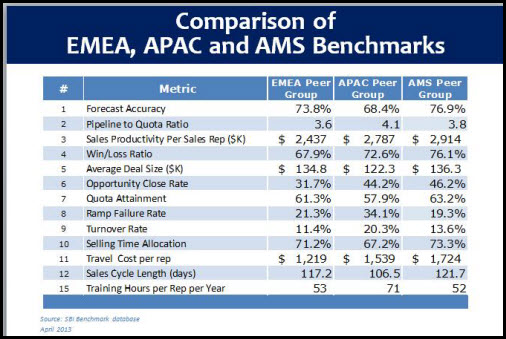 Advanced metrics are like seeing what's under the tip of the iceberg in your sales team performance. Great sales organizations like Hubspot have mastered advanced metrics and rapidly scaled in terms of revenue.
Going "Moneyball" with your metrics can open the door to insights that will help you improve your processes and personnel much, much more efficiently.
Tools to Create Smarter Sales Metrics
Smarter sales metrics mean a lot, and a good manager knows how to use them skillfully. To this effect, a sales enablement software's actual value to an enterprise lives and dies by the product's engineering.
If I managed a recruiting/sales team, I would only be implementing a sales enablement software that is a swiss-army knife in measuring and distributing employee performance metrics to employees and their supervisors.
A truly valuable sales enablement software will sophisticate, tailor, and intelligent communicate your internal metrics. It will treat your employees like sophisticated professionals, not cold-calling cyborgs. Most importantly, help you refine and improve your sales processes to maximize efficiency and effectiveness.
Supercharge Sales Motivation and Analytics
Ambition is a sales management platform that syncs business teams, data sources, and performance metrics on one system.
Sales leaders use Ambition to enhance sales performance insights and build sales reports, scorecards, contests, and TVs that supercharge focus, effort and accountability.
Ambition is endorsed by Harvard Business Review and AA-ISP (the Global Inside Sales Organization). Hear more from business leaders who use Ambition in their organization.
Watch Testimonials:
Watch Product Walkthroughs:
ChowNow. Led by Vice-President of Sales, Drew Woodcock.
Outreach. Led by Sales Development Manager, Alex Lynn.
AMX Logistics. Led by Executive Vice-President ,Jared Moore.
Read Case Studies:
Contact us to learn how Ambition can impact your sales organization today.