Creating Organizational Alignment to Adopt an ABM Strategy for sales and marketing
Getting started with Account Based Marketing can be overwhelming. It requires not only the execution of a brand new strategy on the marketing side of the house, but a big lift in the form of cross-departmental alignment. Staying in lock-step with sales, customer success, and operations is difficult-- especially in a remote environment. Here is how we use our own product to create alignment, adoption, visibility, and performance improvement with our own account based marketing strategy:
Score everything so sales reps and inbound team understand the goals
When deploying an account based strategy to sales and marketing, the name "account based marketing" can be a little bit misleading. In order to be efficient at winning target accounts, it really requires account based engagement across your full go-to-market team. In particular, this really means that sales and marketing should be sharing the same "scorecard" and goals. The scoring component is particularly important so that every individual contributor understands the impact of their daily activities and the management and strategy members of the team are accountable to a blueprint and execution strategy. Here is how we use scorecards at Ambition and align sales and marketing to the same targets:

Goals:
Pipeline generation from target accounts is the shared goal across outbound sales, marketing, and customer success (expansion pipeline from targets). We set net-new goals separate from expansion when it comes to pipeline generation, and the outbound sales reps and inbound marketing team have one overarching team goal each month for pipeline generation. You may also create goals around adding new contacts at target accounts, revenue booked from targets and more.
Scorecards:
The scorecards we use at Ambition track daily activities that lead to monthly objectives that should keep us on track for our monthly and quarterly shared goal of pipeline generation. Each rep has an individual scorecard with benchmarks and thresholds they are expected to hit daily in order to help the collective team hit the team targets and goals. The metrics we track to ensure we are working the target account list are as follows:
Daily Activities (that the outbound team is scored on daily)
Target account calls

Target account connects

Target account talk time

Target account contacts added to sequence
Monthly Objectives (that both inbound and outbound collectively share)
Meetings set with target accounts

Meetings held with target accounts

Qualified opps with target accounts
Once our separate teams started sharing goals and rallying around the mission of pipeline generation, we coined our own united team name: Team Pipeline. Rather than saying inbound did this or outbound did this, all communication took place from a united Team Pipeline and we all report out on those goals and scorecards above as a single team.
---
Create real-time visibility throughout the funnel to keep momentum
Scorecards are great to see our data and performance in aggregate. To drill down by rep or team and ensure we are pacing towards targets, but there is also immense value in creating visibility across our remote teams into every win-- right when they happen.
Celebration alerts:
Trigger celebration alerts in Slack, email, TVs, or MS Teams (coming soon) to show movement through various deal stages on target accounts. When a reps sets a meeting with a target, the whole company can see and cheer them on, but don't stop there. Get those notifications when the deal qualifies, is booked as revenue, and expands and renews. Full funnel visibility helps create alignment throughout your organization where all revenue teams have the latest, real-time progress on every deal.
Accolades: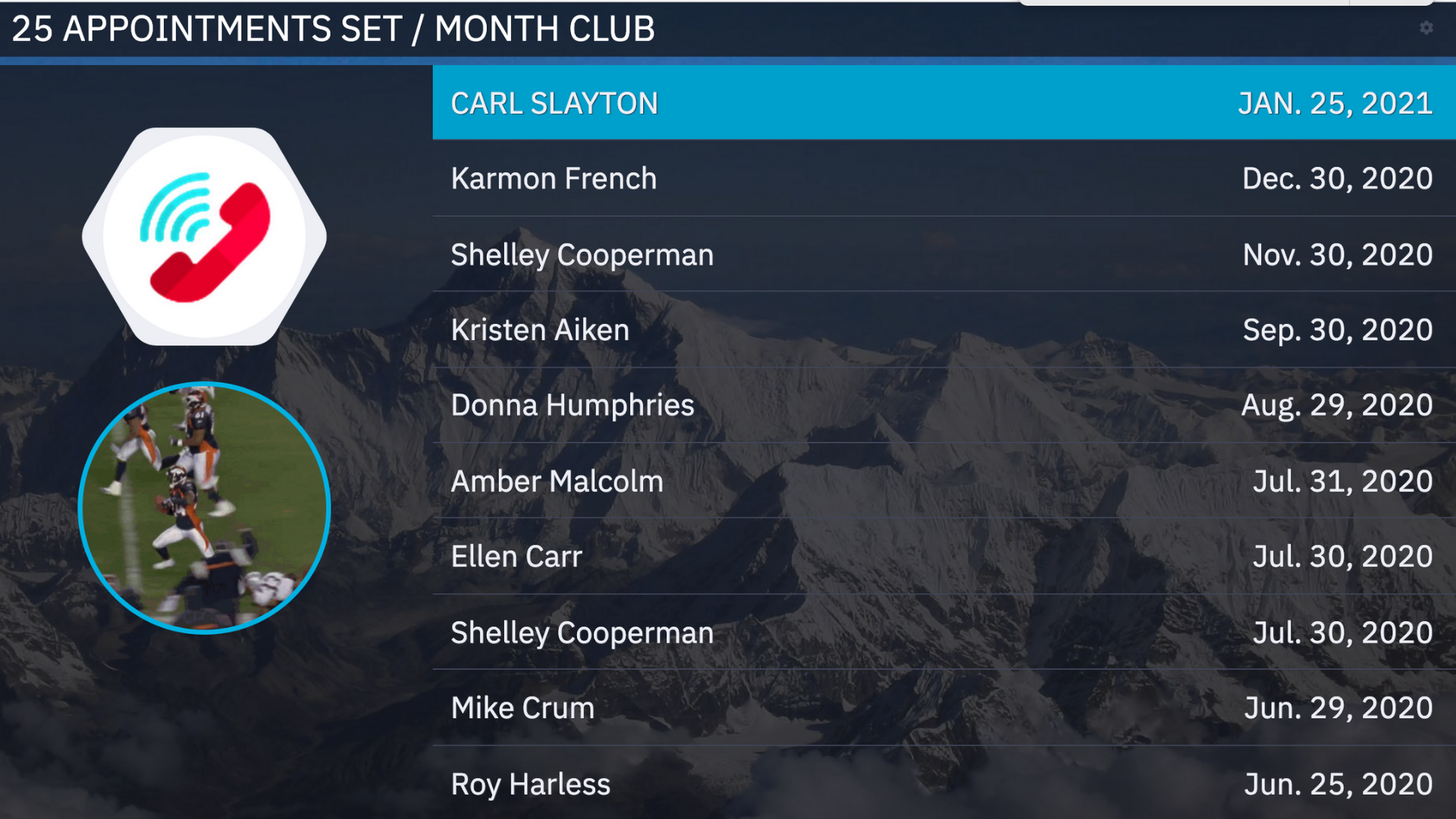 Create clubs and awards for your ABM MVPs. Set 4 target meetings in a week, join the SAL PAL club. Make 75+ dials to target accounts in a day? Win the outbound call club accolade. When reps win accolades they can brag on LI, pin the badge to their Ambition dashboard, share in Slack on on the sales TV scoreboards. Putting visibility around these milestones positively reinforces the behaviors and adoption of your ABM program.
---
Coach with data
Part of creating adoption for a new selling strategy contains consistent 1:1 sessions with your reps. Common challenges around focused effort on ABM are fears around a reduction in the volume of leads (you're betting on quality over quantity), what to do when you get referrals not on the list, how do you approach inbounds that aren't targets, and many more. There also has to be a pipeline review process to ensure the list is good and the rep is focusing activities on the targets. We use our coaching program to dynamically insert data points for how the rep is performing for the week and month.
Metric Snapshot 1:1s:
Each week, we use metric snapshots in the 1:1s to dynamically insert how many calls, connects, meetings and qualified opps the reps have with a target account. They have daily, weekly, and monthly benchmarks so it is a helpful pacing conversation and ensures they are staying focused on the list.
The same metrics are reviewed in marketing team 1:1s so we can see which verticals are performing best, who's list may need appending, and we can check-in on gifting budgets.
Notes:
With a "slash command" in Slack, managers can add notes to check-ins. So if a conversation is being had about a target, or we get intel and information, it is easy to add it as a talking point to the check-in right there in Slack. (MS Teams coming soon!)
---
Wager a little friendly competition
Most revenue teams are competitive by nature. We approach ABM with a friendly cross-org competition in a few different ways. Whether your success teams are competing against SDRs for target account activity challenges, or each rep is going head-to-head on target sets for the day, we use competition in a few different ways to motivate and create collaboration across teams:
Challenges: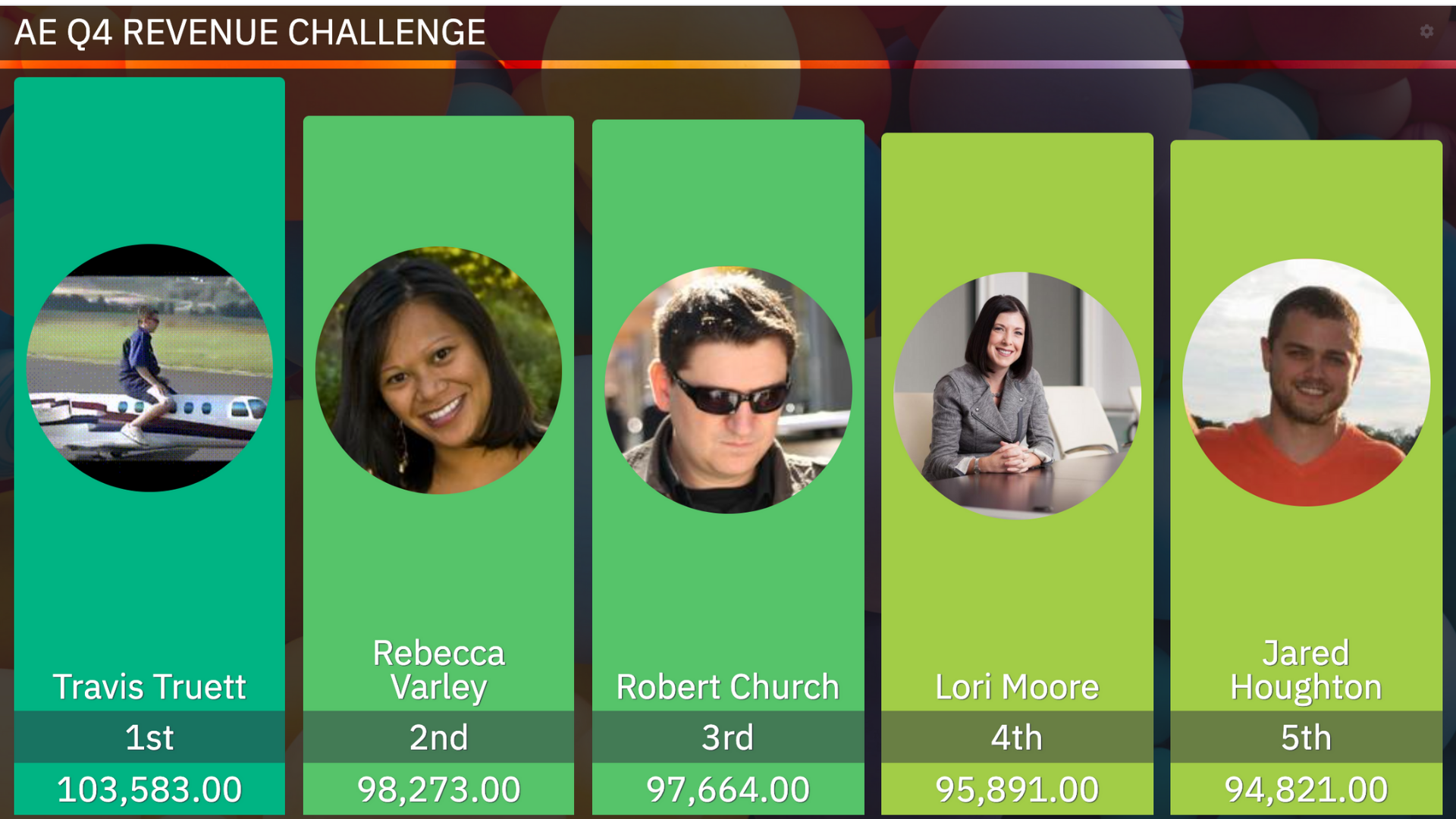 Compete on activity metrics like dials or connects to your target prospects or something revenue based like booked deals, pipeline generated, or target expansions. Ambition automatically tracks the metrics and you can broadcast real-time standings in Slack or on Scoreboard TV URLs.
Leaderboards:
Showcase most improved or rank on comprehensive, weighted scores. Leaderboards show who is dialing, emailing, and setting appointments with target accounts in your CRM.
---
Want to pick up more strategies and tips for launching an ABM strategy?
Check out this full webinar we did with Drift!