To cap off 2017, the Ambition Product Team is proud to share some major feature upgrades involving Ambition User and Group Management.
Based on user feedback, the Ambition Product Team has just launched several major upgrades to Ambition user and group management functionality.
Combined, these updates make it easier than ever to add new users, set permissions, and modify group settings.
Ambition Product Update: Simplified User Management
You can now download your entire Ambition user directory as a CSV, make bulk changes to the directory in the CSV, then re-upload it into Ambition so the modified directory is live inside of Ambition.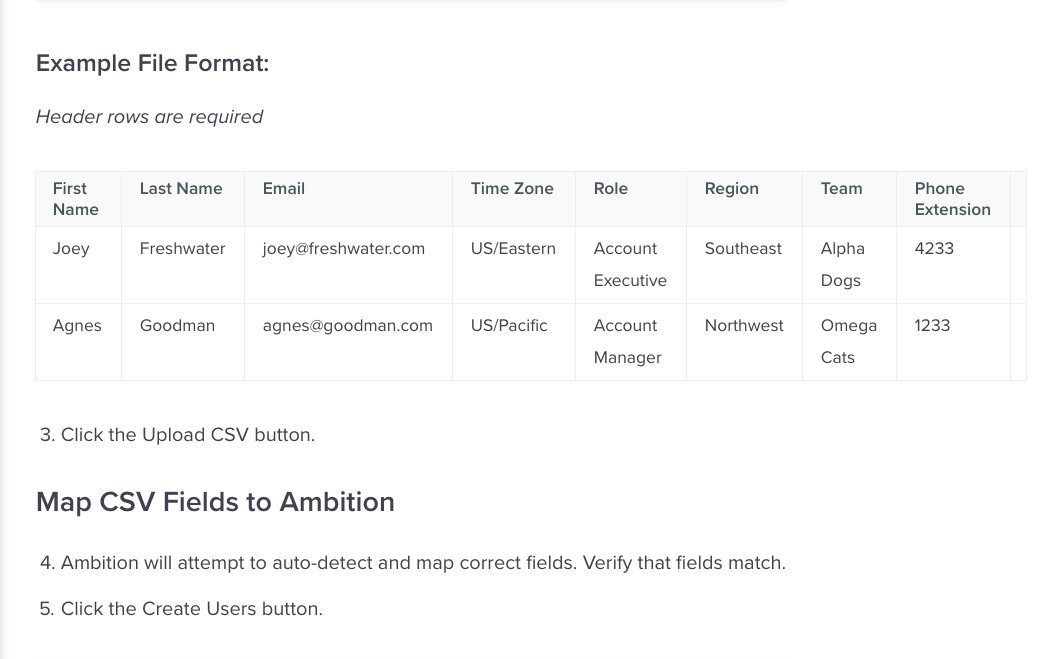 In addition, we've extended the User CSV upload functionality so that you can now set permissions (i.e. designating Managers and Administrators) and modify each user's manager via their email address.
Ambition Product Update: Simplified Group Builder
We have also optimized the Group Builder for less clicks and more flexibility.
For those unfamiliar with Ambition Group Settings, you can set up different group types and hierarchies that are useful for reporting, competitions, and filtering.
Examples Group Types: Team, Location, Division, Tenure, Office, Product Line.
Designate Group Types by Role.
The Role is a special, built-in Group Type. It's used to organize employees into their functional roles so that you can establish Scorecards (metrics and benchmarks).
The right column contains the Groups within a given Group Type. Click on a Group to assign members and managers.
Keep in mind:
An Account can only belong to one Group per Group Type.
A Group can have 0, 1, or 2+ Managers.
You must set Manager permissions to make a user a Manager.
The Automated Sales Management Platform
Sales leaders use Ambition to bring transparency, ownership and insight to sales performance metrics. The platform integrates all key data points from your CRM, phone system, and other major data systems under one roof.
Using drag-and-drop interfaces, sales leaders can build sales performance analytics that suit the specific needs of their sales organization - complete with benchmarks, scores, goal trackers, TVs, leaderboards, competitions, coaching modules, and flexible on-command reporting into activities, objectives, and efficiency metrics.
Contact us to request your free demo.