The AA-ISP Leadership Summit is upon us. The Super Bowl of inside sales is set for its biggest year yet - featuring 700+ sales leaders, 65+ sales and leadership sessions, 48 tactical breakouts, plus pre-event certification workshops, networking opportunities, and a yacht party. In anticipation of the latter, the Ambition team's in-flight playlist to Chicago will consist solely of Loggins & Messina, Hall & Oates, Michael McDonald, Toto and Duran Duran.
We're not playing around at this year's Leadership Summit. As one of the reigning Top Service Providers, we feel a special duty to this year's conference. This is your Tuesday preview for the 2017 Leadership Summit.
2017 AA-ISP Leadership Summit: Tuesday Preview

When: 7am CST on Tuesday.
Where: Sheraton Grand Chicago.
Sponsored by: Ambition.
Background: Before you sit all day with AA-ISP at #LS2017 and stay out late for the #InsideSalesYachtParty, come join us for a scenic jog around Chicago's famous riverfront and Grant park. Route Highlights:
Chicago Riverwalk
Lake Michigan Lakefront
Buckingham Fountain
Millennium Park
Chicago's Cloud Gate
Register: 5K Fun Run Landing Page.
AA-ISP LS17 Event #2. Transforming Your Inside Sales Team

When: 9am CST on Tuesday.
Where: Sheraton Grand Chicago: Erie Room.
Presenter: Dionne Mischler.
Role: Founder of Inside Sales by Design. Orange County, CA.
Background: Dionne Mischler is an inside sales legend. She is the former AA-ISP Chapter President of the Year and, oddly enough, now the official expert witness on inside sales for Orange County. Dionne holds 18 years of experience in sales and technology, spending the past 9 scaling 3 separate inside sales teams in Orange County during that time. Dionne created Inside Sales By Design to get companies on the same page before they begin training their inside sales teams - in response to the issues with misalignment she's continuously seen with company leadership over the past decade.
AA-ISP LS17 Event #3. Asking Formula - Influencing Anyone

When: 9am CST on Tuesday.
Where: Sheraton Grand Chicago: Erie Room.
Presenter: John Baker.
Role: President - Sales and Leadership Effectiveness. READY Thinking. Minneapolis.
Background: John Baker, award-winning author and presenter, is back for another encore performance of his highly-acclaimed workshop – The Asking Formula. This program teaches effective asking: a skill that leads to stronger sales results, confident communications, better influence, and a heightened professional image. Participants will be developing individual Asking Formulas for a unique and personal situation while practicing with John during the session to generate personal mastery and comfort with the methodology. Attendees will learn how to immediately implement the 6 steps of the most effective, straightforward and high-impact process for structuring a best-in-class "ask" regardless of audience, topic or situation – and apply it both in your professional and personal life.
AA-ISP LS17 Event #4. Fundamentals of Sales Storytelling

When: 9am CST on Tuesday.
Where: Sheraton Grand Chicago: Superior A Room.
Presenter: Christoph Trappe.
Role: Sr Director of Content Marketing & Creation. MedTouch. Marion, IA.
Background: Designed for Inside Sales Leaders, this workshop will be led by Christoph Trappe who wrote the book Get Real: Telling Authentic Stories for Long-term Success. Christoph will walk you through the framework of authentic storytelling to enable long term communication and sales success for your Inside Sales team.

During this workshop we will cover the following:
The benefits of incorporating storytelling into the Inside Sales process
Why current communication methods are no longer enough to gain your prospect or clients attention
The framework for use of unique stories which will help your team stand out with calls and emails
Use of story personalization in specific sales situations
Steps every leader can take to encourage the use of storytelling to improve prospect conversion and resulting revenue
This session is especially created for leaders, managers and others who are looking for differentiators in their sales communication strategies.
AA-ISP LS17 Event #5. Visionary Leadership

When: 9am CST on Tuesday.
Where: Sheraton Grand Chicago: Superior B Room.
Presenter: Colonel BP McCoy, USMC (Ret).
Role: Owner. Xiphos Initiatives. Lander, Wyoming.
Background: This workshop is for those who want to lead with passion while inspiring their teams to great performance. BP McCoy, former Marine combat veteran, business executive, wilderness expedition leader and author of "The Passion of Command: the Moral Imperative of Leadership", will share lessons from the battlefield, boardroom and remote mountain ranges to help attendees build an energized organization through Clarity, Consistency, and employee Connection.
Module 1: Clarity. It all starts with clarity and refining your company, business unit or personal vision to its most essential elements. Module 2: Consistency. What is your "say-do" gap? How much daylight is between what you aspire to do and what you actually do. This module helps map and repair those disconnects that derail the best of intentions. Module 3: Connection. Without genuine connection between the leader and the workforce, all else will be sub-optimized. This module will give day-to-day methods to establish that connection through the social energy pathways of empathy, trust and authenticity.
AA-ISP LS17 Event #6. Sales Technology: Past, Present, Future

When: 1:30pm CST on Tuesday.
Where: Sheraton Grand Chicago: Level 4.
Presenter: Matt Reid.
Role: Vice President of Marketing. Velocify. Santa Barbara, CA.
Background: Over the past decade, technology has caused a tidal wave of change in the sales function. Inside Sales is gaining traction, and the demand for field sales people is on the decline. It is now easier than ever for companies to connect with potential buyers anywhere in the world. And it's not unthinkable for a computer like "Watson" or "Siri" to schedule your next meeting with a prospect.

In this session, we'll reveal the results of a new study conducted jointly by Velocify and AA-ISP. We'll take a look at the evolution of technology over the past decade and how its influenced sales communication trends of today. We'll explore what the sales tech stack looks like in most sales organizations and planned investments in the near future. And finally, we'll theorize what Inside Sales technology might look like in the next five to 10 years. Will trends like virtual reality put an end to business travel for good? And how far will artificial intelligence go in freeing up our reps time to focus on two-way interactive communication with prospects?
AA-ISP LS17 Event #7. Where to Focus to Drive More Revenue?

When: 2pm CST on Tuesday.
Where: Sheraton Grand Chicago: Level 4.
Presenter: Lauren Bailey.
Role: President. Factor 8 Sales Training. Phoenix, AZ.
Background: "Is it me or is it getting noisy out there?

Each year, there's a new buzz around the latest sales / marketing trend. Listen, it's not that these ideas are bad or that they can't apply to us, but the honest scoop is that so many of them don't apply to the majority of us -- Inside sales is a different sport than field sales, right? And which one should we focus on? Are we ready for this new idea? Every year my team and I coach thousands of Inside Sales calls and there's a disconnect between what's being marketed to our leaders and the current skills and abilities of our teams that we hear on calls.
So let's get real with each other. I'm going to highlight a trend and then break down the good, the bad, the helpful, and yes…the ugly. Then we'll have the audience give feedback and we'll do our own trendspotting:
Are you using it?
Is it actually working?
We'll talk about the "crawl, walk, run" of applying new trends, which are right for you to embrace, tips on how-to, and which are better for all of us to ignore." From Challenger Selling and Social Media to Gamification and Acceleration. . . no trend is safe from LB!
AA-ISP LS17 Event #8. FireSide Chat: A Digital Transformation

When: 2:30pm CST on Tuesday.
Where: Sheraton Grand Chicago: Level 4.
Presenters: Jill Rowley, Bob Perkins and Thomas Dekle.
Role: President. Factor 8 Sales Training.
Background: Inside Sales continues to usher in new ways of selling virtually as companies of all sizes and industries adopt digital as the preferred way of transacting business. A "Digital Transformation" is underway to take "virtual" to yet a whole new level!

AA-ISP Chairman, Bob Perkins, will host a discussion on the continual refinement of how sales connects, collaborates, and completes transactions with decision makers. Joined by #SocialSelling and digital strategist, Jill Rowley and IBM's global leader for online commerce, and digital development, Tom Dekle, the session will provide a close-up look at both the strategy and tactics behind this evolving digital movement!
AA-ISP LS17 Event #9. Body Language Tools for Leaders

When: 3:30pm CST on Tuesday.
Where: Sheraton Grand Chicago: Level 4.
Presenter: Leo Cardenas.
Role: Certified Body Language Speaker. Lay-O. Dallas.
Background: Did you know that you can improve your communication skills a hundred-fold by understanding what your hands, feet, and even your belly button are doing? Body language is all about being aware of the nonverbal signals each of us sends every single day. This session is tailored to improve your leadership and sales skills by giving you body language tools you were not even aware existed. Once your body language mindfulness switch has been turned on, it won't be turned off!
AA-ISP LS17 Event #10. How to Optimize Two Simple Metrics

When: 4:30pm CST on Tuesday.
Where: Sheraton Grand Chicago: Level 4.
Presenter: Kyle Porter.
Role: CEO. SalesLoft. Atlanta, GA.
Background: Buyers have changed more in five years than in the last 50. They're hyper-informed, have data, information, and a level of expectations never seen before. To meet their needs, companies must transform into modern sales organizations. Modern sales starts with the human component. The best sellers are honest, sincere, they understand and put their customer at the center of everything. They're implementing repeatable, mathematical, and intelligent processes. They use machine learning to understand data and prescribe activities. There are two measurements that matter most. Optimize them and everything will fall into place. Having watched thousands of customers go to market, Kyle will share what he believes these two items are, and how you can achieve them.
AA-ISP LS17 Event #11. Pitfalls of Conventional Sales Tactics

When: 4:30pm CST on Tuesday.
Where: Sheraton Grand Chicago: Level 4.
Presenter: Justin Shriber.
Role: Head of Marketing. LinkedIn Sales Solutions. San Francisco.
Background: Conventional sales tactics are getting in the way of building the types of productive relationships that lead to strong bookings and sustained growth. Why? The process isn't focused on the entire buying committee, doesn't expose critical business challenges of the buyer, and doesn't encourage reps to build long-term relationships. Join LinkedIn Sales Solutions for an engaging discussion about the shortcomings of conventional sales tactics and the behaviors your team can adopt to succeed in the modern buying landscape..
AA-ISP LS17 Event #12. Keynote: Defy Gravity and Succeed

When: 5pm CST on Tuesday.
Where: Sheraton Grand Chicago: Level 4.
Presenter: Meredith Powell.
Role: Business Growth Expert. The C-Suite Network. Asheville, NC.
Background: Really? You are still watching the news, reading the reports and surfing the internet looking for that one guru, that wizard who can tell you what this economy is going to do? Wake up! This is not your mama's economy. It is moving fast. Changing constantly. And it crushes businesses and sales people who can't keep up.

Your success depends on your ability to build a business and develop a sales team that thrives on change and eats stagnation for lunch. This is a world where market fluctuations are the norm and competition grows like kudzu. It is time for you to defy marketplace gravity! In this program, you will learn the sales and business growth strategies you need to dominate your market. Build a team that thrives in change. Design a sales strategy that gets results. Get above the white noise. And leave your competition in the dust. Sales, Engagement, Results!
Meet Ambition at the 2017 AA-ISP Leadership Summit
Ambition will be making our annual pilgrimage to the AA-ISP Leadership Summit. This is our 3rd year sponsoring the Summit, one of our favorite events where we play host to the most dynamic enterprise sales leaders in the world.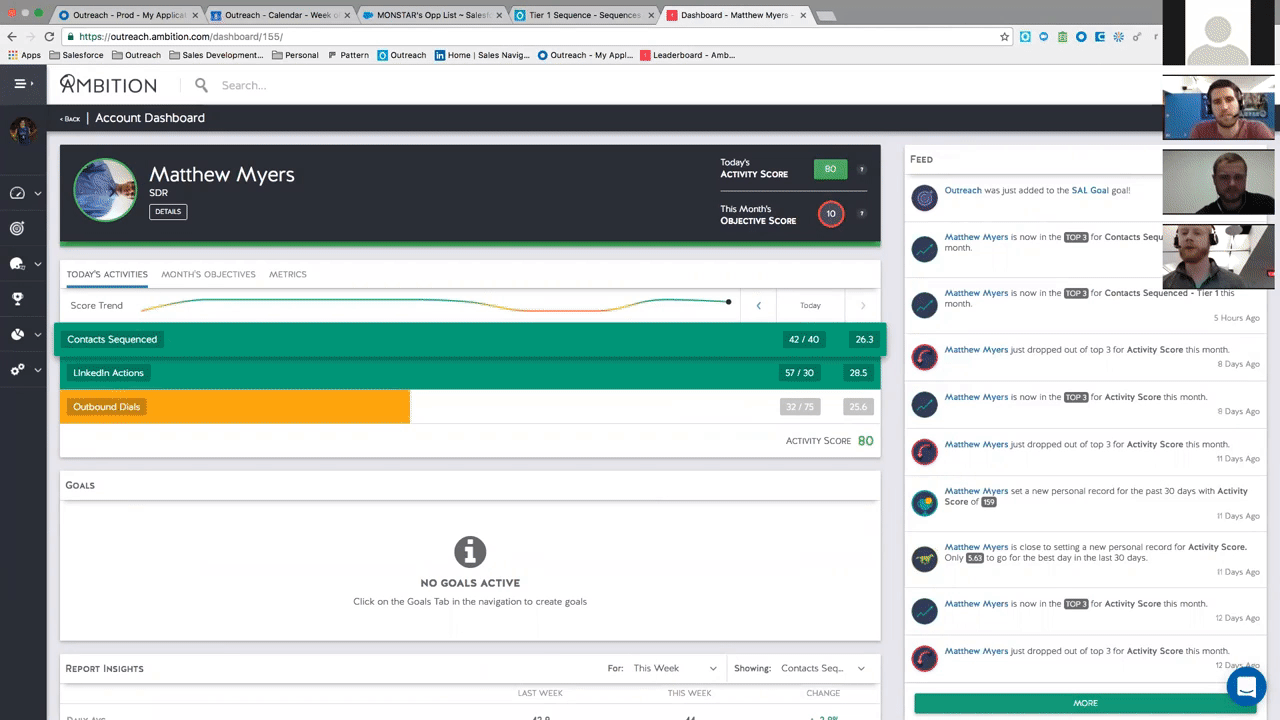 Last year, we earned 5K Fun Run through beautiful downtown Chicago on Tuesday morning. In addition, our Chief Sales Officer contact us via our website.
We'll see you in Chicago!